Legends of Poker: Dewey Tomko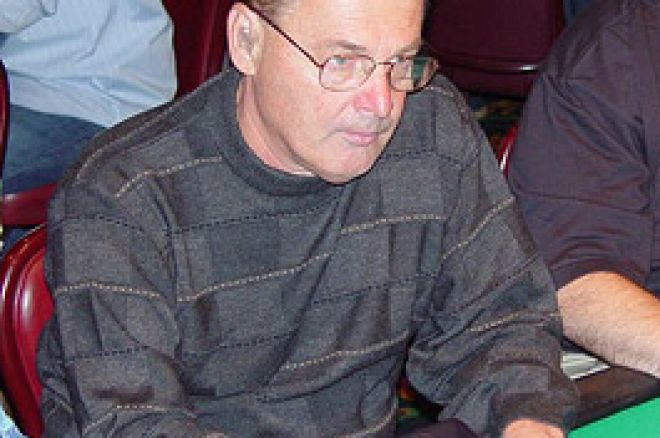 By this time in his life, Dewey Tomko could probably care less about being considered one of the true Legends of Poker. He jokes that his son, Derek, is a better poker player than he was at the same age, and spends time in Costa Rica. He also plays a few tournaments, a few live games and tends to non-poker related businesses that have helped support his family over the years.
Dewey was born in Allegheny County, Pennsylvania in 1946. Hard along the Monongahela River in the "Mon Valley," Glassport, a tiny hamlet of perhaps 7,000 people had little to hold Tomko's interest as he grew up, but just up the river a few miles was Pittsburgh, where Johnny Unitas was born in 1933. By the time Dewey was in high school, Unitas was a star in the NFL, and fellow high schooler Joe Namath was making a name for himself in both football and basketball at nearby Beaver Falls. Tomko, however, found his calling in the tough pool halls of Pittsburgh where he matched wits with poker players twice his age.
The local poker games helped pay his tuition at Salem College, and Dewey entered the "real" world as a kindergarten teacher. Like others before him however, the late-night poker games just got in the way. How could he be expected to teach classes when he had stayed up all night playing poker - and won a month's salary in the process? Before he really gave it much thought, poker won over as his sole-source of income.
In the early 1970's, Dewey found his way to Las Vegas and began grinding away in the smaller games. While playing $10/$20 he would look over at the bigger games and consider what it would be like to play against guys like Doyle Brunson and Jack Binion, and the competitive nature within him made it impossible to stay away from the tougher players. Eventually he could wait no longer and Dewey started sitting in, taking his lumps, and learning arts of upper-limit play. Soon players like Doyle and Jack would become great friends and even business partners.
As some players do, Doyle and Dewey fought their own inner conflicts about playing poker for a living and the stigma that the profession of gambling held with the general populace. For a time they held bible classes during poker games, and their beliefs helped them through troubled times.
Tomko scored his first big tournament win during the 10th World Series of Poker in 1979 when he won a gold bracelet and $48,000 in the $1,000 No-limit tournament. In 1982, Dewey found himself on the brink of winning the most important tournament in the world, the World Series of Poker $10,000 Championship. However, the final hand of the tournament saw Jack Straus spike a pair of tens on the river (at 15-1 odds against) to beat Dewey's pair of fours.
After second-place finishes in tournaments like Amarillo Slim's Super Bowl of Poker and Bob Stupak's America's Cup, Dewey won two gold bracelets in the 1984 WSOP. The first occurred in the $10,000 Deuce to Seven Draw tournament and just a few days later he beat the field in the $5,000 Omaha Pot-limit tournament.
Jack Binion advised Dewey to invest his money, and they eventually became partners, along with Doyle Brunson and others, in the Southern Dunes, a semi-private golf course and real estate development company located on U.S. 27 at the northern edge of Haines City. The property opened in 1993 and is one of Florida's highest-rated courses.
Although Dewey continued to play in tournaments, he stayed rooted in Florida where he and his wife raised their three sons. All those years of playing golf with Doyle and other well-know poker players had hooked him on the game and Tomko was finding it more fun to attend to business and play golf than fly to Vegas to play poker. He grew weary of the trips and committed himself to getting his golf game to a level where he could compete on the PGA Senior's tour.
After some time away from playing poker, his son Derek encouraged him to start playing tournaments again, and the 2001 WSOP brought bittersweet results. After reaching the final table and beating 611 players, Dewey went heads-up in the $10,000 Championship Event with Carlos Mortensen. Dewey picked-up pocket rockets (ace-ace) and called Mortensen's $100,000 pre-flop raise. Carlos flopped a pair of kings with a straight draw and bet-out $100,000. Dewey raised $400,000 and then called when Carlos raised him all-in for another $1.5 million in chips.
The turn card was a harmless three, making Dewey a clear 3-1 favorite, but the river was a nine, giving Carlos a straight and the championship, and sending Tomko away with a $1.1 million dollar second-place prize. In 2003, Dewey came away from the $10,000 WPT Bellagio tournament with (you guessed it) a second-place finish and $553,000.
His son, Derek, has already had some tournament success, and in the 2004 $10,000 WSOP Championship Event finished in the money after taking a tough river beat from Mike Matusow when his kings were shot-down by a rivered 7 (making Matusow trips on a 22-1 shot). Sometimes, poker just ain't fair!
Dewey owns a casino in Costa Rica in the heart of downtown San Jose named the Horseshoe Casino (I wonder how he came up with that name?) that offers a poker room on the second floor where they spread a $200 buy-in, $1/$2 blind no-limit hold'em game.
A true poker legend, Dewey continues to play in tournaments and most recently enjoyed the "local" World Poker Tour Costa Rica Classic in San Jose where he finished 4th for $15,000.