Legends of Poker: John Juanda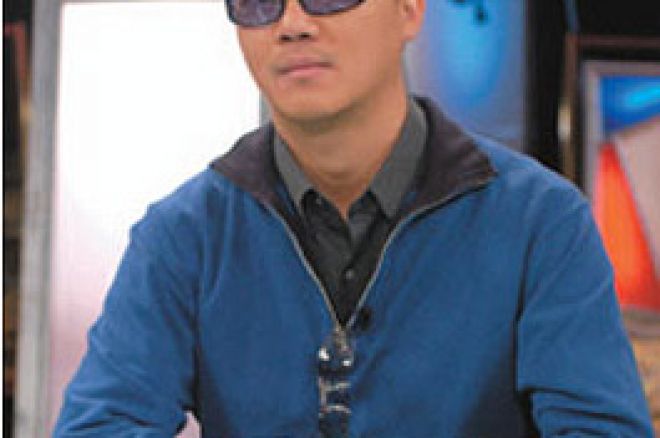 Three of the poker players who John Juanda states he has the most respect for are Erik Seidel, Howard Lederer, and Chris Ferguson. Together they comprise some of the best tournament players in the world, and between them hold a total of 15 World Series of Poker gold bracelets. These players are friends, front for Full Tilt Poker, and each studied computer sciences while attending college. So many of the currently successful tournament players have college degrees it makes me wonder what the poker world will be like in ten years.
Even the masters of the game like Doyle Brunson, Jack Straus, Bobby Baldwin, and Chip Reese (to name just a few) have college degrees. However, the current trend among many successful online players is to quit college and get right into playing poker. Is it possible that critical thinking, which is heavily stressed in college, may be lost on players of the future? Will the non-college educated continue to expand the game as Phil Ivey has, or will most find the upper-level games unattainable for some reason? Time will tell.
As for John Juanda, he attended Oklahoma State University and later earned an MBA from Seattle University. It shows. John came to the U.S. from Indonesia in 1990 and at the time spoke almost no English. That no longer shows.
John was born in Medan, North Sumatra, Indonesia on July 8th, 1971. In many cultures of the Far East, the eldest son is provided special attention. When I lived in Japan as a youngster, I enjoyed the gifts that perfect strangers would bring me when they came to our home to see my father. The attention made me feel special, and helped make my childhood a wonderful time. John says he too, remembers having the greatest childhood imaginable.
John's father was the eldest of 12 children, and John was the first grandson. Each enjoyed the love and attention they were given, and John admits the confidence given to him as the firstborn has helped him in later life. The lessons he learned from his father have also been helpful, although less glamorous, since his father gambled while drinking and rarely won.
John's mother worked everyday from early morning until sunset at their family business, and also raised John and his three siblings. She encouraged him to work hard in school, and also to push himself to be competitive. That spirit helped in his studies, and as he ran track in high school. When it came time to attend college it was a huge decision to fly to the United States, but John doesn't regret a thing beyond the comfort and love of his home and family that he felt while soaring at 30,000 feet in 1990.
On that very flight, John played his first game of poker, and his competitive nature kicked in. By the time the plane landed he was actually winning more than he was losing. His desire to win coupled with a methodical analysis of the rules and outcomes of hands immediately took-over his play. Although Doyle Brunson said thirty-years ago (in Super/System) that more than anything else, poker is a "people" game, few players attain such a brilliant level of reading their opponents.
Juanda seems to have raised-the-bar if you will, and while other players make great reads, John seems to consistently be in tune with his competition. Barry Greenstein admits to being "often impressed when I watch him work his magic against the weaker tournament players." As for ranking him on a scale of 10, Barry considers John to be a 9 with regard to tournament play - and that must be weighed heavily as Barry himself is an excellent tournament player.
When John moved to Seattle, he found that there were plenty of places to play poker. Over the next few years he held a number of jobs, but often thought about poker. He liked the straight flow of communication that his mind picked up from the limited information available about the other player's cards, how they acted, and how it related to the size of the pot. He taxed his brain to arrive at specific odds for each hand and attacked every pot that he decided would have a positive result through his cards or his bluffing ability.
While his job kept him grounded, John played poker to fill his soul. In April of 1999, he entered the $1,500 Limit Hold'em tournament at the WSOP and finished in 9th place. The $15,000 payday was just the start, and a week later he placed 7th in the $3,000 Limit tournament. In August, Juanda played a series of tournaments in Los Angeles and his $399,600 win in the $300 Limit Hold'em 1999 Heavenly Hold'em event set him up financially to continue with poker full-time.
John moved to Alhambra, California, which is certainly understandable considering the success he has had at the tournaments in Los Angeles. He had final-table finishes in limit hold'em, no-limit hold'em, 7-card stud, Omaha hi-low, pot-limit hold'em, and even the H.O.R.S.E. tournament (which he won) during the summer of 2000. At the end of the year, John came within the turn of a single card of winning the US Poker Championship in Atlantic City, but had to settle for second place and the $159,000 prize that came with it.
The following year John won the final event of the Second Annual Jack Binion World Poker Open in Tunica - and pocketed $282,000. He followed that up by making the final table at more than twenty tournaments in 2001, including a first-place finish in three of them. In 2002, John won his first (of three) WSOP gold bracelets in the $1,500 Triple Draw Lowball tournament, but his $50,000 prize paled by comparison to his second-place finish later that month in the World Poker Tour $10,000 Five Diamond World Poker Classic event where he got to keep $278,000.
John's continued success in poker tournaments is nothing short of spectacular, and his accomplishments too many to list. His concentration at the table is excellent as he takes in everything around him and zeros in on his competition. He jokes mildly with other players, and smiles easily, even at final tables while under great stress. His 28 WSOP cashes tie him with Annie Duke and Scotty Nguyen, and his three bracelets tie him with the likes of Puggy Pearson, Dewey Tomko and Daniel Negreanu. I don't think there is any doubt each of these players is a poker legend, and John fits comfortably in the group.
The future appears bright for Mr. John Juanda, and his 2006 season is off to a great start. In January he won another major title, taking first place (and 1-million Australian dollars) in the Speed Poker Million Dollar Challenge at the Crown Australian Poker Championships in Melbourne. I think it's safe to say we can expect even more great things to come.
Ed note: Juanda is another one of those Full Tilt folks. Check them out.