A Night Out With The Bad Boys of Poker
Irwin Fletcher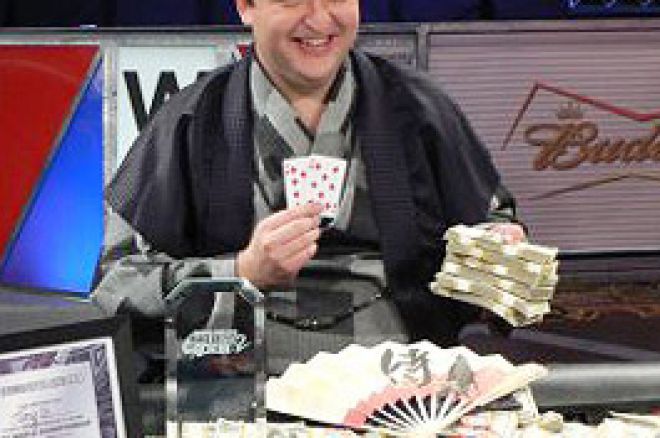 Poker fans should set their TIVOs, DVRs, VCRs, or whatever they use for when this baby airs. The World Poker Tour shot their 'Bad Boys 2' Saturday night at the Commerce Casino in Los Angeles. A few chips flew around on this night, but mostly the words flew.
With a lineup of Phil Hellmuth, Tony G, Mike Matusow, Men the Master, Gus Hansen, and Jean Bobby Belande, there was sure to be fireworks, and these players didn't disappoint.
Outfitted in a ceremonial kimono apparently purchased on his recent trip to Japan, Tony G was the most talkative, and the most active at the table. About two hours into play, Mike Matusow looked at Tony, and said "Man, you talk more than me, and that's pretty hard to do."
The players were playing for 'pride', and a $25,000 entry into the WPT Championship at Bellagio. This made for some quick action, and clocking in at 3 hours and 20 minutes, I'm told this is one of the shortest WPT final tables yet. The blinds started at 3,000/6,000, and the players had 250,000 each.
The banter was really interesting. Pretty much everyone picked on Hellmuth. Phil took it with a smile, but after an hour or two of a constant barrage, you could tell this wasn't sitting well with Phil. The normally chatty Jean Robert Bellande was pretty quiet throughout, save a few needles here or there. Gus said about 20 words all night.
Some of the exchanges at this table were absolutely golden. Matusow taking shots at Tony G, Tony firing back. Men's shrill voice rising above all of them for a well timed crack. I guess there was poker being played, but this was just good entertainment, period.
Gus was the first one to go, as he put his last 5,000 chip (the players started with 250,000) in the small blind, and was eliminated. Gus was live the hand before, with about 80,000 in the pot, and one 5,000 chip left, yet he folded.
Tony G won a coin flip against Men the Master to knock him out, as Tony's Queens held up against the Master's AK.
Next out was Jean Robert, who had clashed with Tony G a couple times, and come out the best of it. But the hand of the night was 'Bobby's' undoing. On a flop of 8, 9, 10 Bobby bet out. Tony made a small raise. Bobby re-raised, and Tony put Bobby all in. Bobby showed the second nuts of Jack Seven, and Tony showed the nuts with Queen Jack. Bobby was dead to a chop, but no chop came, and he was done.
Now with two-thirds of the chips in play, Tony G was about to take control. Before he could, Hellmuth put all his chips in with Queen Five, and Matusow called him with Queen Ten.
Down to heads up, Tony pushed Mike around a bit, until the last hand of the night came up. Mike got it in with pocket Kings. Tony with about a 3 ½ to 1 chip lead said something about having his 'magic hand', and called with 8 10 of diamonds. The first two cards off were 8 10, and no further help came.
Matusow stared at the board for a full five minutes as Tony walked around the room, shaking hands and taking pictures. Tony G is the baddest boy of them all (at least on this night), and this episode will make for great TV when it hits in late June.