Bluff Magazine Hits Europe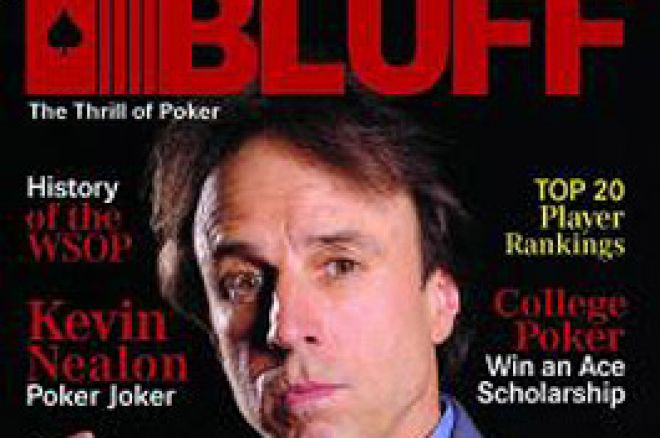 Bluff Magazine has been one of the newcomers to the poker magazine scene that seems like it might have some legs to it. In a very short time, Bluff has built a readership that is reflected in the distribution of over 250,000 copies of each month's issues. With America already transfixed by the magazine, Bluff is off to conquer new worlds.
Bluff Magazine is now available in the card rooms and bookstores of England, Scandinavia and mainland Europe. Called Bluff Europe, the magazine's unique lifestyle look at poker is ready to make the same impact in Europe that it has had in the United States. Michael Caselli, the editor of Bluff Europe, couldn't be more pleased. "It's finally here," he stated recently. "We have been testing our market in the United Kingdom and Europe for over six months now and we are finally able to share this awesome new magazine with a brand new audience."
"Europe is really exciting because the poker phenomenon hasn't really taken hold as it has in America," continued Caselli as he analyzed the potential for Bluff Europe. "This means that we can help people just starting to make decisions about where to play, which games are best suited for them, and show them why poker is such an exciting sport."
Bluff Magazine is well known for their unique look at the poker world while not letting down on the mental end of the equation and this should continue in their European publication. The wealth of contributing columnists reads like a "Who's Who" of the poker world, including Andy Bloch, Antonio "The Magician" Esfandiari, Annie Duke, Phil Gordon and others too numerous to mention. While these writers present excellent strategy points and guides for assisting players with their games, the rest of Bluff offers the latest news from the classiest casinos in the world in a style unequaled in other magazines.
Public relations will be the primary push in Bluff Europe's infancy. Because there isn't a mass demand for poker publications in Europe, they are prepared to make a significant PR push into the market. While they are focusing on this PR push in the early going, once Bluff Europe has established a foothold in the marketplace, mass advertising will be the next step for the publication.
The premiere issue of Bluff Europe features the smiling visage of Phil Hellmuth on the cover and also contains articles on such distinctly European subjects as "A Circle Of Outlaws" (the loosely knit group headed by European poker champion Marcel Luske) and Ladbrokes poker cruises. If they can show the same success ratio that they have achieved in the United States, perhaps Bluff Europe will extend their reputation as one of the best of the new crop of poker magazines into the worldwide market, rather than just the United States.
Ed Note: Go ahead, and Bluff players from Europe while playing at Everest Poker