Ed McMahon Helps Open New Indiana Poker Room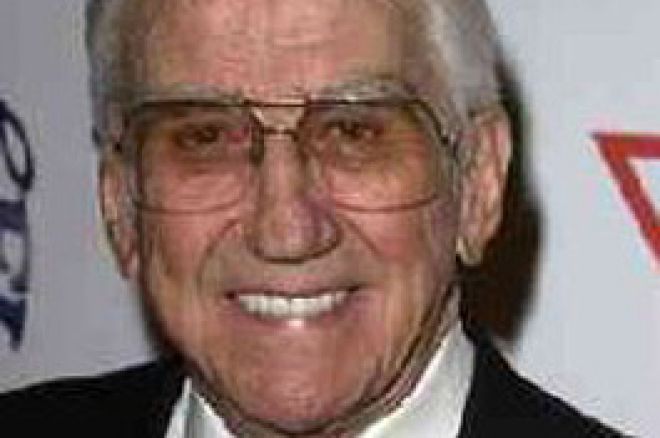 Heeeeeeerrrrreeeee's a new poker room!
Okay, maybe he didn't use a cheesy line, but after thirty years of introducing Johnny Carson on the Tonight Show, Ed McMahon has introduced a new poker room to the residents of Muncie, Indiana.
McMahon, famous for his Tonight Show co-hosting duties, as well as the face of the American Family Publishers' sweepstakes, helped mayor Dan Canan cut the ribbon to officially open the Royal Crown Hold'Em Club in downtown Muncie.
Although it is home to several informal poker clubs, this is the first card room in the east central Indiana community, home of Ball State University and over 67,000 residents. The Royal Crown is contributing to the revitalization of downtown Muncie, and has the endorsement of the city's mayor, yet it operates under a hazy legal cloud.
State of Indiana Excise police and Indiana Department of Revenue officials have taken a tough stance on poker tournaments, officially stating that, "such tournaments held in Indiana are illegal unless conducted by a licensed non-profit organization." Even those non-profits are restricted in only being able to have card games four days a year, and state legislators have recently created a new gaming enforcement division. Laws do allow businesses such as bingo halls and bars to conduct poker tournaments, but they come with heavy restrictions that include not allowing a monetary buy-in, and prohibiting liquor from being awarded as a prize.
Fortunately for Royal Crown owners, the area district attorney is on record as believing that poker is a game of skill, not chance, and it is believed that he has no intention of pursuing charges against any player.
While Indiana law is not clear with regards to land based poker rooms, Riverboat gambling is alive and well in the state. Riverboat casinos became legal in 1993, and the Hoosier state boasts ten active casinos, drawing residents from Illinois, Ohio, and Kentucky. The state's most well known poker room is at Caesars, across the Ohio River from Louisville Kentucky. It has a 33 table poker room, and hosted a WSOP Circuit event last October. The Argosy Casino in tiny Lawrencebury, Indiana, in the southern part of the state, has a strong base of customers from nearby Cincinnati. The Argosy is expected to open a brand new poker room later this spring.
Just last month, the Blue Chip Casino in Michigan City, Indiana completed a $170 million dollar expansion and now boasts over 65,000 square feet of casino floor space. Meanwhile, the state's second Horseshoe casino is expected to open up later this year, or early 2007, giving Hoosiers even more opportunities for poker.
Or as Ed McMahon might say: "Ho, Ho, Hold'em."
Ed Note: Don't wait for Ed McMahon to bring you a big check, sign up for Poker Stars today.