Excitement Brewing For Heads Up Poker Championship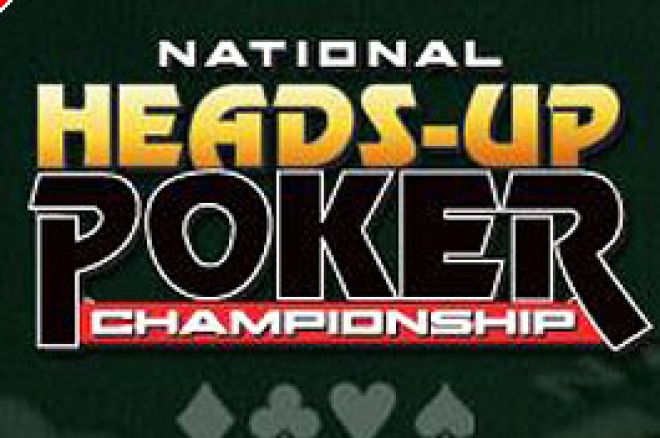 With about 24 hours to the start of the Second Annual National Heads Up Poker Championship, a conference call was held to learn more about the tournament's lineup of players and to get a feel for who is the favorite in the event. Although defending champion Phil Hellmuth was a no-show for the call, color commentator Gabe Kaplan, NBC Vice President of Programming Jon Miller, Caesars Palace Poker Room Manager Michael Matts and Tournament Consultant Eric Drache were all in attendance for the lively phone meeting. During the hour long discussion, much was brought to light regarding the NHUPC.
A person who is quietly ascending to the top of the tournament analysts list and an excellent poker player in his own right, Gabe Kaplan was introduced to give his take on this year's event. He started the conference by simply stating, "What we have in this year's tournament are the 64 best players in the world." He went on to say that the tournament could have easily been expanded to 128 because of the desire of professional players to get into the event but by keeping it at sixty four players, "we have made it a tough, exclusive field to get into. The players seem to have wanted an elite tournament and, with the Heads Up Championship, they have gotten it," concluded Kaplan.
When the topic of "favorite" status came up, Kaplan was quick to reiterate his choice from last year's tournament. "I said last year that John Juanda was my choice to win and, although that didn't happen, I'm going to stick by him again." The "unknown" players (the online winner, 21-year old Josh Lochner, and two satellite winners from tournaments conducted at Caesars Palace) could also have a sizeable effect on the outcome of the tournament as well as celebrity players such as actor James Woods, "who came one card short of eliminating Johnny Chan last year," noted Kaplan, and actress Jennifer Tilly. All could be considered "dark horses" in this year's event, said Kaplan.
Odds makers have also expressed an interest in the event and Full Tilt Poker announced the odds. The favorite is Phil Ivey, who has been set at a 35-1 shot to take the Heads Up Championship. At 40-1, former World Champions Johnny Chan and Chris "Jesus" Ferguson lead a host of players that include 2004 Poker Player of the Year Daniel Negreanu, Barry Greenstein and Juanda. Defending champion Phil Hellmuth slides in as a 45-1 shot with Doyle Brunson, T. J. Cloutier, 2005 Poker Player of the Year Men "The Master" Nguyen and Erik Seidel. On the other end of the spectrum, the three "wild card" players are set at 80-1, with Woods and Tilly slightly ahead of them at 75-1.
Jon Miller expressed his and the network's pleasure with the National Heads Up Poker Championship. "The buzz around the tournament has been tremendous. We're thrilled to be in partnership with Caesars Palace for this prestigious tournament. We're also very happy to bring along Outback Steakhouses as a sponsor for the tournament and are looking forward to a long run with the National Heads Up Poker Championship." When asked about the composition of the field and possible expansion of it in the future Miller stated, "This year's coverage has already been increased from the six hours we did in 2005 to ten hours this year. We're also looking at the option of increasing the field in 2007 as, even with the assistance of several people in choosing the field for this year's event, many excellent pros were left out of the field."
It had long been rumored that Texas businessman Andy Beal was going to be part of the proceedings at Caesars Palace, but Miller said it was never better than a "50/50" shot that he would actually participate. "Through contacts with his staff, we offered an invitation for him to play. Over the span of a few days, he retired from playing and then un-retired and has now gone back into retirement. He won't be a part of this year's event, but that is potentially because it is No Limit. If it had been a Limit tournament, he might have played."
When asked about the challenges these players would face, Kaplan and Eric Drache were quick to respond. "You get no chance to breathe in a heads up tournament," Kaplan commented. "In a full table tournament, you have those breaks with unplayable hands that allows you to adjust to your table and take a break. That doesn't happen in a heads up situation." He also commented on the strategy of some players that come in late to full tournaments late and simply said there was no way to do that in the heads up play. "It's a much more intense tournament," Kaplan said.
Eric Drache added, "Hand selection is probably the biggest adjustment to make in a heads up situation versus a multi-person tournament. You have to play a wider variety of hands." Kaplan continued his thought by stating, "You also have to have a good judgment as to the hands your opponent could be holding. It's more important in this competition than in others."
The field will be set on Friday evening, with a gala party presented by Caesars Palace and GQ Magazine. As far as seeding the players, Drache said it would be "tough to do. We don't want to offend any of the players in the tournament and if we allowed the players to vote on seedings, we would have 64 different #1 players!" Thus at the party, the field will be divided into the first 32 matches and their four brackets by a blind draw. Play starts Saturday morning at Caesars Palace and runs through Monday, when the champion will be crowned in a best two of three match up, with the winner taking the $500,000 first prize from the $1.5 million purse. Action should be intense during the event, so if you are in Las Vegas this weekend, the prime spot to be is along the rail at Caesars Palace for the Second Annual National Heads Up Poker Championship.