Legends of Poker - Scotty Nguyen
Al Moe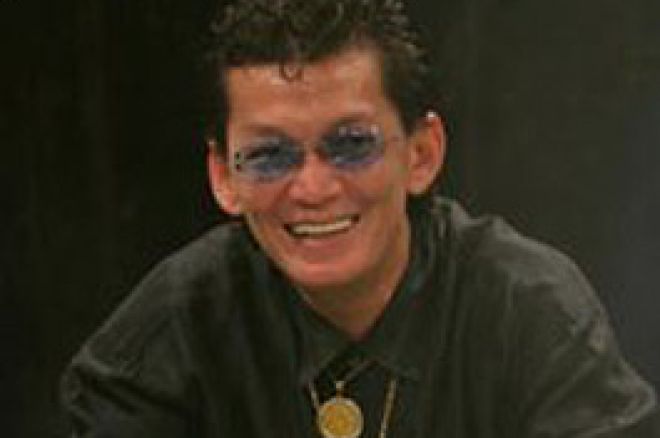 "If you call, it's gonna be all over, baby." Whether a confident boast or an enticing bluff, Scotty Nguyen made the comment during the final hand of the 1998 World Series of Poker $10,000 Championship to Kevin McBride. Full of the aggression, playfulness, and overall confidence always exuded by Nguyen, it was just what McBride needed to hear and it convinced him to call-off the rest of his chips on a hand he had been the aggressor on all the way to the river. McBride called, and the tournament was over for him as Nguyen's full-house of nines-over-eights won him $1 million dollars and a gold bracelet. It was a dream come true for Scotty, and another milestone accomplished.
Nguyen had been no poker prodigy. His remarkable climb to poker super-stardom is as improbable as his ability to live through a childhood in war-torn Vietnam. Born in Nha Trang on October 28th, Scotty grew up as just one of fifteen children in his family. He credit's his mother for all of his success, saying "she spent every penny she managed to save to send me to the United States, without her I'd have never made it."
In 1974, convinced by his mother and a few other people in his tiny village whom he respected, Nguyen took his few possessions and boarded a boat for the United States. Eventually arriving in Chicago where a host family took him in, Scotty tried to adapt to life in a new country. He missed his family, struggled with the language, and hated the cold weather. Eventually he was able to find a new host family in Costa Mesa, California, but the differences in culture were tough to manage.
Like many youngsters, he got into trouble in school and around his neighborhood. He broke a few windows, stole a few bikes, and considered high school to be an unnecessarily boring event in his life; and also like many youngsters (especially these days), he found poker to be an exciting diversion. He played with friends, then moved on to pool hall games and back rooms. When he needed to, he found a way to scrape together extra money to support his poker habit and ventured into legal clubs. The change in atmosphere didn't change his results much. He still lost.
In his mind, Las Vegas was where the excitement was. It was intoxicating, it represented power, and Scotty's unbridled confidence led him to move there permanently at the age of 21 in 1989. He tried playing poker for a while, but his game hadn't developed enough to support himself. The realization that he would have to get a job led to stints at both Harrah's Holiday Casino and the Golden Nugget. In-between those jobs he played low-limit games and learned to watch the players more closely. He also learned to be aggressive, and he learned to be confident.
Nguyen vowed to himself that he would be a success, and knowing poker was the best way for him to support his family, he started playing the game more seriously. After two years of up and down results where he often lost his entire bankroll in an evening, he quit his second job and started playing full-time. His results were excellent.
Scotty brings vitality to the game that few players can. He smiles; makes jokes, and generally has a great time. He also pounds his opponents with a hyper-aggressive style that leads to him picking up a lot of pots without a showdown.
At the age of 23, Nguyen reached his first milestone as his bankroll crested $1 million dollars. He celebrated by hitting the pit at Caesars Palace and losing 99 percent of it. It was a tough lesson learned, but he says the experience made him try harder.
Over the next few years, Scotty's take-no-prisoners style of play supported him well, but also led to the loss of his bankroll more times than he could count. Every time he got busted Scotty just got back into a lower limit game and started over. Nothing stopped him from thinking about being the best.
In 1995, Nguyen cashed in his first World Series of Poker event, and he won $157,000 and a gold bracelet in the 1997 $2,000 Omaha eight or better tournament. To this day, Scotty calls himself the best Omaha eight player in the world. His results speak for themselves, and while mainly a tournament player, he has often challenged all-comers to a game at any stakes they choose. There are few takers.
Nguyen put himself on top of the Poker World in 1998 when he won the $10,000 WSOP Championship. At that moment, as in so many other games since, Scotty used his ability (and his endless banter) to manipulate his opponents into doing what he wanted. Although a joy to listen to most of the time (until about the eighth beer), he can grind on some player's nerves, and it usually works to Scotty's advantage. He's fun at the table, but again the pushing, pounding, aggressive play can really wear you down - and it causes players to make mistakes.
Nguyen is also a streaky player, who plays faster and faster as the cards come his way. A good example is the 2001 WSOP where over the course of eight days he cashed three times including another gold bracelet in the $5,000 Omaha Hi-Low Split tournament.
Another example is the 2003 Festa al Lago Tournament where he cashed three times (including two first-place finishes) in five days and followed that up the next month with four final table finishes (again, with two first-place wins) at the 2003 Legends of Poker in Los Angeles.
Scotty began playing in World Poker Tour events in 2003 and has a number of final-table appearances including a first-place win in the recently completed (January 2006) $10,000 Championship at the Gold Strike World Poker Open in Tunica. He is currently listed as the third all-time tournament money-winner behind Joe Hachem (who picked-up most of his $7.6 million in winnings in the 2005 WSOP Championship) and Daniel Negreanu. To be honest, nothing the man does surprises me any more.
His fame, like his laughter, is infectious, and with the exception of the times you are on the receiving end of one of his many all-in bets, the "Prince of Poker," Scotty Nguyen, is terrific to be around. I don't think anything, or anyone, can stop Scotty. He is truly, a Legend of Poker.