Poker People - Larry Smith of the Stratosphere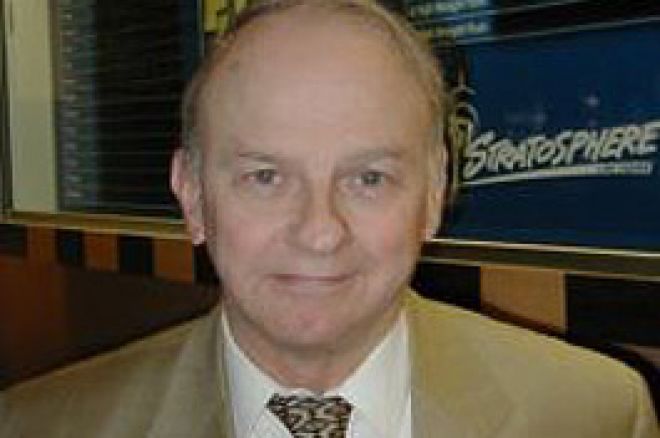 Larry Smith is the Poker Room Manager at Stratosphere Casino in Las Vegas. I had a chance to sit down and chat with Larry to see what plans the Stratosphere has for the near future.
HUX: So tell me how you got started in the poker industry.
Larry: I actually started as a craps dealer at the Fremont in downtown Las Vegas. Then I went in to dealing poker because they took away the tokes from the craps dealers. In other words, at the time I started, the tokes were divided just among the crew. Then they went to a 24-hour pool where they were dividing the tokes with the whole pit. So my tokes went ca-shoo. So I decided to go into poker because there was no split for tokes.
HUX: So where to from there?
Larry: Then I taught a bunch on the side. I was the first instructor hired by Clark County Community College in their casino management degree course. And so I did a lot of teaching besides just dealing, you know, like a dual career deal. And then the first riverboat on the Mississippi opened in Davenport, Iowa the first one in the country. I went up there as a gaming instructor and I was the only one who knew anything about poker, you know. One of those being in the right place at the right time games, you know.
HUX: Who's been your biggest influence in your entire career?
Larry: Dr. Russell Anderson. He's the creator of the casino management degree program at the Clark County Community College. He's deceased now. He was just a brilliant, brilliant person, and one of the funniest people I ever met in my life. He was just a wonderful guy. He set me up. I made a series of training tapes for the community college, and because of Dr. Anderson they gave me the rights to them.
HUX: What do you like most about your position here at Stratosphere?
Larry: It's something I'm comfortable with, something I'm good at. And I've got a great staff. The Stratosphere is great. I mean my supervisors are really neat people.
HUX: What do you like the least about this position, about working here at the Stratosphere?
Larry: Yeah, well I guess the thing that aggravates me, that aggravates every poker manager; is the guy that comes in and plays a 2-4 hold 'em for two hours, then wants to go to the restaurant at the Top of the World, or Felini's where it costs $250 for a meal, you know.
HUX: What do you see as the biggest attraction of this room here at the Stratosphere? Other than having you as the poker room manager.
Larry: Ok, the demographics are 95% to 98% tourist here. So we're very different than a lot of rooms. That and our other big attraction is the tower. That's what attracts people to the casino. And then we have a smokeless poker room, which is very popular.
HUX: What do you see is the biggest challenge in the future?
Larry: The next one's a good challenge. It's the possibility of expansion. And they're going to redecorate the casino, remodel it. They're going to open a new nightclub. They're going to move the bar over by the front door and make a big circular bar, so the bar next to me will no longer be the main bar. So they're probably going to give me some more tables in there. So that's the good challenge; to fill those tables up.
HUX: Tell me Larry, you're coming to work, describe for me your perfect day that isn't a day off.
Larry: Yeah. I don't like it on my day off. For me a boring day is a good day. I know that sounds silly. But when things are routine, everything runs nice and smooth, and the day just goes by, the business is good, no problems, just a nice a routine boring day is probably my favorite type day.
HUX: That's a good day indeed, especially for a guy in your position. When you don't have stuff going on.
HUX: Ok, you're walking along the beach, and you find a poker lantern, and you rub it and this genie comes out and grants you three wishes. You have three wishes you can do anything you want with, poker-related. What are your three wishes?
Larry: I'm from the old school, seven-card stud and draw those were my games. So I'd like to see more variety of games. More than just hold 'em. I think the pendulum has swung too far in one direction. I'd like for my copyrighted game, which I've invented, to become as popular as hold 'em.
HUX: What game is that?
Larry: It's one that I put together myself. I've got it copyrighted. I'm going to try to get it introduced. It's a poker game.
HUX: Ok.
Larry: I think it's very good. And I've done a few of them before. But, it's not easy to get those in the casinos.
HUX: Absolutely.
Larry: Nonetheless, when I've got the genie, could I have a raise?
HUX: Not for me to say, but if you get your second wish the third should be right behind it. Thanks for your time Larry.