Big Time Tournament Poker Returns To Binion's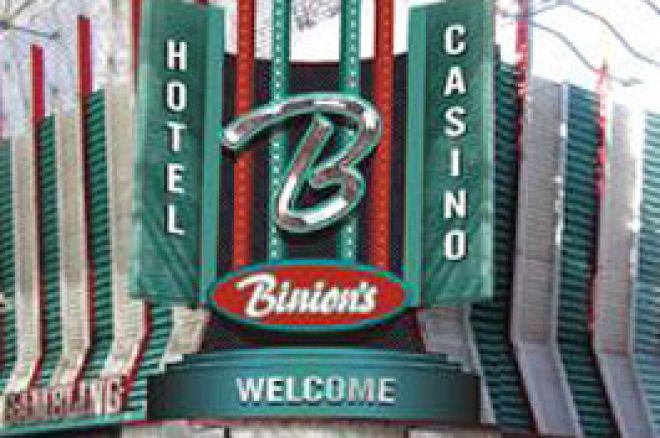 The history of the game of poker is intertwined with downtown Las Vegas and, in particular, Binion's Gambling Hall and Hotel. Once known as Binion's Horseshoe and the former home of Benny Binion and the World Series of Poker, since Harrah's bought the rights for the World Series and the casino, both haven't returned to the legendary site. Other than the celebratory stop for the final two days of the 2005 Championship Event, Binion's hasn't hosted a major poker tournament since the days of the 2004 WSOP. That is about to change with the return of a major poker event to the hallowed halls of Binion's in 2006.
May 10th marks the return of high stakes tournament poker to Binion's with the American Poker Player Championships. The Championships will feature 29 different tournaments that will culminate with the $5,000 Main Event that ends the Championships on May 24th. The hosts of the event will be former World Champion Tom McEvoy and two-time WSOP bracelet winner Susie Isaacs.
There are a couple of things that make the American Poker Player Championships very interesting. In a remarkable turn against the flow in recent tournament action, there will be more than just Texas Hold 'Em featured among the 29 events. Omaha (both regular and hi/lo) and Seven Card Stud tournaments are a distinct part of the schedule and the events themselves run the gamut from Limit to Pot Limit to No Limit. In another interesting turn, all events are capped at a maximum of 800 players, which should make the tournaments more competitive from a skill aspect rather than tournaments with fields in the thousands that become more of a lottery than a poker tournament.
Omni Media is working with the APPC through Binion's and thinks this could be the start of another great poker tradition at Binion's. Cary Davis, the president of Omni Media, said, "The American Poker Player Championships are a response to the tremendous popularity of poker in America today. We are proud to provide this new venue and anticipate great success because it will be a multi-event tournament, with cash prizes in each event, and the Main Event will be an affordable $5,000 buy-in championship."
Satellites are currently running at Binion's and there should be a tremendous field for this event. A look at the tournament structures indicates that there should be a great opportunity for skillful play in each event and the Main Event has a blind structure that rivals many other tournaments with levels that run two hours. For full details on the American Poker Player Championships, to view accommodations at Binion's for the tournament or to look over the schedule of events, be sure to visit their website at americanpokerplayerchampionship.com.
Ed note: Start your Championship run today at Hollywood Poker