American Poker Player Championship Adds Events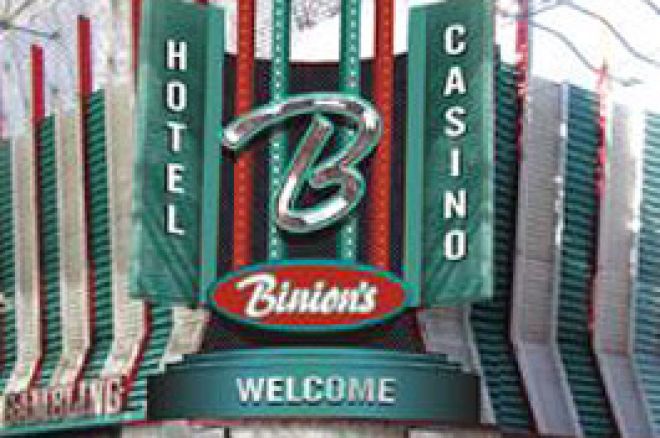 Just when you think there might be a lull in the tournament poker scene after the end of the WPT Championship and the beginning of the World Series of Poker, you better think again. Not only will the WPT kick in their Season Five schedule in May and June and the World Series wrap up their Circuit events, but a new event also promises to draw a considerable amount of interest as well.
The American Poker Player Championship marks the return of Binion's Gambling Hall and Hotel to the tournament poker scene. From May 10th to May 24th, twenty nine events will be played out ranging in buy-ins from $300 to the $5,000 Championship Event. Two new events have been added as well, making Binion's the place to be for a couple of weeks in May.
A $300 Ladies No-Limit Hold 'Em tournament has been added to the schedule of events, with the play kicking off on May 21st. As she is one of the hosts of the American Poker Player Championship, two-time WSOP Ladies' Champion Susie Isaacs might just be seen stepping to the felt to take on the fairer sex. While the ladies may be at the tables, the event promises to have the same competitive atmosphere that will be evident in all the events during the American Poker Player Championship.
For those who just can't get enough competition from the poker at Binion's, the American Poker Player Championship has also added the "Gamblers' Golf Tournament" on May 21st. Taking place at the Las Vegas National Golf Club, tournament organizers have already arranged for the transportation to the course for the event and have put up $25,000 in prizes for the competitors. The 18-hole tournament will end up with a luncheon where the prizes will be handed out to the field. This event is limited to 144 players and the participation fee is $300, which earns the participants several nice amenities for playing.
The return of tournament poker to Binion's, the longtime home of the World Series, is the true draw of the fortnight in Las Vegas, however. The American Poker Player Championship has done many things, such as limiting the field to 800 players in each event, to ensure the integrity of the tournament and should be important in adding to the contributions that Binion's has made to poker. To learn more about the American Poker Player Championship, be sure to visit their website at americanpokerplayerchampionship.com.
Ed Note: Do you own a Mac? You can play online anytime you want at Pokerroom.com