Kenna James: Cowboy, Singer, Poker Player.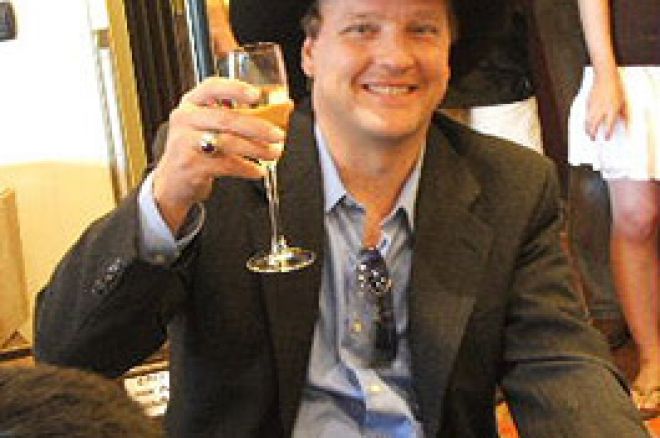 Kenna James is one of the most recognizable professional poker players due to his outgoing personality and signature cowboy hat. After a number of years in the poker world and on the tournament circuit, he is finally near the top of his game and getting better every day. He is feared at the tables, adored by fans, and finally gaining well-deserved recognition for his poker skills.
Always with a passion for life and his given talents, Kenna has never been one to shy away from dreaming big and pursuing those dreams. As a young man, he followed the arts and worked hard to achieve a scholarship to the Michigan School of the Arts. Once immersed in it, he found acting to be something at which he excelled and wanted to make into a career. And although he earned many roles in theater productions and other dramatic venues, he realized that it wasn't paying the bills.
To survive in the sometimes heartbreaking world that is Hollywood, Kenna waited tables, a common job for many up-and-coming actors. But, he confessed, "Waiting tables got old. So I decided to make a change and went to work as a dealer at Hollywood Park Casino." And that was where he met two of the great loves of his life - poker and Marsha.
Poker seemed to come naturally to Kenna, as he grew up playing card games with his parents and always had a penchant for the challenge of a game like poker. Using his training from so many drama classes, he found that he had an uncanny ability to read other players and bluff pretty well himself. He got along well with the game. He said, "But I guess I fell 'in love' with poker after my first big tournament cash back in 1997 down in Lake Elsinore."
Speaking of love, Kenna's transition from acting to poker also brought a special person into his life. During the year that he became so enamored with the game, he played quite a bit at Hollywood Park in Los Angeles. Marsha Waggoner was an Executive Host at the casino. "The first time we met, she accused me of colluding with another player in a game," he recalled. "Of course, I wasn't..." But when the dust settled, the two became fast friends. And over time, they fell in love and married.
Life just kept getting better for Kenna. As he logged more time at the tables, he began to make the transition from dealer to tournament director to full-time professional poker player. He began playing in more tournaments, and his hard work began to pay off as he eventually cashed in over 85 events around the world and accumulated close to $3 million in winnings. Some of those events have included Hollywood Park's Sport of Kings and Poker Derby, Bellagio's Five Diamond, and the California State Poker Championship.
Kenna's hot streak doesn't seem to have an end in sight. Within the last year, he finished seventh in the Monte Carlo Millions for $100,000 and ninth at the Aussie Millions for $85,000 in Australia. He recently came in second place on the PartyPoker Million Cruise to take home $700,000. And to top it off, he placed second in the televised World Poker Tour main event at the Legends of Poker, winning $588,000 and showing the world that he is one of the most talented players in the game today.
Besides winning enough money to provide well for his family and continue playing on the tournament circuit, recognition in the form of sponsorship comes with the territory. SunPoker just signed just such a deal with Kenna, and he is now the face and spokesperson of the brand. "Kenna is the perfect choice to be our poker ambassador," said Adam Smirnis, Poker Room Manager at SunPoker. "His knowledge and passion for the game, coupled with a personality that has made him a huge fan favorite, will enable Kenna to truly help SunPoker players and all fans of the game understand and play poker like a professional."
Kenna will not only represent SunPoker during tournament play all over the world, but a percentage of his winnings will be donated to selected charities, along with a matched donation from SunPoker. He will host "Kenna's Korner," a special table every Thursday evening at 9:00pm on SunPoker.com where players will be able to play and chat with Kenna about how to improve their game.
"Signing this deal was a long-term goal that has just been realized," Kenna said. "It has always been my desire to find a way to give back to the game that has been so good to me... SunPoker's commitment to teaching the game, as well as providing one of the best places on the Internet to learn, play and win, makes us an ideal team."
It seems that there is no stopping Kenna when it comes to pursuing his dreams and getting what he wants. With confidence in himself, a loving family at his side with unconditional support, and a generous and grateful heart at his core, there is no limit to where this poker pro will go.
Ed note: If its good enough for Kenna - Its good enough for you. Download SunPoker and check them out.