National Heads Up Poker Championship Premieres Tomorrow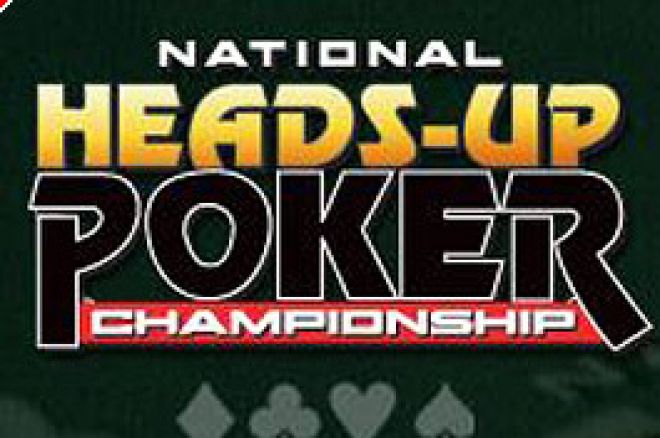 In two short years, the National Heads Up Poker Championship has captured the attention of not only the poker community but the television audience as well. Last year's No Limit Hold Em event, broadcast during the month of May, drew an average of four million viewers over the six hours that were broadcast. The two hour finale, which featured the stirring battle between Chris "Jesus" Ferguson and eventual champion Phil Hellmuth, was watched by over six million viewers. NBC, thrilled with the success of the first tournament, will launch the airing of the Second National Heads Up Poker Championship starting this Sunday from Noon-1PM (Eastern Time).
Indicating their commitment to the tournament, the coverage by NBC has been expanded to ten hours this year and the series will continue until the two hour final matchup on Sunday, May 21st. The format has also seemed to be a winner with poker fans worldwide as a field of 64 players battle in heads up matches. The players are placed in a four bracket arrangement, much like the NCAA Basketball Championship, and play until two survivors meet in a best two out of three series to determine the champion.
The premiere on Sunday will feature competition in the first round between many of the greats in the game today including defending Heads Up champion Phil Hellmuth, 2005 Heads Up runner-up Chris Ferguson, and 2005 World Series Ladies Event and WPT Ladies' Night Champion Jennifer Tilly. Other professionals involved in the play of the first broadcast will be Paul Phillips, Josh Arieh and current Player of the Year leader Michael "The Grinder" Mizrachi.
While the first episode will feature the play of these poker legends, the inaugural broadcast will also highlight the players that will be playing throughout the event. Such luminaries as Doyle Brunson, Johnny Chan, Barry Greenstein and acclaimed actor/poker player James Woods will be featured during the broadcast of later episodes. The broadcast will also follow the journey of the "wild card" qualifiers who played in the event, including online tournament winner Josh Lochner, the 21 year old who earned his way into the event and found himself among the giants of the poker world.
It seems that there is poker, poker everywhere for the viewers this Easter weekend in the United States! Over the next six weeks, everyone will have the opportunity to see just what happened when the National Heads Up Poker Championship played out at Caesars Palace last month. For more details on the television schedule for NBC's National Heads Up Poker Championship, be sure to visit their website at nbcheadsup.com.
Ed Note: Poker.com have good games, and good software. Check them out.