Ladies Poker Lounge, Vol 2 - Susie Issacs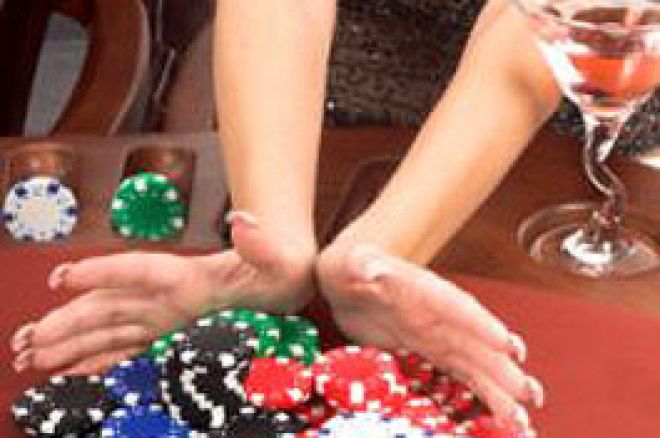 Welcome to the Ladies Poker Lounge. Glad you came back.
Today, I had the pleasure of speaking with Susie Isaacs, a poker icon and one of the best female players to ever grace the table. She is a joy to speak with, and she has wonderful insight to share about the past, present, and future of poker.
If it suits you, please order yourself a Mai Tai and join me in the Lounge.
PokerNews: Can you tell me a little about your interest in poker as a child?
Susie Issacs: I wanted to be included in the games my male cousins were sneaking to play. I knew they were breaking the rules and I wanted to be "bad" with them. (We were a Southern Baptist family, so we played on a Monopoly board as camouflage.)
PN: And how did that evolve over time?
SI: Into a favorite hobby which my parents knew nothing about until I was 44. The reason: to them, poker is gambling, gambling is a sin, and sinners to go hell. I did eventually turn them from that lifelong belief to realize that poker is a game of skill, and they became my biggest fans.
PN: Did you always have a feeling that poker/cards would be a big part of your life?
SI: No, it was just fun, social, and I did like to make money while socializing. I was a wife and mother and thought I would live my entire life in that role, with a little poker on the side.
PN: How exactly did your hobby turn into a career of playing and writing about poker?
SI: Necessity. When I lost my husband, I had to, at the very least, stop losing! So, I began to study poker. I had written all my life, just never had anything published until I started writing about poker and poker players. That is where my passion was expressed. It was the first thing I ever did that was mine and successful – not for a husband, not for the children, or for the family unit – just for me. Turned out to be very rewarding in more ways than one.
PN: Do you still enjoy playing as much as you did in the beginning of your career?
SI: Yes, I just can't play as long unless I am in a tournament, and then the adrenaline kicks in.
PN: What has been your greatest poker moment?
SI: There are four of them: Winning my 1996 and 1997 WSOP bracelets, and then placing 10th the following year in the "big dance." Finally, about 18 months ago, I signed contracts on several poker books, including 1000 Best Poker Secrets and Strategies and MsPoker Books One and Two, which will be out within the next month, and the fourth Queens Can Beat Kings, A Woman's Guide to Poker, which will be out in January 2007.
PN: What is the best part of the life you've created for yourself?
SI: To discover in mid-life that I could actually be an individual and take care of myself.
PN: What has been the most difficult lesson to learn over the years?
SI: To take the beats like a lady. There was a time I wanted to turn over poker tables. I still won't smile and say, "Good hand," when some donkey makes a two-outer on me, but I don't fuss and cuss either. That's poker!
PN: How did you become associated with the upcoming American Poker Player Championships?
SI: Through my friend and mentor, Tom McEvoy, who introduced me to Cary Davis, the head honcho. Cary and I hit it off, and I turned out to be a piece of the puzzle that Cary was, and continues to, create.
PN: What makes the APPC stand apart from other tournaments?
SI: The "seasoned" players remember great poker tournaments at Binion's, where tournament play began many decades ago. We are also going to offer mixed games that many players miss with so many tournaments going completely no-limit. It will be more of a "down-home" atmosphere with real poker players offering poker competition, rather than a huge corporation putting on a poker tournament. There will be many familiar faces from WSOP's past. I have been delighted with some of the calls I have received from as far away as Florida from folks who want to come back to Binion's.
Thanks to Ms.Poker for taking the time to answer my questions. Susie can be found hosting the American Poker Player Championship series from May 10-24 at Binion's Gambling Hall and Hotel. Twenty-nine events, including a $300 Ladies No Limit Hold'em Tournament on May 21, will lead up to the final championship event. And look for her at this year's World Series of Poker as she looks to add more bracelets to her collection.
Also, Ladies, please remember that there is a WSOP circuit event at Caesars Palace in Las Vegas THIS SUNDAY, April 30, at 10am. It is a $200-$30 Ladies No Limit Hold'em one-day event that you don't want to miss!
Now, don't forget to tip your bartender. See you next time in the Lounge.
Ed note: Ladies always welcome at Ultimate Bet Sign up today.