Online Poker Weekend Wrap Up: Erick Lindgren Stars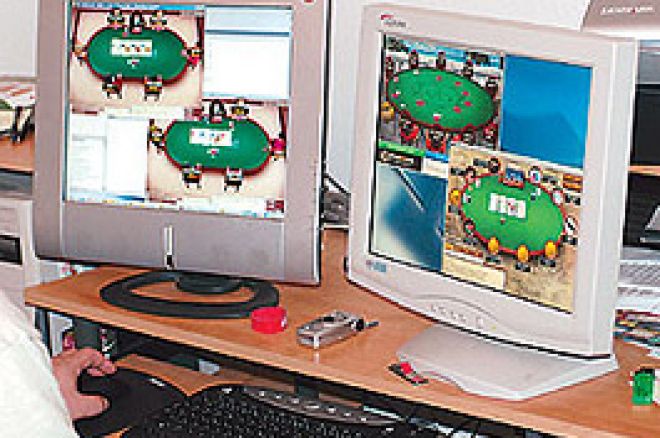 The three tournaments that we cover this week all made their guarantees – but just barely. Of the three tournies we cover here, (PartyPoker, PokerStars, and Full Tilt) not one of them exceeded their guarantee by more than 6%, with Full Tilt making it by 3%, and PokerStars just getting there by 2%. Do these people know their audiences, or what?
This past weekend's online poker action was highlighted by the presence of one of the top players in the world, Erick Lindgren at the final table of the Full Tilt $200,000 guaranteed. Also, the PokerStars final table had a few known online players at it, with Rizen, Ranscuttle, and AceViper all making the final nine.
Full Tilt $200,000 Guaranteed
The first final table of the day was the Full Tilt $200+16 with $200,000 guaranteed. There were 1031 runners and by the time the final table rolled around, the railbirds were there in throngs, mostly due to the presence of Erick Lindgren, who was second in chips. Slight chip leader was aylersblues, who didn't seem daunted by the presence of the professional, taking a 600k pot off him on one hand, and knocking Erick out on virtually the next hand. Erick raised and was called by Broncosajorski and aylersblues in the blinds. The flop came down Jd-3d-2c, Erick bet out, aylersblues came over the top with Js3s and Erick somehow made the call with KT and was sent packing in eighth. With over half the chips in play, aylersblues was unstoppable, knocking out three players en route to the short-lived heads up clash against H0-H0. Indicative of the luck aylersblues was seeing, in the final hand, aylersblues held pockets sevens against H0-H0's jacks and found a 7 on the flop to seal the $46,395 first place prize.
Full Tilt $200,000 guaranteed
Final Results
aylersblues $46,395
H0-H0 $29,899
Zuludogg $22,166.50
BroncoSajorski $17,011.50
CBion3 $12,887.50
ArtieRufio31 $9,279
Krisen03 $6,186
Erick Lindgren $4,639.50
rc one $3,299.20
PartyPoker $ 500,000 Guaranteed
With Mother's Day over and gone, a field of 2,650 players brought the prizepool of the weekly PartyPoker tournament to just over the guaranteed 500k. By the time the field thinned out to the final ten, there were only 3 players with less than a million in chips, and there was a long final table ahead. Doctorbruce was unlucky to depart in 9th with AKos vs donkeypunisher with AKs. With seven left, the chip leaders clashed – on a flop of 9c-10s-Js, never2beseen with Qc8d pushed all in, and was called by donkeypunisher with AsKs. Donkeypunisher couldn't hit the royal, but found a queen of diamonds on the turn to take down the 4.7M pot and eliminate never2beseen. With four players left, donkeypunisher and queenkris had 4M in chips while General_ex and Mekong_ were both hovering around the 2.5M mark. A deal was attempted but short stack Mekong_ opted to play on and it paid off when he took the chip lead soon after. When General_ex was knocked out in third, the final three were almost equal in chips and did a deal for the remaining prizepool, queenkris the nominal winner.
PartyPoker 500,000 Guaranteed
Final Results
queenkris (Delta) $68,333.75
Mekong_ (Westfield) $68,059.71
donkeypunisher (Winnsboro) $61,326.56
General_ex (n/a) $31,270
Kmp006 (Atlantic City) $25,440
Faders (Atlanta) $20,140
never2bseen (Fairfax) $14,840
ktyven (White Bear Lake) $10,070
doctorbruce (Summertown) $7,420
franzzz_ (Aalborg) $5,300
PokerStars $1 million guaranteed
The biggest tournament of the week, the Poker Stars $1 million guaranteed, also went over the guaranteed prizepool with 5108 runners. The final table looked to be an even-handed affair, but smart money was on early chip leader Rizen, who knocked out Fat Stack213 (9th). Rabscuttle soon joined the leaders, doubling up through gardner52, and then catching a huge break when he pushed with pocket queens preflop and was called by aceviper with aces – a queen on the flop ended aceviper's day in seventh and took Rabscuttle to 4.5M in chips. It seems bad beats were the story of the day – pandabear22 with Qd9h flopped a straight with 8d-Jc-Th on the board and pushed, gardner52 making the call with just AcQh. A heartbreaking king on the river sent pandabear22 home in fifth. Gardner52 doubled up through Rabscuttle to win an 8M pot, and with the other 3 players around the 1.5M chip mark and blinds at 50,000/100,000 (5000 ante) he was looking the favourite. But Rizen knocked out aakkari (4th) and Rabscuttle (3rd) and went to heads up only slightly behind.
Surprisingly, there had been no deal talk up to this point and players seemed destined to battle it out. The heads up match was a marathon, gardner52 took a huge 5-to-1 chip lead, somehow hitting trip kings with KJ against Rizen's pocket jacks. Rizen clawed back to 4M and, in the turning point of the game, took down a 9M pot when gardner52 called on the river with ace high versus Riven's two pair. With the chip lead, Rizen's experience ran gardner52 into the ground. Down to 1M in chips, gardner52 was forced all in with Q8 by Rizen with J9, a jack on the turn securing the $156,815.60 payday for the well-respected tournament player.
PokerStars $1 Million Guaranteed
Final Results
Rizen (Olathe, KS) $156,815.60
gardner52 (Tomball, TX) $86,325.20
Rabscuttle (Richmond, VA) $51,080.20
aakkari (Sao Paulo, Brazil) $40,864.00
pandabear22 (Nuernberg, Germany) $31,669.60
kevmike (Chicago, IL) $25,540.00
aceviper (Burbank, CA) $19,921.20
fleischmo (Gerach, Germany) $14,813.20
Fat Stack213 (Elk Grove Village, IL) $9,194.40
See you next week.