Poker Video Games a Small Piece of the Puzzle at E3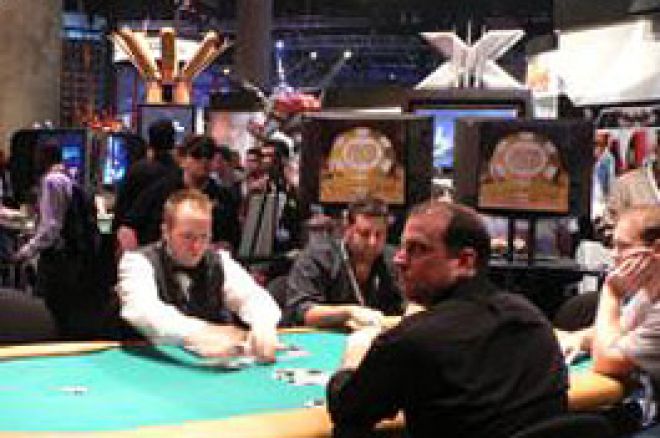 Just when you think the online poker business is a big business, you go to something like E3. E3 is the big annual convention for the video game business, and admittedly not having been to many conventions, it was the most massively overwhelming thing I've done in a while.
I figured the poker business is big business, so I wanted to gauge how big it is in the video game world, and the answer is – not really so big. The convention hall that I was in that housed big video game companies like EA, and Microsoft took me about 30 minutes to walk my way through. When I got back to where I started in the room, I was informed this was only one of five halls they were using for this convention. Yikes.
The convention had everything from a full skateboard 'half pipe' complete with a constant skating exhibition (to promote Tony Hawk's game), to full sized BlackHawk helicopters. As far as the eye could see, there were attractive models who knew very little about the games they were hired to promote talking to drooling video gamers, as well dressed executives were mere feet away in 'power schmooze' mode.
Oh, and there was poker. Probably the biggest promotional area I saw for one game was the area promoting the new WSOP Tournament of Champions Game from Activision. One interesting thing about this game is it allows you to take a picture of yourself, and then uses computer modeling to put your face onto the screen. I took advantage of that, and put myself into the game. The facial technology left a little to be desired for me (but, I did have hair again!), but worked quite well for the fellow to my left.
So, I am transported into this table where Jesus Ferguson, Clonie Gowan, Scott Fischman, and a few others are playing. The graphics on the game are pretty incredible, and the subtleties of the game (the way Fischman made his bet was incredibly detailed, and looked pretty real) was impressive.
The companies do all they can to promote these video games at this convention, and the poker games were no different. The WSOP TOC game had pro players Kristy Gazes, and Liz Lieu on hand to play against various conventioneers. On today's schedule was a private event hosted by Daniel Negreanu to promote his new video game, Stacked.
Easily the most anticipated poker video game ever, Stacked has promised state of the art technology, including cutting edge Artificial Intelligence (AI) that creators say will result in the most advanced poker video game ever. One interesting thing about Stacked is it's co-branded with MTV, which means there will be no shortage of promotion toward one of its target audiences. Stacked is scheduled to hit store shelves at the end of the month.
I took a couple things away from the E3 convention. The first being that no matter how big I thought the video game business was, it's much bigger than I ever imagined. Also, the 'learning curve' of integrating the amazing video game technology into poker games is beginning to catch up with the popularity of poker, and we should see more and more sophistication out of this genre of games as time goes on.
Ed note: Party Poker have multiple tables available at every limit, 24 hours a day.