The Business of Poker: Interview With Jeffrey Pollack of the WSOP, Part Two
John Caldwell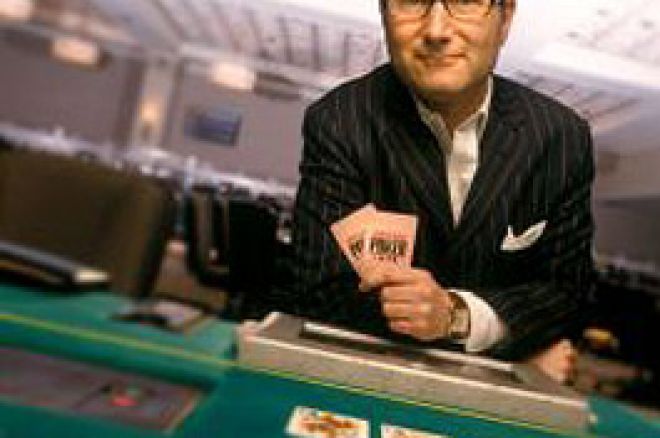 In Part One of my interview, we got a little background on Jeffrey Pollack of the World Series of Poker. Join us today as we discuss the future, and where this whole WSOP thing can go.
John: So, let's talk about the brand build of the World Series of Poker. If you had to state a singular goal as commissioner from a branding perspective, what would it be?
Jeffrey: I want the World Series of Poker to be equated with Wimbledon. What that means is when people think of Wimbledon, they think the ultimate expression of tennis, globally. And, it's just a tournament. World Series of Poker – it's just a tournament, but it is the ultimate expression of excellence in poker. I want to drive that perception home relentlessly. Again, we're already in the # 1 slot, but all that means is the only place we could potentially go is down. So, for us to stay where we are, we need to solidify that foundation, and that perception.
Beyond that, I want us to be the best poker brand in the world, and the best poker brand in the sports and entertainment community. We still have some work to do, but again I think we have a great running start.
John: I think that's an excellent comparison. That was always my goal, for poker to become tennis. I don't think that it's achievable for poker to become the NBA, for the World Series to become the Superbowl, or the Masters. Tennis has settled into a nice mainstream niche, and there is a whole infrastructure around it from a corporate perspective.
Jeffrey: Yes, and look at the team I put together. Ty Stewart, who was the top marketing guy for the NFL for 7 years, is on the team. IMG has worked with the All England Club, and Wimbledon for decades. They have helped create Wimbledon, and make it what it is today. There is always a method to my madness. My bringing IMG on as our sponsorship, licensing, and international event agent was completely intentional.
John: Let's talk about the experience of the fan. The actual experience of going to the World Series of Poker itself. Is that experience going to change this year, and if so where is that going?
Jeffrey: I went to the World Series of Poker last year for about 40 minutes, in July when I was interviewing to come to Harrah's. I didn't really know what I was looking at, and it was pretty overwhelming, but I did walk away with a few impressions. One, that there wasn't enough 'Vegas' to the experience. Two, that the smoking in the hallway was offensive. And Three, that the food selection didn't look all that good.
When I got here, coincidentally, all I heard was that smoking was offensive, the food selection was pretty bad, and there weren't enough bathrooms. So, my mission this year was at least to clean all that up before this years tournament. So, we're going to have a better than ever, world class food service. I heard some specific complaints about the pizza – bad – small – stale – overpriced. So, this year, bigger – better – hot from the oven, and for the basic cheese slice, a price of $3.75, which is lower than last year, and by any standards a pretty good price for a slice of pizza.
So, that, more bathrooms, no smoking in the hallways.
John: That's what I want to talk about – No smoking in the hallways? Did hear you the smoking complaint from the players?
Jeffrey: No Smoking in the hallways adjacent to the tournament room. We cleaned it up this year. All I heard was that the smoking was offensive, and I knew it from my experience there. That had to go, so we've cleaned that up.
Beyond that, I think you will see a very fun experience at the lifestyle show, the gaming exposition. I think you'll see a better presentation of corporate presence, and branding, and I think you'll just see a saner media presence there.
So, to me, we just scratched the surface, we took care of the fundamentals, and fixed what needed to be fixed. My team and I need to live this thing for a year before we can really figure out what we should be doing, and exactly how to make this better.
John: OK, now I put you on the spot – What will be the number of participants in the main event this year?
Jeffrey: As many as want to signup. I'm the only person here who won't predict. I think it's a dangerous game. We're prepared for as many as want to sign up. All are welcome. If we see some growth from last year, I'll be happy. If we're flat from last year, I'll be happy.
John: Let's talk about the players advisory council. What have you learned from it, and what are your perceptions of what that became?
Jeffrey: The council, which we launched in January, has been incredibly productive, and has reinforced my early perception that top players, both the pro, and non professional players that are on this council are an extraordinarily smart, opinionated, and passionate bunch. It is a challenge for me to keep up with some of them, and I appreciate that.
It's been a very open, honest exchange of perspectives, ideas, and information. They have helped us make some decisions, and I think we have enlightened them about how our business operates. It's exceeded every thought I had about this.
I didn't think we would meet monthly. I thought maybe we would meet quarterly, or maybe twice a year. In that first meeting, the players made it clear they wanted to meet monthly. I put it out to them – 'How often do you want to meet?' Universally, they said 'monthly'. And, we have had near perfect attendance for every meeting. I have a short list of players ready to step on to the council when seats come up potentially next year.
It's been great. I think it's the first council of its kind in sports. I know that we have opened up the doors to the house, and welcomed everyone in. We don't agree on every issue, we're not going to. The council doesn't have any formal decision making authority, but I'm using it as a way for us to make better decisions, and we have been making better decisions as a result of it.
John: Any overall goals for the WSOP this year?
Jeffrey: My goal for this years tournament is for, on August 15th, when people have recovered, I want people to say 'this was a better tournament than 2005'. And if we've done that, we've done a good job. That's the goal for every year – that each year the tournament is a better and better experience. We're not going to grow every year. Registration is not going to continue to grow at the clip it has been every year. Ratings are going to come and go. But, we're in it for the long haul. We are backed by the largest gaming company in the world. The World Series of Poker is here to stay, Harrah's is here to stay, we have another brilliant 37 years in front of us, and I am building for the long haul. I would like to be commissioner for as long as I possibly can, and leave something in great shape for the next man or woman. We're not building for the short term; we're building for the long haul.
Ed note: Always play for the long haul at Ultimate Bet