Online Poker Weekend Wrap Up: One Player Walks with $262k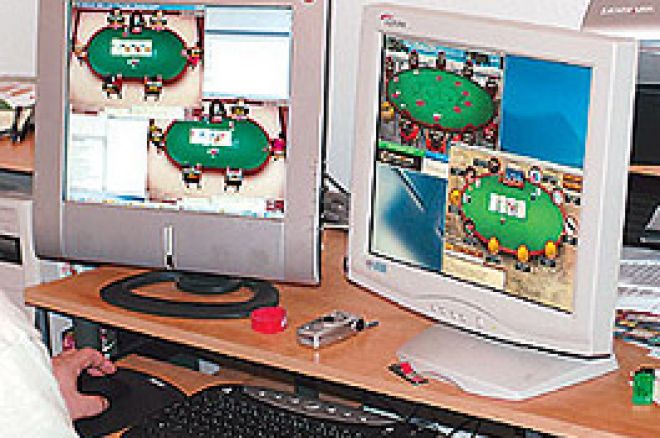 The World Series of Poker may be getting underway, but that didn't stop thousands of players from hitting the cyber felt this weekend, as all three tournaments we covered made their guarantee. This was a sharp contrast to last weekend, with Father's Day causing nearly every site to miss their big Sunday guarantee.
The weekend was highlighted by the presence of a top online poker veteran, as Shawn Rice took second in the PartyPoker $1 million, while rising online player PearlJammed took third in the same tournament. Houston based online veteran Mullet made the final table of the PokerStars Million as well.
Overall, three players cashed for over $100,000 this weekend, highlighted by the massive score for Flopspanker, whose $262,000+ payday was easily the biggest in recent Sunday tourney history.
Full Tilt Poker $200,000 Guaranteed
With 1150 players, Full Tilt yet again reached the guarantee for their big $200+$15 Sunday tournament. The railbirds were gunning for I_M_Bluffman, who had made some questionable plays but had the chips to back it up – leading with 706,871 going into the final nine. Swandog7 was the unlucky first to depart, his pocket kings running into Annette_15's aces. Shortstack jrgarza took on Bluffman, unbelievably chopping with 92os versus pockets threes, and then doubling through with pocket fours versus pocket nines.
Bluffman doubled up under dubious circumstances, reraising Annette_15 all in with K8. Annette made the call with AQ but had to swallow a king on the river and Bluffman was back to 1,000,000 plus in chips. Tinaeaturham extended his chip lead after eliminating jrgarza, and it was down to the final four. After a long battle, Annette was out in fourth, running her pocket twos into Bluffman's pocket jacks. Chipleaders Tinaeaturham and Bluffman then clashed – on a flop of Q-2-2 Bluffman bet, Tinaeaturham reraised all in with AQ and Bluffman made an easy call with pocket queens. Bluffman knocked Tina out the very next hand and took a huge chip lead into heads up against the quiet achiever Ahvall. Ahvall finally spoke up and reraised Bluffman all-in with AQ, but Bluffman had aces and took down first place.
Full Tilt Poker $200,000 Guaranteed Results
I_M_BLUFFMAN $51,750
Ahvall $32,775
tinaeaturham $24,265
Annette_15 $18,975
jrgarza $14,375
JaxDevlin $10,350
ScooopIT $6,900
orangemen37 $5,175
swandog7 $3,680
PokerStars $1 Million Guaranteed
Being halfway through the year, it was the time for the quarterly $1000 + $50 buyin version of the ever popular PokerStars tournament. As expected, the numbers were smaller – 1301 players, but the prizepool was much higher with $1.3 million on offer. When the final table rolled around, the average stack was 433,000 and with blinds at 7,500/15,000 (750 ante) there was a lot of play ahead. Things were fairly lowkey until FlopSpanker doubled up through chip leader chaos183 with quad tens to take the lead with $1.5M in chips. After knocking out Torpedos in sixth, FlopSpanker now had 2M in chips, more than the other four players combined. Chaos183 recovered, and knocked out utk3g in fourth place to take 1 million chips into 3-handed play.
FlopSpanker, who was still leading with 2M, had surprisingly been pushing for a deal and players decided to talk. Shortstack Bry23 (744,011) and chaos183 weren't happy, and play continued. As has been the trend recently, the grumbling shortstack was the first to depart, and Bry23 was out with about 35k less than the deal would have given him. Although FlopSpanker had a 3-to-1 chip lead, he offered a deal to chaos183 and players talked again. FlopSpanker had 2.8M in chips, and chaos183 only had 1M but the chip chop allocated $213,000 to Flop and $180,000 to Chaos with $30,000 to play for. Chaos was still unhappy and play went on. FlopSpanker was too far ahead and controlled the heads up match, the tournament coming to an end on a race with AJ vs 77, a J on the turn giving FlopSpanker easily the biggest payday of the weekend.
PokerStars $1 Million Guaranteed Results
FlopSpanker (London, United Kingdom) $262,151.50
chaos183 (Vienna, Austria) $161,974.50
Bry23 (Marlborough, MA) $98,355.60
ulk3g (Roma, Italy) $76,108.50
10Gunman (Norway) $63,098.50
Torpedos (San Jose, Costa Rica) $50,218.60
mullett (Houston, TX) $38,379.50
Erland (Denmark) $28,622.00
Roxy24 (Brantford, ON, Canada) $18,214.00
Party Poker Sunday Million Guaranteed
With the increased buyin at PokerStars, and Father's Day gone past, the numbers were back up for Party Poker's own Sunday Million tourney, a field of 5021 players just scraping past the guarantee. Pipe_Dream came to the final table with 6.7M in chips and increased that to 12M after taking a huge 9M pot off Myrabbitfoo. Myrabbitfoo charged back to 5.4M in chips, after sucking out on a 3-outer to knock out BluffaDay in sixth. Pipe_Dream still had 12M, which was roughly as many chips as the other four players combined, but with westtexasman (Shawn Rice) and PearlJammed still in the field (albeit shortstacked) it was anyone's game.
Players attempted a deal but even with Pipe_Dream prepared to give up $30,000, the other players couldn't decide how to split it up and play went on. SpeedFool reraised shortstack westtexasman all in from the big blind, and westtexasman finally made the right call with seconds to spare, doubling up with 77 versus Q6. Fellow shortstack PearlJammed doubled through Myrabbitfoo with 66 versus AJ and now the experienced duo had chips to play with. After PearlJammed delivered the knockout blow to Myrabbitfoo and Pipe_Dream jumped to 15.6M by eliminating SpeedFool, the remaining two players attempted to reel Pipe_Dream in. However Pipe_Dream increased his lead to 18M – 75% of the chips in play and PearlJammed and westtexasman showed their real skill in getting Pipe_Dream to deal. Somehow Pipe_Dream gave up $30,000 - $12,500 to each player and $5,000 to play for, which he claimed easily along with the nominal first place.
Pipe_Dream (Lewisville) $129,672
westtexasman (Lubbock) $82,302
PearlJammed (Raleigh) $81,353
SpeedFool (Las Vegas) $42,678.50
Myrabbitfoo (Brooklyn) $35,147
BluffaDay (Marina del Rey) $27615.50
jgrattz (Biddeford) $20,084
morp6 (Beaumont) $15,063
JacksRayRay (Burr Ridge) $10,042
madphd (Westerville) $5,021