Online Poker Weekend Wrap Up: Party Poker 1 Million Premiers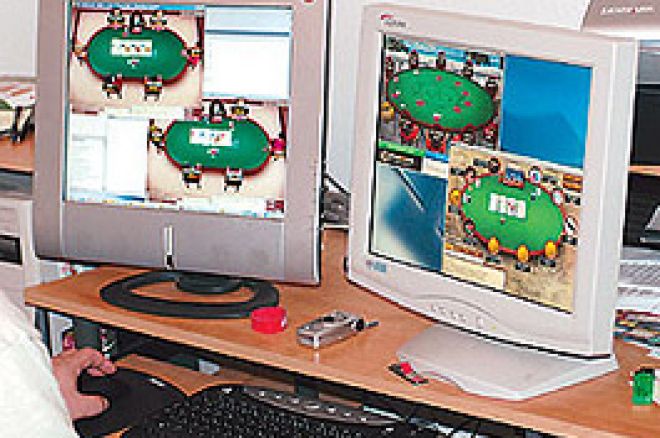 As if we need anymore signs that the online poker world continues to build momentum, this past weekend marked the premier of the Party Poker $1 million guaranteed. For the second straight week, the top tournaments were fairly free of the top names in online poker, but that wouldn't stop five players from putting over $100,000 in their pockets from the top three tournaments on the internet.
While some of the tournaments took a lot longer than their normal length, the action was fierce, and the money large in this weekend's action.
Full Tilt $200,000 Guaranteed
The Full Tilt $200,000 Guaranteed tourney kicked off a little later than the other big ones, but with 1065 runners it was the first to reach the final table. Fan4mizzou got off to a flying start, knocking out jujusman (8th) and pokercoq (7th) in successive hands to grab the chip lead with 1.1 million. However after some unsuccessful plays – such as coming over the top with T7 on a 7-high flop against pocket kings – fan4mizzou was back to 540,000 and the table was fairly even. Play tightened up considerably 6-handed, and then as blinds rose to 20,000/40,000 (5,000 ante) there was a rush of action. Shortstack BlazinGezus raised to 120,000, LowKey80 pushed all in from the small blind for 571,000, xsportyx called all in from the big blind for 335,000 and BlazinGezus made the call for his last 125,000. LowKey80 had AQ versus xsportyx with QQ and BlazinGezus with KJ – a miracle ace on the flop gave LowKey the 900k pot and eliminated two players. Fan4mizzou's chips had dwindled and he departed in 4th, followed by tranquilo who was unlucky to lose with AK vs LowKey80's AT. Starting with around 1.5M each, it looked to be a fairly even match but LitleBastrd was the aggressor and soon had a growing 2-to-1 chip lead. With the board showing 5s-2c-9d-Js, LitleBastrd checked, LowKey80 pushed all in with QT and LitleBastrd called with J8, the turn a blank to give LitleBastrd the win.
Full Tilt $200,000 Guarantee – Final Results
LitleBastrd $47,925.00
LowKey80 $30,885.00
tranquilo $22,897.50
fan4mizzou $17,572.50
xsportyx $13,312.50
BlazinGezus $9585.00
pokercoq $6,390.00
jujusman $4,792.50
sniper88 $3,408
PokerStars 1 Million Guaranteed
Despite the premier of a competing $1 millon guarantee at Party, the Poker Stars weekly cruised along easily landing the most players – with 5265. There was some fluttering amongst the railbirds with rumors that Ben Affleck was playing – and had reached the final 20 but the speculated screen name was out before the final table. Jane Smith and hirs10 were designated table captains with 3M and 3.5M apiece, and quickly set about controlling the table. Jane knocked out BobCore (9th), 1badpokerman in (8th), skjetten (7th), while hirs10 chipped in to eliminate an unlucky youngluck (6th) who lost with A6 to hirs10 with A4 after both players hit an ace on the flop. Hirs10 struck again to take out ladyluck22 (5th), flopping trip 4s with K4 to beat ladyluck22's A8. 23Titan should have learned from ladyluck22, but pushed with A8 and was beaten by Jane Smith with QT who hit a four-flush.
Quzzo fought bravely against the big stacks, but hirs10 knocked him out in third with QK vs JJ. Having eliminated all players from the final table between them, Jane Smith and hirs10 were certainly well-deserved heads up opponents. With Jane on 9M in chips, and hirs10 on 4.2M, the quickest deal in history was made – hirs10 asked for 100K, Jane agreed instantaneously (pocketing about 130K), and Lee Jones was left slightly stunned. Hirs10 made a comeback to take the remaining 20K on the table, suitably leaving both players almost even for their final table domination.
PokerStars 1 Million Guaranteed – Final Results
hirs10 (Boca Raton, FL) $120,000.00
Jane Smith (Odense S, Denmark) $130,614.00
quzzo (Gothenburg, Sweden) $52,650.00
23Titan (Lake Elmo, MN) $42,120.00
ladyluck22 (Thornton Clevelys, United Kingdom) $32,643.00
youngluck (Gardena, CA) $26,325.00
skjetten (Skjetten, Norway) $20,533.50
1badpokerman (Montrose, CO) $15,268.50
BobCore (Oslo, Norway) $9477.00
Party Poker Sunday Million Guaranteed
As mentioned before, this was the first week of Party Poker's $200+$15 1 million guaranteed tournament, and anyone expecting some decent overlay were sorely mistaken as 5061 players lined up. Some players were disgruntled at Party Poker's decision to only pay the top 400 finishers, despite the size of the field, but the final nine all seemed very happy to battle for a $200,000 first prize. Shortstack Bustmup started the deal talk early – and continued it even after he'd doubled up twice to over 4M. With blinds capped at 75,000/150,000 (4,000 ante) two unknown players decided to take their chances and play continued. Bustumup had changed his mind about dealing, having hit 6M, but lost two races in a row and was out in 6th. After a massive 3-way all in with AA vs KK vs 22 in which Richsihun pocketed a 5.5M pot, the remaining four players attempted a deal.
CrazyCypriot was chip leader with 10M and kicked off negotiations by demanding $165,000. Ricsihun (6.7M in chips) wanted to get things over and done with, but PingoDoce (4.9M) wasn't happy and AshlynGere (3.5M) was asking for $100,000, about $13k more than the deal and $40k more than what 4th place would pay out so play went on. Ashlyn doubled up through CrazyCyrpriot, and again through Ricsihun, and CrazyCypriot took some big hits to be stuck at 3.2M while the other three players were around the 7M mark. Another deal was attempted and this time CrazyCypriot was the demanding short stack – refusing a chip count deal which would have given him $12,000 more than second place. Ashlyn promptly eliminated him in fourth with pocket tens versus AQ, and the remaining three players promptly did a deal roughly based on chip counts and put the ten hour marathon to an end.
Party Poker Sunday Million Guaranteed – Final Results
AshlynGere (Farum) $138,400.38
Ricsihun (Miskolc) $122,163.04
PingoDoce (Pskov) $118,000.00
CrazyCypriot (Coventry) $59,719.80
Paulus_N (Leuven) $48,585.60
Bustumup (Indianapolis) $38,463.60
ChinaRyder (Norfolk) $28,341.60
manticorePP (Hohentengen) $19,231.80
dough_ray_me (San Diego) $14,170.80
vik18 (n/a) $10,122.00