The Poker Counselor's Corner (60)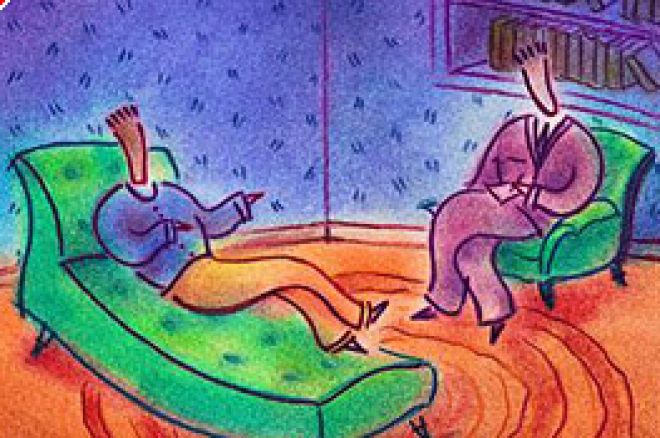 Editor's Note: In addition to being a poker enthusiast, gambling columnist, and lecturer, John is a National Certified Counselor (NCC). He has a Master of Arts degree in Counseling from West Virginia University, and a Bachelor's degree in Psychology with a minor in Sociology from Lock Haven University. You can arrange for interviews, speaking engagements, or ask your question to "the Poker Counselor" at carlisle14@hotmail.com
Hey, there are some ladies here on campus that play a lot of poker. I am always hitting on them. My buddies say they are not that hot, but I just go crazy for a chick that can play poker. My one friend says I am just into the poker so much that it makes them seem hotter. What's up with that? -emailed by Josh T.
It is certainly possible that you might find a girl more attractive simply because she has poker knowledge and ability. I am supposing that your buddies are using the "hotness" scale purely on the girls' physical attributes. Your mind has enmeshed some other aspects into the judgment by including their poker savvy. Even the most shallow, chauvinistic man perceives qualities in woman that extend past pure looks. Overall personality, intelligence, sense of humor, and attitude might play into this equation for some guys. For you, your mind probably automatically projects a positive feeling toward women who can play the game. You see that their interest automatically gives you some "common ground." Likewise, there is probably a match in some aspects of your personalities. Perhaps your mind has already projected a stereotype of a poker playing woman that appeals to you: strong, confident, competitive, and fun-loving. So, your buddy was probably accurate. Although he stated it in more simplistic terms than I might, our messages actually mimic each other: you are into poker so much that you find poker playing women hotter!
I started watching poker on TV last year and it seemed interesting. I tried it out online at Pokerroom.com with play chips just to learn the game. Since then, I have won a ton of play money playing No Limit Hold 'Em online but have never played for real. I am thinking of playing online for real money. Any advice as I make this big jump? - emailed by Riley E.
I commend you for taking the time and patience to really feel comfortable with the game before diving into the real money contests. I see too many hopeful players enter into real money games with zero knowledge of the game, which usually ends up having them mystified and disenchanted with the overall contest. Playing a game that you do not understand is not only a sure-fire way to lose money; it is also a path that leads new players to avoid the game in the future. After all, it is usually our earliest experiences with any stimuli that tend to set the tone for our future perceptions on that same topic.
If your first ever experience with poker includes being berated by fellow players as your $100 buy-in disintegrates into zero in a short span of time, you are not likely to log back on anytime soon. By using the free play tables to learn and practice the basics of posting blinds, understanding the basic strategies of position and betting, and just knowing the "flow" of the game will certainly increase your overall experience remarkably. It is my hope that you do know that playing for play money and playing for real money are two distinctly different worlds. Even players at the smallest micro-limits online take the game seriously and are looking to grind out profits.
In fake-money games, this is not the case. You can find all 10 players seeing the flop in play chip games. You often see 7 callers on all-in pre-flop bets. It is inevitable that every table will be filled with wild, aggressive, and unknowledgeable players. Thus, winning consistently in the play money realm probably has very little correlation with the rate of success in real money game. As you venture into the real money games, be sure that your goals are set appropriately. I urge you not to gauge yourself and your success on the money won or money lost. Instead, keenly focus on your game and your overall improvement. Use a journal or online tracker to see your play in an analytical light. See how many hands you are seeing to the Flop, Turn, and River. What is your percentage of wins when you play through to the River? Are you able to fold good hands when you think you are beaten? Are you playing patiently? These sorts of tracking exercises are more reliable and helpful than simply looking at dollars and cents. You could be losing a few dollars in the short run while still playing solid poker.
On the flipside, you could get lucky and win some money even though you are playing sloppy, poor poker. Overall, it is the skills, experience, and self-knowledge that are the real prizes in the first few months of your play. Any money that is won during that beginning stretch is simply icing on the cake. Be sure to sign up using a first-time depositor bonus and it will help to boost your bankroll as you log hands. That will keep you in the game as long as possible. Make sure the time you spend is valuable by concentrating on learning as you go.
Keep those questions coming!! Carlisle14@hotmail.com
Ed note: Party Poker have multiple tables available at every limit, 24 hours a day.