My TV Poker Experience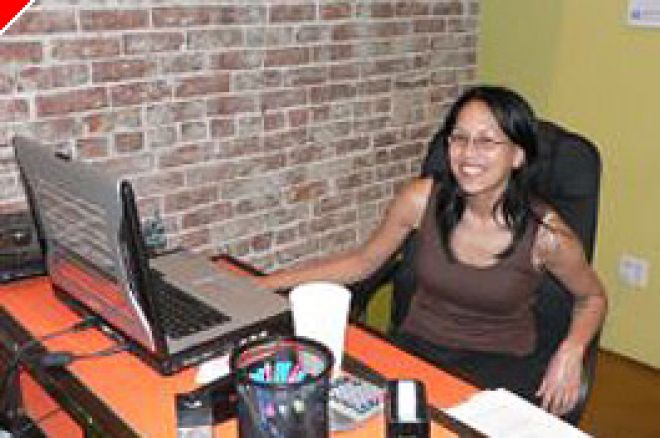 Editor's Note: PokerNews writer Cory-Ann Joseph won her way on to the Mansion Poker Dome Challenge. Her show taped last Saturday night, and ran last Sunday night. Here is a brief recount of her experience
After writing an article on the fantastic overlay being offered in tournaments at Mansion Poker, I thought it was only in the interests of journalistic integrity that I should play a few of the Mansion Poker Dome Challenge qualifiers.
Coming from Australia, tournaments like this are never at a suitable time, but after a fateful bout of insomnia I found myself entering a Poker Dome Challenge Qualifier at 6am. Roughly four hours later, I had somehow won my way through the 250 person field, and after much yelling and screaming I promptly fell asleep.
I can tell you first hand that the package really is amazing value - Mansion forked out for round trip flights from Australia to Vegas, limo transportation from the airport to Caesar's Palace, a deluxe room with complimentary champagne, free food, a dinner on the Friday night, $500 in chips, and a very nice Mansion jacket. And this was on top of the chance to win $25,000 and possibly $1 million down the track.
I started my trip with a brilliant run of luck – I got flown in a day early, had my 15 hour flight to LA upgraded to business class, and I ended up with a much nicer room at Caesars. However after that, I proceeded to blow up all of my brand new appliances, I missed half the welcome dinner due to jetlag, and after coming up with the brilliant idea to do some shopping before the taping, I somehow found myself in the middle of nowhere with only thirty minutes to get back to the hotel. I made an SOS call and got back with ten minutes to spare, raced up to my room for the quickest shower of my life, did my makeup in the limo, dried my hair in two minutes in the green room, and strolled onto stage to film my walk in – this showbiz stuff is a piece of cake!
I hadn't played Speed Poker before, let alone played on television so the prospect of doing both for the first time was very daunting. However after a few practice rounds I found that there wasn't a lot of adjustments to be made. The basic difference with Speed Poker is that you only have 15 seconds to act, and since I play mostly online, it was pretty easy to stay within the time limits. The cards used for the Poker Dome actually have microchips inside them so you don't have to be too precise about how you show them to the camera, and since most things like chip counts and pot size are automated, it means that you can concentrate solely on your game.
I was pretty happy that my heat were all amateur players (rumor is that Tony G and Perry Friedman have both qualified for the show on July 2nd) and gave myself a reasonably good chance to do well. I was most worried about the structure but with a 50,000 start stack and 20 minute blinds starting at 1k/1k, I was hopeful that it wouldn't turn into a crapshoot. However, with most of the table playing pretty tight (and letting me steal with powerhouse hands like 8 6 ), after an hour we still had all six players. So levels dropped to ten minutes, which got Gen Watanabe out in 6th and blinds jumped from 3,000/6,000 to 5,000/10,000 the very next hand on my big blind.
With roughly 40,000 left I pushed with A 10 against a raiser and got called by the almighty 5d 6d. The flop was disastrous – 9d-8d-3s, giving Marissa Chien a gutshot straight flush draw, and when the turn was a non-diamond I called for a deuce on the river. The deuce came but I didn't realise the turn had been a 4, giving Marissa had a straight to the six and knocking me out in fifth. Slightly stunned I was escorted out to the audience area for my exit interview and received a nice welcome from the crowd which helped calm me down a little bit. I got to watch the rest of the show from the audience and found it very interesting, if you're in Vegas I would definitely go down, and check the Poker Dome out.
Overall I had a really great time - in return for my one cent investment I got to be treated like a VIP, met heaps of cool people and had a red hot go at the prize money. It was an absolute blast from start to finish, and definitely an experience I'm not going to forget. Thanks to Mansion for letting me in on the Poker Dome and hopefully I'll be able to come back and win before the season is over!
Ed Note – You could qualify for the Mansion Poker 'Poker Dome Challenge' for just 1 cent but get in quick as seats are limited.