2006 World Series of Poker Bracelet Unveiled
Earl Burton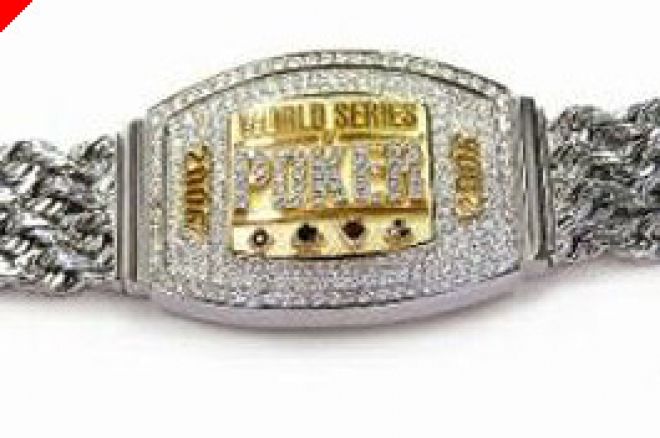 It is the epitome of excellence in the poker world. For almost four decades now, the World Series of Poker has crowned champions and, along with the cash for winning the event, awarded the victors further awards in the form of a gold bracelet. These bracelets not only recognize the achievement of winning a WSOP tournament but also have become the benchmark of success in the poker community. On June 6th, Harrah's displayed for the first time the awards that will be available once the events start on June 25th.
"It's impossible to overstate the value of a World Series of Poker gold bracelet to anyone who takes the game seriously," stated World Series of Poker Commissioner Jeffrey Pollack during the unveiling. "It is the equivalent of winning the Stanley Cup in hockey or the Lombardi Trophy in football. As such, the champion's bracelet at the 37th Annual World Series of Poker will be the best ever, something the winner will take pride in for a lifetime."
The schedule of events at this year's World Series has forty five events and, for forty four of them, the bracelet will be special. Each winner of an official event during these events will receive a bracelet constructed by Triton Jewelry, a division of Frederick Goldman, Inc. These bracelets will be made from 14-karat yellow gold and accentuated by full cut white diamonds. The center plaque of the bracelet will have one-third a carat of diamonds and be held together by thirty five grams of solid diamond cut rope chain. While these bracelets are exquisite, the World Champion's bracelet will most definitely outshine it.
The winner of the $10,000 Championship Event, in addition to the estimated $10 million first place bounty, will also have a specially created bracelet to add to his (or her) jewelry collection. The Champion's bracelet will be created from 14-karat white and yellow gold with full cut diamonds. The plaque that is the centerpiece of the bracelet will have 170 hand picked diamonds weighing in at six carats. Each suit that is displayed under the World Series logo will also have special attention, as they will be created from jewels (a heart shaped ruby, a princess cut ruby for diamonds, a black sapphire for the spades and three round black diamonds for clubs) that will separate the World Champion's bracelet from the others. Holding this together will be a solid diamond cut rope chain that weighs in at almost sixty grams.
The bracelets that have been created for this year's tournament are quite special, befitting the achievement of beating the best players in the world to win one. We'll see who gets these pieces of jewelry in just a few weeks as the World Series gets ready to start.
Ed Note: Still time to qualify for your World Series of Poker seat at Poker Stars