The 2006 World Series Of Poker Ladies Event: Bargain Hunting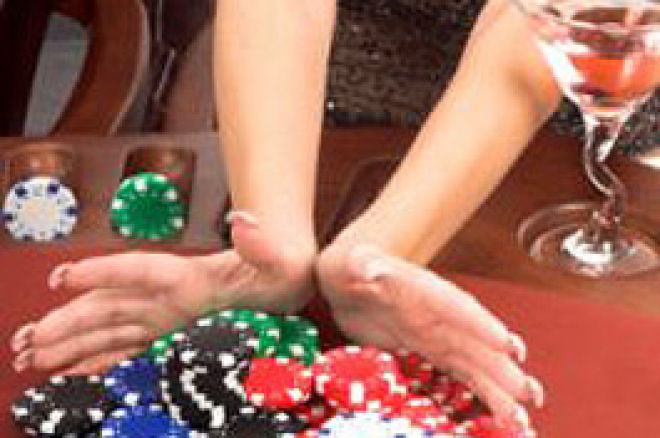 If you are like me, you suddenly realized it is already June with the start of the World Series Of Poker only weeks away. And if you are half as cheap as I am, you are wondering how to play the WSOP Ladies event on July 9th without coughing up the whole $1000 buy-in. I am happy to report that even at this late date, thanks to online qualifiers, there are still some bargains to be had. This year there are even more opportunities for frugal minded gals to give 2005 defending champion Jennifer Tilly a run for her money.
Full Tilt Poker is running a series of preliminary event promotions called 'The Race for Bracelets.' Every Saturday at 5:00 pm (ET) Full Tilt kicks off a $24 +2 NLHE for the $1000 seats to the Ladies event and $500 travel money.
Hollywood Poker is running its first WSOP Ladies tournament on June 25th at 3:00 pm (ET). It will be hard to find a cheaper path to a seat than the $5+.50 buy-in for this event. The first place finisher will win a $1000 seat plus airfare and hotel. And if you miss the first spot, there are cash prizes for lower place finishes plus Hollywood's trademark celebrity bounty opportunities.
Absolute Poker is running a $50 + 4 buy in WSOP Ladies tournament every second Sunday at 20:30 (ET). They are also running sit & go qualifiers for these events daily and multi-table tournament qualifiers every Tuesday and Thursday at 22:10 (ET).
If you threw your laptop against the wall on your last bad beat, there is still the tried and true discount avenue into the WSOP Ladies event. Harrah's will also be running live satellites every day during the WSOP at the tournament venue for the preliminary events.
The very first major tournament I played was a ladies event. It wasn't that I was intimidated about playing against men or that I had a big fem thing going. It was literally the best bang for the buck at the venue. There is literally no cheaper path to invaluable live major tournament experience than slogging it out on the felt with the gals. And as far as my first ladies experience, I wasn't surprised by the tough play of my savvy, experienced foes. I was, however, totally surprised at how much I enjoyed myself.
In the midst of the brutally competitive play, there was a strong undercurrent of camaraderie that I had never felt in an open tournament before. Even as we trapped, bullied and bad beat each other for chips, there was a communal spirit that emanated from the room; we are all in this together. There is something totally awe inspiring about sitting in a crowded tournament room full of women that share your poker passion. For the first time in my "poker career," I felt I wasn't alone.
Of course there is one very real downside to a ladies event; no longer will you have the ladies bathroom to yourself. At the beginning of an open tournament, you can usually go into the bathroom and scout your favorite stall. For the remainder of the day, you can rest assured it will be there waiting for you. In a ladies event, your break resting place will be more random than your cards. In the big picture, this is a small price to pay.
In 2003, the WSOP Ladies event, half stud and half limit hold'em, had a starting field of just 112 players. The 2004 WSOP Ladies limit hold'em event attracted a better 201 player field. In 2005 the WSOP Ladies was converted to a NLHE event and scored a record breaking 601 entrants and a resulting $546,910 total prize pool. My estimates are that 2006 will blow 2005 away.
I've listed a few online opportunities to qualify for the 2006 WSOP Ladies event. There may be more out there, so keep your eyes open. Hopefully I'll see y'all there playing from your discount seats. Good Luck!