WSOP Updates - Spotlight Series, Vol 3 - Tony G.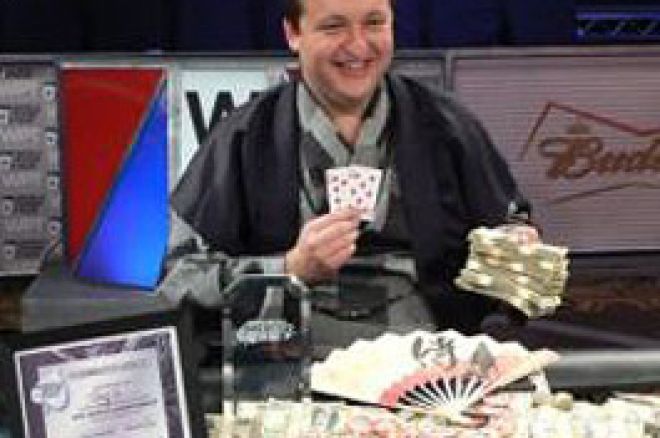 Our third "spotlight player" is Tony G. Tony G is the current European Champion, World Poker Tour Champion and three time World Poker Tour finalist. He has spent most of the last decade playing poker professionally, and has won more than his share of tournaments. Always a favorite of television producers, Tony has made his way on to countless television programs. Born in Lithuania, he grew up in Australia, and learned his poker skills in the card rooms of Vienna, and London. Tony currently calls Melbourne, Australia home.
Tony has had a rash of TV appearances recently, including his WPT 'Bad Boys II' victory, which premiered on the Travel Channel this past Sunday. Tony is also very deep in the Intercontinental Poker Championships, which wrap up this weekend on CBS.
I spoke with Tony G. a day before the WSOP's first event and began with my standard question on how he had prepared for the World Series of Poker. Tony, like Liz Lieu, had taken a week off before the Series began. Tony flew into Los Angeles and spent a week in Santa Monica getting his head and his game together. He arrived in Las Vegas a few days before the first event. Tony intends to play all events except, of course, where Day Two and Day Three continuations prevent this. He was very relaxed and appeared ready for the long schedule of the 2006 World Series on Poker.
Tony G's game strategy is familiar to most poker players but not one that many players can successfully execute. Tony is nearly always a 'big stack or go home' type of player. He plays fast, particular early in a tournament, and while this style leads to a fair number of early exits, it also results in Tony sitting on a big stack quite often and then punishing the table for hours. This type of play usually requires a gambling personality and no fear of walking away early from a lot of events. Tony has all the skills and will power to make this a very successful style of play. With that being said, Tony's first two tournaments ended in fast exits.
Playing from the middle of the alternate list of 500 players in the $1500 NLHE event, Tony was seated right at the end of the first level and he did not survive the second level. In the Wednesday $1500 PLHE, he was walking in the first half hour. But this is what you expect from the aggressive style that Tony plays and you should also expect some reports over the next six weeks of Tony playing with a big stack late into an event. While that may sound like a prediction; with thirty-nine bracelet events, it's really more likely inevitable. History and table observation suggest Tony will be there late into several events.
Ed Note: Tony loves Mansion Poker sign up today, and find out why