WSOP Updates – Charities Also Winners at this Years WSOP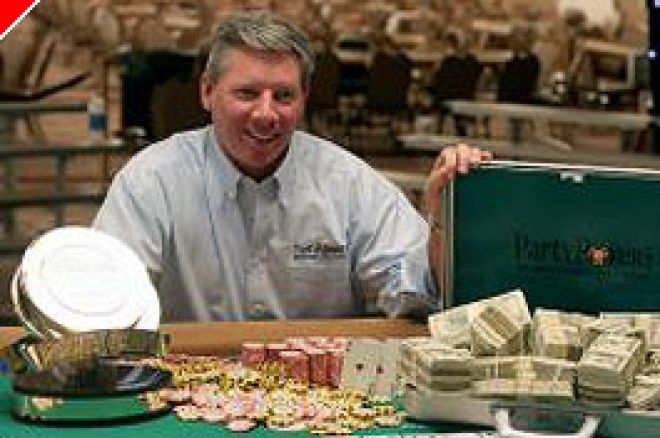 You know the promo spots for NFL charities or MLB charities that you hear as you are running out of the room for a sandwich or a rest break. These charities raise millions of dollars every year for worthwhile charities and youth programs. Highly socially conscious activities and great public relations for the leagues. Poker needs to pay more attention to this form of community service and promotional activity but the charity and poker partnership is already well established.
When Mike Sexton took down the WSOP Tournament of Champions to open this year's World Series, he donated half of his prize money ($500,000) to five charities. Mike also spoke eloquently again about how such acts of charity do so much for the image of poker and help to advance the cause of poker as a viable mainstream sports business and leisure activity. These altruistic activities also could and should attract ever increasing corporate sponsorship.
Part of Mike Sexton's generous donation will benefit Children Incorporate, the charity that receives the lion's share of Barry Greenstein's poker winnings. I assume that you all know that Barry gives most of his poker profits to Children Incorporated, which focuses on providing food and school supplies to underprivileged children around the world. Less you think these are isolated incidents of charity, kindness or generosity in the poker community let me give you a few more examples of less than random acts of kindness from several poker stars. Some of these are outright charitable donations and others are simply acts of sharing the wealth and compassion, not traits often enough associated with our game.
The media jobs for coverage the poker tournaments are not exactly what you would call highly paid positions. Winning players will often tip or "toke" all of the support staff after a win. The tournament staff and dealers come to rely on this source of additional income. The tournament reporters are sometimes included in this generosity. I have had winning players thank me for the coverage and press a chip into my hand.
Earlier this year, I was covering a tournament where Barry Greenstein made the main event final table. For the first player eliminated from that final table would receive about $7500 for a 6th place finish. Before the event Barry had that amount sent to the media gallery to be distributed among the internet reporters and photographers. Charity, perhaps not; but support for the game and those who work to promote the game-clearly yes.
Last week at the start of Day Two of the Short-Handed Hold'em event I was sitting on the rail with Matt Gravelin, who you may know as "Little Matt." When he was ten years old Matt was severely burned in an automobile accident. Last year Daniel Negreanu heard from Matt's father that Little Matt was a big fan and since then he has attended several events with Daniel and last week was table side at the World Series. Matt was right there with me during the "chip disaster" and after I had explained the "facts" of the case to Nolan Dalla, it was Matt who asked me the best questions about the entire mess. Nice to spend time with you Matt.
Sitting on Daniel's left that day was Gavin Smith and I am reminded that Gavin also has a charity connection I want to mention. Peyton Novoa is a beautiful little girl who faces an uphill battle in life after the loss of her mother to a rare form of ovarian cancer. Gavin's site has the entire story and is raising funds for Peyton with some very interesting auction items from several professional poker players. Check out the site at forpeyton.com, and place a bid on some very unique poker gear.
Phil Gordon has associated himself with the Cancer Research and Prevention Foundation in an attempt to raise one million dollars in one year. To get involved, go online at preventcancer.org/ and make a donation. When you do, they will receive one of Phil Gordon's autographed books or DVDs.
Hollywood Poker held both a Tsunami Relief Poker Tournament and a Hurricane Katrina Charity event.
Andy Bloch won a seat to this year's main event in a Full Tilt, satellite. During the satellite Andy said that if he won the seat he would donate all of his main event winnings to charity. How would one million dollars to ten charities sound?
Victor Ramdin recently donated $100,000 to the "Heart to Heart Campaign" in his native Guyana.
Keep up the generous work poker players. Give a little back and promote the positive aspects of our great game and lead by example so that more players will get the poker charity connection.