Man Attempts To Set World's Record At World Series Of Poker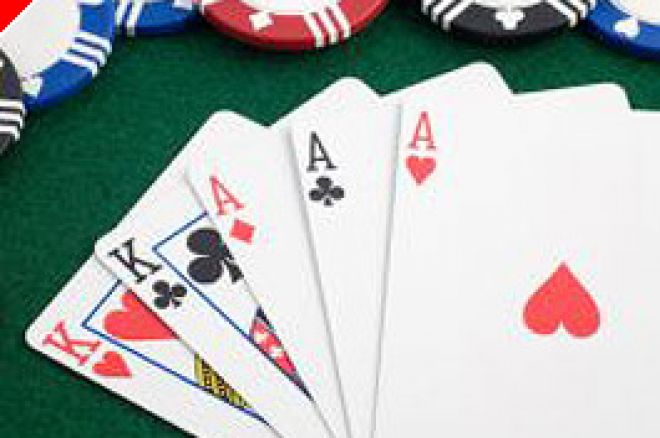 As always at the World Series of Poker, it sometimes is more interesting what is going on outside the room that what is taking place on the actual tournament floor (especially during the onslaught of four First Days). While there are many booths for all the poker rooms arranged around, you have to look for the truly interesting. I found that on the first First Day, and caught up with his story today, when I ran into Ron Fanelli.
Fanelli is attempting to break the world's record for the longest continuous session of poker. The current record was set back in 2004 at Foxwoods Casino at 72 hours, three minutes and Fanelli has chosen the World Series as his stage to assault this record. During his first day, he looked fresh as I was able to sit down against him in Pot Limit Omaha, which I was fortunate enough to win. This is how Fanelli is attempting to break the record, by taking all comers in heads up matches that go on throughout the night and early morning hours.
There is a camera that is constantly running for verification purposes and Fanelli told me that the people from the Guinness World Book will accept the record if he can make it. After fifty hours of play, "I'm feeling pretty rough right now," Fanelli admitted as another player sat down to take their shot at him. When I asked him how long he planned to take it past the 72 hour mark, he sighed and replied, "Not far if I feel like this. This is normally when I start to drag a little, though. The evening and early morning hours, I normally am doing pretty well. During these times, though, it's rough."
Fanelli isn't a slouch when it comes to poker, either. His record during the world record attempt currently sits at 138 for Ron and 118 for his opponents, an outstanding achievement since the player who Fanelli takes on chooses the game that is played (which has ranged across the board from No Limit Texas Hold 'Em to Omaha to Seven Card to even Razz). Fanelli normally is a live cash game player in the Gutshot Club and the Vic in London and also takes his game online when he can't make it to the live card rooms.
So as the action continues on the Amazon Room floor, as thousands of players are looking for their moment in history to make their mark, Ron Fanelli is attempting to set a world's record. It seems only natural since we're at the biggest poker event in the history of the world that a world record-breaking attempt should be done as well.
Ed Note: Clothing is optional when you are in your living room playing online poker at Naked Poker.