Online Poker Weekend Wrap Up – Action Still Hot Despite WSOP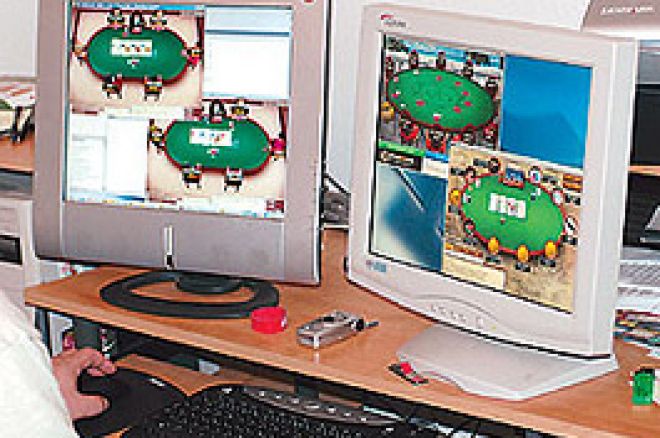 The frenetic action at the World Series of Poker did not slow the action down one bit at the online poker tables. Even though 2,100 players were doing battle in the main event, the big two tournaments of the weekend pretty much made their guarantees, with the $500 buy in at Stars causing the site to fall just short of the guaranteed million.
With the smaller field at Stars, one lucky and good player walked away with $187,000 – easily the largest of the weekend.
Bodog Poker $100,000 Guaranteed
The Bodog Poker $100,000 Guaranteed had 810 entrants, providing just under $20,000 in overlay for participants. Chips were flying around at a furious rate, with players completely unafraid to put their tournament lives on the line. Country41 was crippled early and departed first, followed by Joe Montanna whose pocket jacks were no good after Obertray9 spiked an ace. Crruella was out in seventh when A_thekevlar_2 rivered a flush, his luck couldn't hold and A_kevlar_2 was next in sixth, while rockeyes departed in amazing fashion when IUBB called his all-in with JT to dominate rockeyes' J9.
Obetray9 went on a roll, eliminating ohiost42 with KQ versus K7, and next he called jpstation's all in with A5 and must have been surprised to see jpstation flip over 96. The board came down 8-Q-T-5-5 and it was down to heads up. The battle didn't last very long, IUBB limped, Obertray9 checked and the flop came down J-A-4. Obertray9 bet out 40,000, and IUBB quickly check-raised all in, with Obertray9 making the call. Obertray9 flipped over A2, while IUBB inexplicably showed T2. The board blanked out and Obertray9 was the winner.
Bodog $100k Guaranteed – Final Results
Obertray9 $25,000
IUBB $14,000
jpstation $9,000
ohiost42 $6,500
rockeyes $5,400
A__theKevlar__2 $4,400
Crruella $3,400
Joe Montana $2,400
country41 $1,550
PokerStars 1 Million Guaranteed
Poker Stars continued to vary the buyin for their big Sunday tourney, the $500+$30 entry fee attracted 1956 players, which fell just short of the guarantee. As the final table started, blinds were 6,000/12,000 (600 ante) and with the shortstack at just over 200,000 in chips, there was plenty of poker to be played. Surprisingly it was one of the big stacks in cdbr3799 that departed first, followed quickly by holla@yoboy and bukkake666, whose AJ ran into the AQ of Bmw_wookie. DodgyAces was out in sixth, and PaloTheAce followed in fifth as the result of a massive 3-way hand. With blinds at 10,000/20,000 (1,000 ante), chip leader tsitknits raised under-the-gun to 60,000 and was called by PaloTheAce on the button, and geirmn in the small blind. On a flop of Qh-8c-5c, geirmn checked, tsitknits led out for 120,000, Palo pushed all in for just over 300,000, geirmn raised to 500,000, and tsitknits deliberated before pushing all in for 1.3M in total. Geirmn folded, tsitknits flipped over Q5 for two pair, Palo had showed AQ, and the board provided no help.
Tsitknits held roughly the same amount of chips as the other three players combined and stretched his lead towards the break. Players discussed a deal in the break, but the shortstacks were unhappy and play continued. BMW_Wookie was out in fourth when he ran into Potbuster's aces, and players once again started dealmaking. Potbuster and geirmn asked tsitknits to give up about $6,000, but tsitknits decided $135,000 with $30,000 to play for wasn't enough and the game continued. It proved to be a fortuitous decision when tsitknits eliminated geirmn in third, after geirmn checked trip 9s on the turn and allowed tsitknits to catch a flush on the river. Tsitknits had the best of the heads up battle, but sucked out with AT vs Potbuster's AK to take down the first prize of $187,000.
PokerStars 1 Million Guaranteed – Final Results
tsifknits (Danbury, CT) $187,000
Potbuster (Laredo, TX) $114,000
geirmn (Harstad, Norway) $66,000
BMW_Wookie (Alabaster, AL) $53,500
PaloTheAce (Nykarleby, Finland) $44,500
DodgyAces (Chalfont St. Giles, United Kingdom) $34,500
bukkake666 (Montreal, Canada) $25,000
holla@yoboy (Bloomington, IL) $19,800
cdbr3799 (Columbia, SC) $12,000
Party Poker Sunday Million Guaranteed
Party Poker's Sunday Million continued to attract the numbers. Sticking with the $200+$15 buyin, there were 5249 entrants vying for the $160k first prize. As a result of some frantic all ins, the final table started with nine players instead of the usual ten. Mmmmmbeeeer was first to go, and it was almost a whole level before gimmeahug was eliminated in eighth. Mjthejackal couldn't find help with AT versus iltempo's pocket jacks, and tonicbarback was unlucky to have his pocket queens run down by coctailforme's A8. With five players left, coctailforme had a huge chip lead with 9M and looked unstoppable.
However miz_zou_fan drew level at 7M after winning a huge pot, and once T_Faz knocked out iltempo in fifth with pocket aces versus pocket fives, it was anyone's game. The chip lead chopped and changed, but it was miz_zou_fan that had the cards fall his way, knocking out TheWacoKidd in fourth with a higher two pair to jump up to 13.5M. coctailforme and T_Faz both threatened miz_zou_fan's lead but going to the break, miz_zou_fan had 15M, while the other two players languished around the 5.5M mark. After the break, players cut a deal based loosely on chip counts, with the chip leader somehow navigating the other two players into settling for less than the second place prize. Once again, Party's deal-making software proved a feat to navigate, and somehow players ended up returning post-deal to play for $0.58. A few quick all-ins solved the problem and left everyone happy.
Party Poker Million – Final Results
miz_zou_fan (Rolla) $140,000
coctailforme (Sandefjord) $83,323
T_Faz (Fanwood) $83,323
TheWacoKidd (Waco) $44,616
iltempo (Copenhagen) $36,743
tonicbarback (Champaign) $28,869
mjthejackal (New York) $20,996
gimmeahug (Stockholm) $15,747
mmmmmbeeeer (n/a) $10,498
RAV_34 (n/a) $5,249