Online Poker Weekend Wrap Up - Rebuys Debut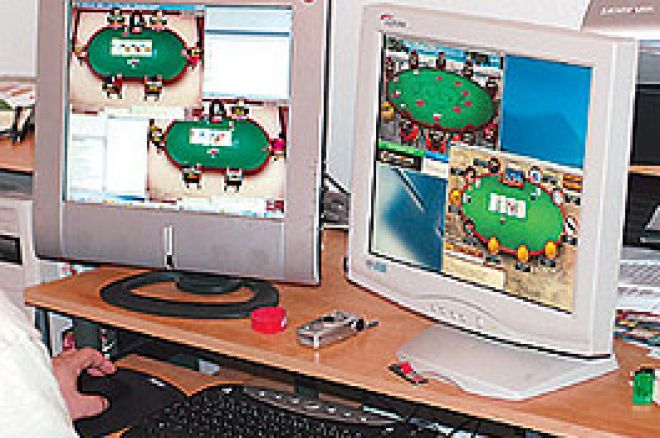 With the World Series of Poker in full swing in Las Vegas it was always going to be interesting to see what sort of numbers would turn out for the weekly online poker Million Dollar Guaranteed tournaments this week. PokerStars went with a different setup this week with one rebuy offered in the first hour and one add-on at the break. With a field of only 2850, the rebuys and add-ons allowed Stars to exceed the guaranteed prize pool figure. The tournament front runner was ips.seri who lead the field comfortably with over $245,000 in chips with around 100 players left, however competition was tough and ips.seri couldn't survive to make the final 9. Entering the final table binda was the chip leader with over $1.4 million in chips and looking strong. luckygirl05 played a great tournament but ran out of luck when first, a short-stacked legenden doubled up with KK against her QQ. The very next hand in battle of blinds kekec24 made a move from small blind with Q7 which luckygirl05 called instantly with 88. Once again luck was against her when the board came 7K6Q9, and she was eliminated in 9th place. Next to go was sirXO when he pushed with AQ but ran into binda's AKs. Binda's flush on the river saw sirXO out in 8th place.
Soon after came a key hand which would completely change the momentum of the final table. Chip leader binda in the cutoff raises to 160k, however mMagic_cards in the big blind senses a steal and re-raises all-in to over 950k. binda has a big decision but eventually makes the call with AdJs. mMagic_cards doesn't like the call and things are looking grim as he reveals his 6sTh, however the poker gods were shining on him as the board presented 685QQ. mMagic_cards then began to make full use of the change in fortune and used his growing stack to his advantage by aggressively pushing around his opponents. Binda's luck went from bad to worse when, still in a state of shock, binda once again pushed all-in as the favourite with AJ, only to fall again to mMagic_cards's KQ when a 'magical' K hit the board. Binda had to be content with an unlucky 7th place, as mMagic_cards established a huge chip lead over the remaining players.
The magic didn't stop there. Kekec24 tried to make a move with his short stack holding KT but mMagic_cards was never going to lay down a hand like TT. The flop gave Kekec24 some hope with straight draw, but it doesn't come and he is sent packing in 6th place.
At this point, the aptly named survival introduced discussions of a potential 5 way deal. Without much drama at all, a deal by chip count was made, leaving $20k for the eventual winner.
1 Wing 1 seemed content with the prize money awarded by playing very loosely after the deal had been made. He was soon eliminated making a loose call with J8s against mMagic_cards's A4. Next to go was legenden who after entering the final table as one of the short stacks did well to eventually finish 4th when his JQ was dominated by mMagic_cards KQ on a board of 6837Q.
With three players left survival found a spot to make his move. On a flop of 7s 3d Tc he pushed all-in with 98 on a straight draw, however unfortunately two of his outs were being held by ragu46 with JJ. Survival couldn't survive this one, and was eliminated in 3rd place.
The very next hand it was all over. mMagic_cards raised pre-flop to 270k and was called by ragu46. All the money goes in on the flop of 5d Kh 5h, as ragu46's Qh8h flush draw is up against mMagic_cards's 5s7s. The heart doesn't come for ragu46 and he finishes 2nd with mMagic_cards taking out the first prize! mMagic_cards had some luck, but he was prepared to put his chips into the middle and gamble, and when he had the lead his aggression was too much for his opponents to overcome.
Poker Stars Million – Final Results
1st mMagic_cards - $147,203
2nd ragu46 - $75,209
3rd survival - $77,171
4th legenden - $74,592
5th 1 Wing 1 - $68,001
6th Kekec24 - $32,369
7th binda - $24,662
8th sirXO - $18,599
9th luckygirl05- $11,303
PartyPoker's regular Sunday Million Dollar Guaranteed was also in full swing with a field of 4682 entrants leaving the prize pool short of the guarantee.
The final table started one short as CoolHandTony was eliminated in 10th place just prior to the final two tables combining. Immediately 8 of the 9 players wanted to discuss a deal, in a move that perhaps showed their lack of confidence and/or experience in playing for a prize pool of this size. A key hand of the final table came very early on when SlonkyDonk was able to double up with his pocket aces proving too strong for a7171's 9T straight draw. Sulbystar emerged as the aggressor of the table, stealing pots without a lot of competition, to soon capture the chip lead.
Dmmikkel86 was the first to be eliminated when he pushed with AK but ran into the pocket aces of sulbystar. Another deal discussion tempted the players, but it again fell through as there was no way to get an agreement between so many players.
Soon after rubino622d pushed all-in with JJ against a7171's A7 in battle of blinds. a7171 was looking good when an ace hit the flop, but rubino622d was able to land a miracle jack on the river to double up and stay alive. Freeradical2 was the next to be eliminated when his pocket threes were no match for SlonkyDonk's pocket sevens. a7171 was then able to win his first key pot of the final table when his AK held up against the all-in move of yerlikaya holding AQ. Kardz2 was then eliminated in 6th position when he moved in from the cutoff with A9, but couldn't overcome SlonkyDonk in the big blind holding pocket tens.
With 5 players remaining a deal was once again attempted. At one point it looked like a deal could be reached, based roughly on chip counts plus $5k for the winner, but sulbystar appeared to be the one most confident with playing it out and didn't want to compromise on a deal with the short stacks.
Play continued and saw rubino622d eliminated in 5th place holding AJ, but it wasn't good enough to get past sulbystar's pair of queens. a7171 was next to fall when luck once again went against him. Holding AQ on a flop of AT3, all money went into the middle but SlonkyDonk was well in front with his AT. Another ace on the turn just rubbed salt into the wound and a 7 on the river saw the early chip leader heading home in 4th place.
Another deal discussion emerged and it looked like being successful. However B_O_K_E in the short stack was stubbornly pushing for more than his share, causing negotiations to break down once again! It appeared that SlonkyDonk was keen for a deal, but sulbystar was happy to duke it out on the felt, feeling he had the edge with his aggression. Shortly after, B_O_K_E was out of the running when his pocket nines were no match for SlonkyDonk's two pair of aces and jacks.
The heads up battle ensued and SlonkyDonk appeared to have the edge as well as the chip lead. After applying more pressure on sulbystar to make a deal, sulbystar finally accepted a deal based closely to chip counts. Congratulations to SlonkyDonk!
Party Poker Million Guarantee – Final Results
1st SlonkyDonk - $129,600
2nd sulbystar - $110,000
3rd B_O_K_E - $52,500
4th a7171 - $42,500
5th rubino622d - $35,000
6th kardz2 - $27,500
7th yerlikaya - $20,000
8th freeradical2 - $15,000
9th dmmikkel86 - $10,000
10th CoolHandTony - $5,000
The UltimateBet $200,000 Guaranteed tournament attracted 768 entrants providing a nice overlay for the participants.
Jmaxime entered the final table as the chip leader, however with an average chip stack of 192k and blinds at 4k and 8k, there was still plenty of poker to be played.
MSUsFinest was soon to surge to the lead with some monster hands. BIGBLUFFR was first to suffer when his JJ were no match for MSUsFinest's QQ on a board of 88AA2. In the same hand ArmyDrill let out a cry, claiming to have folded AK. The same hands would clash shortly afterwards, this time ArmyDrill played the AK but didn't get any help against MSUsFinest's second pair of pocket queens.
"Big slick" was proven to be a brutal hand at this final table with JKenny eliminated after pushing with AK only to run into the pocket rockets of b00tz.
Jpmetalman was lucky to survive when his A7 was all-in against asiandude77's AJ for a split pot. Gank, after building a nice stack was eliminated and then Asiandude77's luck didn't improve when his A6s fell to jmaxime's 88. Soon after pocket eights were successful again, this time for MSUsFinest against doublemeup's pocket sixes.
Jpmetalman again had some more luck when his QT was able to overcome jmaxime's AK when the board brought 28Q44. However his luck ran out when pushing with A2s, he once again ran into jmaxime's AK.
The key hand of the tournament came with three players remaining. b00tz raised to 52,800 and was called by MSUsFinest. The flop presented Qd Td 3s, to which b00tz bets 65,000 and MSUsFinest again calls. The turn brings an innocent looking 2d, but this card triggers all the money to be pushed into the pot. b00tz shows QsTh for top two pair, but MSUsFinest has a landed a flush with the 5d6d. The 4c comes on the river and MSUsFinest has up doubled up to take a large chip lead while b00tz is crippled. Soon after he is eliminated in 3rd position when he desperately pushes with J7 but has no joy against jmaxime's KQ.
The heads up battle was a beauty. The deep stacks allowed for plenty of post-flop play, attempts to trap opponents and big draws in order to try and gain the ascendancy.
jmaxime grabbed the lead and was unlucky not to take it down when the money was in pre-flop with his JJ looking powerful against MSUsFinest's K5, but a fortunate king on the flop kept the tournament alive. Eventually the end was reached on another entertaining hand. Jmaxime raised pre-flop to 60,000 and gets a call. The board read 6h Td Ah, to which jmaxime puts out a small bet of 24,000 and MSUsFinest again calls. The turn is the 9c, MSUsFinest checks, jmaxime bets 50,000, suddenly MSUsFinest check-raises all-in for 885k. jmaxime makes the call with As3h but is in desperate trouble against MSUsFinest's two pair with 9sTc. The river is the 2c and MSUsFinest wins the Ultimate Bet $200k Guaranteed tournament!
Ultimate Bet $200k Guarantee – Final Results
1st MSUsFinest - $46,000
2nd jmaxime - $28,000
3rd b00tz - $18,500
4th jpmetalman - $13,000
5th doublemeup - $11,000
6th gank - $9,000
7th asiandude77 - $7,000
8th jkenny - $5,000
9th ArmyDrill - 3.5k
10th BIGBLUFFR - $2,000