Online Poker Weekend Wrap Up: WSOP Doesn't Slow Things Down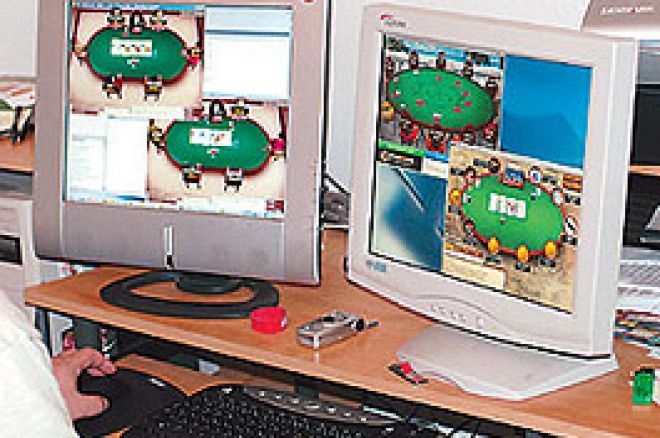 Sundays have become synonymous in the online poker community as a marking time for large guaranteed tournaments. Ultimate Bet, PartyPoker, and PokerStars hosted some of the biggest tournaments and we here at PokerNews are pleased to report the results.
PokerStars $1,000,000 Guaranteed
PokerStars was the next event to final table for the day. Their Sunday guaranteed million dollar tournament attracted 2708 entries, 1064 rebuys, and 1157 add-ons for 390 paid places with top prize at $175,500. The tournament, which began at 3:30 EST, took a little over 8 hours before reaching the final 9. Cequdor was the first to go when he pushed all-in preflop with A-10 and got called in two spots by JesusQintana with QQ and Coxquinn with A-Q. The flop bricked out and Cequdor was eliminated in 9th, while JesusQintana tripled up on a huge hand. Tarcards was the next out when he pushed with 22 preflop the very next hand and got called by A-K. An ace flopped, and Tarcards' night was over in 8th. A few hands later, another huge three-way all in preflop pot developed where Feltbot held A-K, Coxquinn KK, and GreenLungs QQ. The flop came 2-2-4-10-9 and Coxquinn took out two players to claim a dominating chip lead with over half the chips on the table. GreenLungs, who started the hand with more chips, took 7th and Feltbot took 6th.
Coxquinn continued his rush when he called Ayaz' A-Q preflop with his dominated Q-9 and sucked out with trip nines. After taking out his third player, Coxquinn made it number four when his 5h-4h made a flush on the river and eliminated wesc2000 in fourth place. Down to three, Coxquinn suffered a bad beat of his own after flopping trip tens, getting all the money in, and falling to JesusQintana's made flush on the river. Heads-up, JesusQintana sported a significant chip lead over TPope212. Throughout the entirety of the final table, JesusQintana was the lone dissenter in chopping, feeling confident that he could win the match even when short-stacked. His hubris came back to haunt him, however, when he flopped top pair with his K-J and was trapped beautifully by TPope212's AA. Winning over 90% of the chips in play with that hand, the end came on the very next hand as JesusQintana pushed with a K-7 against TPope212's K-10 preflop. The board came A-3-8-6-K, and TPope212, short-stacked for much of the final table, fought valiantly to take down first place.
The results and payouts were:
1. TPope212 (Logansport) - $175,500
2. JesusQintana (Miami) - $103,500
3. Coxquinn (Providence) - $60,500
4. Wesc2000 (Raleigh) - $50,000
5. Ayaz (Houston) - $40,800
6. Feltbot (Mill Valley) - $31,500
7. Green Lungs (Portland) - $24,000
8. Tarcards (Columbus) - $18,100
9. Cequdor (Skovde) - $11,000
Party Poker Million
Party Poker's Sunday Million Dollar Guaranteed was in full swing with a field of 4841, which was slightly larger than last week, but still short of the guarantee. Ddaylee entered the final table as the chip leader, but the field was fairly open as several players had good stacks. Coachuck was the short stack and got lucky early when he pushed with J7 into glb99's pocket nines, but a jack on the turn saw Coachuck double up. A short time later, glb99 was still steaming when he pushed with QT only to be eliminated by ddaylee's AJ. Another three players were eliminated, and with six left, BPWJR brought up the possibility of making a deal, but it was difficult to reach a consensus with six people and play continued.
Within moments of play resuming, Rchipleader was eliminated with KT versus Wezzee's pocket kings, and then Keylek lost a race with A7 against Wezzee's pocket fours. With two people suddenly removed from the equation, deal talks resumed again and a four-way deal was reached based on chip counts with $30,000 left for the eventual winner. Play resumed and The__jopker was eliminated next when his pocket jacks ran into Wezzee's pocket aces. The deal had proved favourable for The__jopker as he ended up with more cash for finishing 4th than the eventual 2nd place finisher. Ddaylee was then unlucky to be knocked out in 3rd place when his AQ lost to BPWJR's KQ when a king hit the flop. The heads up battle between Wezzee and BPWJR was short lived, with the proposal of an even chop of the remaining $30,000 agreed to very quickly. As a result of the two deals, Wezzee collected over 100,000 and was the nominal winner.
Party Poker Million - Final Results.
Wezzee - $109,500
BPWJR - $79,000
ddaylee - $64,600
The__jopker - $81,500
Keylek - $35,000
Rchipleader - $27,500
Coachuck - $20,000
TulaneLaw - $15,000
Dirtman888 - $10,000
glb99 - $5,000
Ultimate Bet $200k Guaranteed
The Ultimate Bet $200,000 Guaranteed tournament attracted 827 entrants which provided a small overlay for participants. Cunningham was the first to go when he moved all-in with his AKs only to run into afflack's KK. This gave afflack the chip lead and he was looking strong. Lottowin became the aggressor at the table, consistently raising pots to steal the blinds. This aggression paid off when pflwardog came over the top of a raise with AQ, but his timing was bad as lottowin showed AA. Coug MJ was next to go out when his JJ also ran into AA once again, this time against pikerplayer. The very next hand pikerplayer flopped a set with his own pocket jacks, to end the tournament for afflack who pushed all-in with his pocket kings. Some big hands and big contests saw pikerplayer take over the chip lead with a near 10:1 advantage over the other 3 players.
NOONAN had been staying out of trouble, and was able to double up with AK at the expense of a frustrated lottowin. lottowin's lead had evaporated and he was shortly eliminated in 4th place. Pikerplayer's lead and the increasing blinds were too much to overcome and shortly afterwards sparky333 was eliminated holding Q7o. This left NOONAN and pikerplayer to battle it out heads up, but it was over in a matter of moments as NOONAN pushed all-in with K9s and was called by pikerplayer's JTo. A ten on the flop gave pikerplayer the lead and when no help came for NOONAN it was all over.
1st pikerplayer - $45,000
2nd -NOONAN- - $27,000
3rd sparky333 - $18,500
4th lottowin - $13,000
5th afflack - $11,000
6th Coug MJ - $9,000
7th pflwardog - $7,000
8th TwistedEcho - $5,000
9th play-2-win - $3,500
10th Cunningham - $2,000