So you Want to Satellite Your Way In at the WSOP?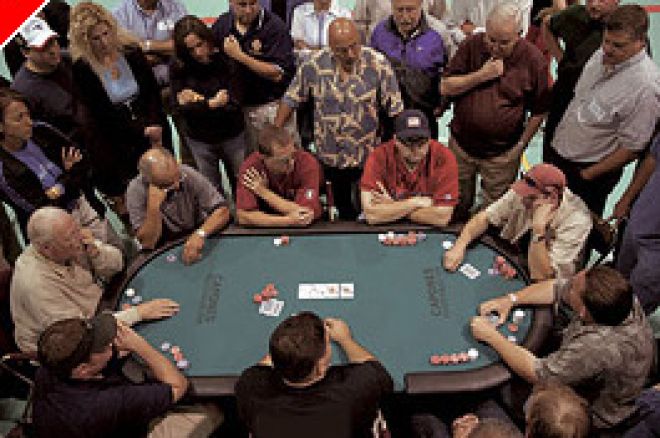 With the World Series of Poker underway, players are coming in droves to the Rio Convention Center and plunking down a few hundred bucks in a satellite in the hopes of parlaying a small investment into a coveted WSOP bracelet. Although there are plenty of online satellites available, many new and experienced players are taking this more conventional route in the hopes of getting into an event for cheap.
The Rio Convention Center offers a number of ways to satellite your way in, and there are almost always various different satellites running in their massive cash game area. In previous years, the staff had offered a $65 option, but this structure was a late scratch this year - The only current available options are satellites ranging from $125-$5,050.
It is important to decide which type of satellite you are interested in playing before you step in. Rio offers single table satellites that begin at 9 am daily, super satellites for $220 buyin with $200 rebuys starting at 3pm daily, and mega satellites starting at 7pm daily that sport a $1,060 buyin for those playing with a little more solid of a bankroll.
The daily single table satellites, by far the most popular option among players, sport 6-handed, 8-handed, or 10-handed tables with prizes being paid out in $500 tournament chip denominations along with small cash prizes ranging from $120-$150. These tournament chips can be used to buy your way into a WSOP event or simply to re-enter another satellite. However, be warned – The chips have no redeemable cash value at the Rio. You can, however, sell them for cash to players who need them to buy in to events.
Tournaments at this year's WSOP range in buyin from $1,000 - $50,000, so winning even the smallest satellite, the $125 buyin which awards two $500 tournament chips and $120 cash, will allow the victor to purchase an entry into the smallest event or pay a portion of the entry fee to a larger event (Event #14 No Limit Holdem, Event #15 Ladies' No Limit Holdem, Event #19 Seniors No Limit Holdem, Event #34 No Limit Holdem with rebuys, and event #35 Seven Card Hi/Low Split are all $1000 WSOP tournament options).
Deals are extremely prevalent among the tournament players, especially since the payouts are designed as winner-take-all. Two-way chops are the most common, although I have heard of a few three-way chops and would not be surprised to hear of a soft table agreeing to a four-way chop. With the dearth of experienced players, most people are looking to take home at least something when the satellites get down to the last few players. Deals should be worked out individually, and make sure you confirm the details – the floor people generally stay out of deal administration.
For those looking at the cheaper satellite options, there have been numerous complaints about the $125 buy-in satellites in terms of starting them in a timely fashion. With so many being run simultaneously, players have commented that some of them have taken over an hour simply to get enough players to fill one. Also, at peak times, table availability has been a problem. The general consensus as well is that most of the less experienced players are entering the $125 and $175 satellites, while there is a great jump in skill once players try their hand at the $325 and higher options.
As far as the structure of the tournaments, there have once again been a few voices of protest among some of the players. Although understandably, the Rio must make the structure fast to accommodate to the amount of players playing and satellites run, many players have noted that the single table satellites play almost like turbo sit and go's online. Sitting back and waiting just for premium hands, then, might result in an exit similar to Broomcorn's Uncle – blinding and anteing your way to a slow death.
Despite these few complaints from a segment of the poker community, many people remain reasonably happy with the satellites that the Rio provides. There are a number of amateurs and pros alike that are playing every day to win their way into a seat. If you're a good live player, don't have the bankroll to pay the full entry into an event, or are just looking to get some good single-table practice, head on down to the Rio for your chance to turn a small win into the payday of a lifetime.
Ed Note: Start working on your payday of a lifetime at Everest Poker. Sign up today.