WSOP Daily Summary for Monday, July 10th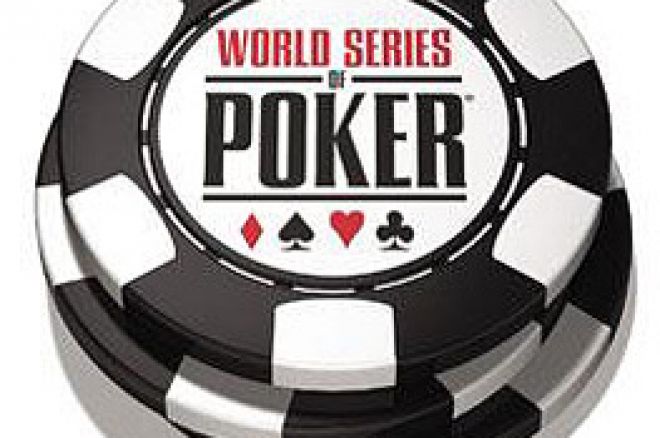 Once again, it was a busy day at the WSOP, with four events in progress. And with the size of the fields, it may have been the busiest day of poker in all of tournament history.
It was the final day of Event #15 ($1,000 Ladies-Only No-Limit Hold'em), the second day of Event #16 ($10,000 Pot-Limit Omaha), and the first day of Event #17 ($1,000 No-Limit Hold'em).
There was also the final table for Event #14 ($1,000 No-Limit Hold'em with Rebuys), which included a few big names: Allen Cunningham and Andy Bloch. Anthony Reategui entered with a big chip lead, and last year that enabled him to pick up his first bracelet. Find out what happened at the final table by reading Earl Burton's full report by clicking here .
The other three events are summarized below.
EVENT #15 ($1,000 LADIES-ONLY NO-LIMIT HOLD'EM) - DAY TWO
Event #15 resumed with 26 women hoping for the same level of celebrity that Jennifer Tilly enjoyed after winning last year's event — magazine covers, talk shows, and invites to celebrity poker tournaments.
Okay, that's probably unrealistic. This year's winner won't be invited to appear on "The Tonight Show." The winner won't be invited to appear on the next WPT's Ladies Night. The winner won't be getting their photo on the cover of any poker magazines.
But that's okay. This year's winner will make nearly 50% more money ($236,094), and they'll still get the coveted gold WSOP bracelet. According to Tilly, it's better than an Oscar.*
Anjela Brunson was the big name still alive on Day Two, wife of bracelet-winner Todd Brunson, and daughter-in-law to the legendary Doyle Brunson. Anjela went as far as 19th place in a field of 1,128, but could go no further. She'll have to wait for her first bracelet.
After four-and-a-half hours, they reached the final nine players. Event #14 was down to the final two players on the ESPN stage, so the ladies took their dinner break, and when they returned, they would move to the TV table as soon as it was clear. Even if the TV cameras weren't rolling (without Jennifer Tilly, ESPN just wasn't as interested this year), they would get to play out their finale on a proper stage.
Here were the nine final table players and their official chip counts:
1. Julie Allen - 264,000
2. Laurie Scott - 259,000
3. Sue Luckenbaugh - 240,000
4. Devi Ortega - 223,000
5. Shawnee Barton - 169,000
6. Mary Jones - 134,000
7. Beatrice Stranzinger - 119,000
8. Ellie Ahlgren - 79,000
9. Reka Hellgato - 67,000
*Footnote: Jennifer Tilly has never actually won an Oscar. But from what we've heard, it's an honor just to be nominated, and Tilly did receive a nomination for "Best Actress in a Supporting Role" in 1994 for the Woody Allen film "Bullets Over Broadway." Tilly lost to Dianne Wiest, who had a role in the same film.
Instant Gratification: The final table was played late last night, so you can immediately find out who won by reading Stephen Noh's full report by clicking here.
EVENT #16 ($10,000 POT-LIMIT OMAHA) - DAY TWO
Event #16 resumed with 26 players, playing their way down to the final table, and a shot at the first prize of $655,000. With such a small returning field, Day Two was a quick one, and the action was completed in about four hours, making it the quickest day of action for an event at this year's WSOP.
Some big names fell early, including David "Devil Fish" Ulliott and Daniel Negreanu. Patrik Antonius made it as high as 15th place, and Barry Greenstein was out in 13th.
Day One chip leader Hasan Habib survived the day, and enters the final table in second chip position. Defending champion Rafi Amit started the day with an average stack, but outlasted two-thirds to reach the final table for the second year in a row. He's the short stack at the table, so he'll need to get lucky early. But if he does, he will definitely be a factor.
Here are the nine final table players and their official chip counts:
Seat 1: Jani Vilmunen - 485,000
Seat 2: Mark Dickstein - 212,000
Seat 3: Mickey Appleman - 102,000
Seat 4: Mike Guttman - 283,000
Seat 5: Thomas Wahlroos - 168,000
Seat 6: Hasan Habib - 349,000
Seat 7: Rafi Amit - 99,000
Seat 8: Lee Watkinson - 276,000
Seat 9: Nick Gibson - 207,000
Defending Champion: Rafi Amit won this event last year in one of the more memorable final tables that wasn't taped by ESPN. There was a lot of taunting between Amit and Vinnie Vinh, and Amit received a ten-minute penalty for saying the F-Bomb during heads-up play.
More Experience Than You Know: This is the 17th WSOP final table for Mickey Appleman, including a 9th-place finish in the 2000 Main Event. Appleman has won four WSOP bracelets, most recently in 2003.
Don't Count Him Out: Hasan Habib is the only other final tablist who has won a WSOP bracelet, and he starts with the second-highest chip stack.
The final table for Event #10 is scheduled to begin today at 2:00 pm.
EVENT #17 ($1,000 NO-LIMIT HOLD'EM) - DAY ONE
Event #17 attracted 2,891 entrants, creating a total prizepool over $2.6 million. This surpassed the field for Event #2, making it the second-largest live tournament in history (only behind last year's Main Event, which attracted twice as many).
WSOP events traditionally give players their chips in a one-for-one ratio relative to the buy in. For example, if the buy in were $5,000, you'd receive 5,000 in tournament chips. If the buy in was $1,500, you'd received 1,500 in tournament chips.
But this event was different. Each player received 1,500 in tournament chips for their $1,000 buy in. It may not sound like much (especially to the pros used to 10,000 or more chips in WPT events), but it gives the players a little more play in the early levels, when the luck factor is at its highest.
The short stacks forced a lot of action, and in a "normal" 13-hour WSOP day, over 95% of the field was eliminated. The top 270 players finished in the money, but only the top 139 would survive to Day Two.
Here are the top five chip leaders, along with some notables who are above the average stack of 20,798:
1. Corey Chaston - 134,000
2. Tom Hawkingberry - 130,400
3. John Phan - 127,200
4. John Bardwell - 100,500
5. Humberto Brenes - 90,800
28. Victor Ramdin - 46,500
29. Greg "FBT" Mueller - 46,100
66. Carlos Mortensen - 27,200
Going For Three: Carlos Mortensen has already reached two final tables, and he would love to make it three. He'd also like to improve his results once he gets there — he finished ninth at his first two final tables.
Standing Room Only: This event set the record for most players to sit down for a live tournament on the same day. Last year's Main Event had more players, but they started on three separate days. After a few hours of action, there were three more WSOP events that had to resume from the day before.
Day Two of Event #17 is scheduled to begin today at 2:00 pm.
Ed Note: Check out our latest addition Bodog Its all about the lifestyle. Play Hard.