WSOP Daily Summary for Saturday, July 8th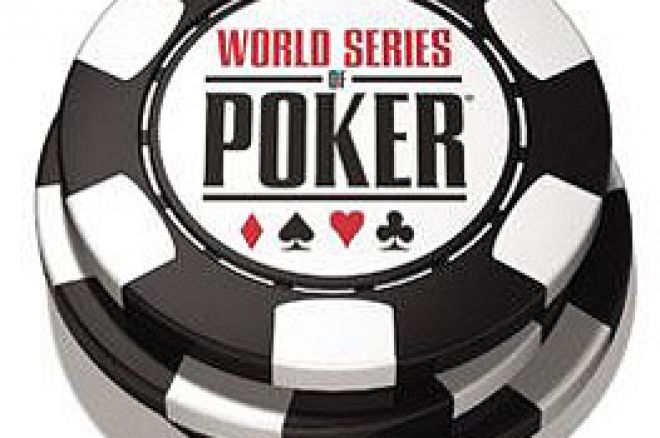 On Saturday, it was back to poker the way it was meant to be played at the World Series of Poker — with only three events in action. One final table, one event with 66 players returning for their Day Two, and the start of an event with a monstrous field.
This past few final tables were packed with names like Phil Ivey, Phil Hellmuth, Johnny Chan, David Williams, Marcel Luske, Isabelle Mercier, Sam Farha, and Vinnie Vinh. The final table for Event #11 ($1,500 Limit Hold'em) didn't have players anyone would recognize from TV, but that doesn't make the bracelet (or the money) any less sweet. And you never know when you're going to witness the start of a great career — even Ivey and Hellmuth were nobodies at one point.
For details on this final table, read Earl Burton's full report by clicking here. The other two events are summarized below.
Note: As a two-day event, Event #12 awarded its bracelet to Sam Farha on Friday. So we'll move on to Event #13.
EVENT #13 ($2,500 NO-LIMIT HOLD'EM) - DAY TWO
Event #13 resumed with 96 players, all looking to make the final table. The event started over an hour late — the cards weren't in the air until after 3:00 pm. Fortunately, play still ended at a reasonable hour, with the final table set before 1:00 am.
Anthony Reategui started the day as one of the chip leaders, as he often has in the past year. He has developed a reputation as a "chip accumulator," and he was definitely in that mode all day. He was definitely willing to mix it up and put pressure on the shorter stacks (which was nearly everyone), and by the end of the day he had nearly a 2-to-1 lead over second place.
Max Pescatori tied for the lead at last year's WSOP with six cashes. He may not cash that many times this year, but he's definitely capable of improving on last year's results with more finishes deeper in the field. Pescatori reached the final table in excellent shape with 464,000, good for third place.
The biggest name at the final table is Mike Matusow, who needs no introduction to anyone reading this. He admittedly had a horrible record at last year's WSOP — until he finished ninth in the Main Event, picking up a cool million dollars. (He then parlayed that into a 2005 WSOP Tournament of Champions victory worth another million, and added $250,000 more by finishing 3rd at this year's TOC.)
With 14 players remaining, there were still two women in the field — Melissa Hayden and Sarah Bilney. In 2004, three women won bracelets in open events (Annie Duke, Cyndy Violette, and Kathy Liebert), and many people are looking for a strong year from women this year.
But these two women were betrayed by their own, so to speak — both Hayden and Bilney were eliminated after moving all in preflop with pocket queens. (Hayden was out in 14th when they were cracked by A-9, and Bilney was out in 12th when she ran into kings.)
Here are the nine final table players and their official chip counts:
Seat 1: Max Pescatori - 464,000
Seat 2: Justin Pechie - 357,000
Seat 3: Tri Ma - 117,000
Seat 4: Mike Matusow - 335,000
Seat 5: Anthony Reategui - 908,000
Seat 6: Matt Heintschel - 131,000
Seat 7: Corey Cheresnick - 249,000
Seat 8: Terrence Chan - 494,000
Seat 9: Michael Lesle - 146,000
Stay Out of His Way: When Anthony Reategui won his first bracelet last year in Event #16 ($1,500 No-Limit Hold'em Shootout), he busted every other player at the table on his way to victory.
Why You Should Watch: When Mike Matusow is on top of his game, he's one of the best in the world. When's he's off his game, he's even more fun to watch. Either way there should be a lot of talking and a lot of taunting.
Pre-Game Warmup: Max Pescatori is known as the "Italian Pirate," as he often wears an Italian flag bandana on his head. He'll be preparing for the final table by watching Italy play in the World Cup Final against France. The results of that game (which should end shortly before this final table begins) could have a big influence on Pescatori's state of mind.
The final table for Event #13 is scheduled to begin today at 2:00 pm.
EVENT #14 ($1,000 NO-LIMIT HOLD'EM WITH REBUYS) - DAY ONE
Event #14 attracted 752 entrants, and they purchased 1,670 rebuys. That many rebuys created a total prizepool of $2,371,887 — and a spectacle unlike any other WSOP event.
The first two hours were about tournament immortality. Some players try to pump as much money as possible onto their table. They'll happily push all in on a draw, or preflop with A-Q, eager for a call — they're just trying to build a big stack early. If they lose the hand, they just rebuy. It's like playing a video game where you know the secret cheat code for unlimited lives.
Of course, that cheat code will cost you $1,000 each time you use it.
John Juanda reportedly had 11 tournament chips worth $1,000 each, ready for instant rebuys. Daniel Negreanu had 30. Michael "The Grinder" Mizrachi was seen going all in blind for six consecutive hands, and he easily crossed the $10,000 mark with rebuys.
How much action was there? When the rebuy period ended, Victor Ramdin (who, like everyone else, started with 1,000 in chips) had already accumulated 26,000 for the chip lead. So he twenty-sixtupled his stack in just two hours. (I just invented that word, because I don't know anything past "octupled.")
Of course, most of these players immediately shifted gears when the rebuy period ended. The invincible feeling of Superman was replaced by the vulnerable feeling of Superman with a Kryptonite card protecter.
The top 72 players would be paid at least $4,056, but for many players, that would represent a loss. (The average player made 2.22 rebuys.) To earn over $10,000, you'd need to reach the final three tables (27 players). First prize is worth $625,830 — not even Negreanu can rebuy that many times.
With all those extra chips added to the field, you'd expect a long night before reaching the money, but the bubble burst at a reasonable hour (in the poker world, at least) — 12:30 am. Play continued another half hour to finish the blind level, and at the end of the day, there were 66 survivors who would return for Day Two.
Here are the top five chip leaders headed to Day Two, along with a few notables who are above the average stack of 36,696:
1. Joseph Davis - 146,800
2. Conor Tate - 90,000
3. Steve Wong - 88,900
3. Kyle Wilson - 80,900
5. Amir Vahedi - 78,100
9. Michael Gracz - 66,400
11. Captain Tom Franklin - 59,300
13. Andy Bloch - 57,900
16. Kenna James - 54,200
23. Victor Ramdin - 42,200
24. Steve Zolotow - 41,500
25. Phil Gordon - 40,900
26. John Juanda - 40,600
Past Fun With Rebuys: Daniel Negreanu actually made 27 rebuys (for a total of $28,000) in this event back at the 2004 WSOP. Investing that much money meant Negreanu would have had to finish 8th or better in the 538-player field to actually turn a profit. He finished third.
'Til the River Do Us Part: A poker-playing couple got married in the Amazon Room yesterday. The newlywed bride will reportedly be spending her honeymoon by participating in the WSOP Ladies Event. Saturday was about the wedding ring; Sunday's about the bracelet.
Day Two of Event #14 is scheduled to begin today at 2:00 pm.