WSOP Daily Summary for Sunday, July 9th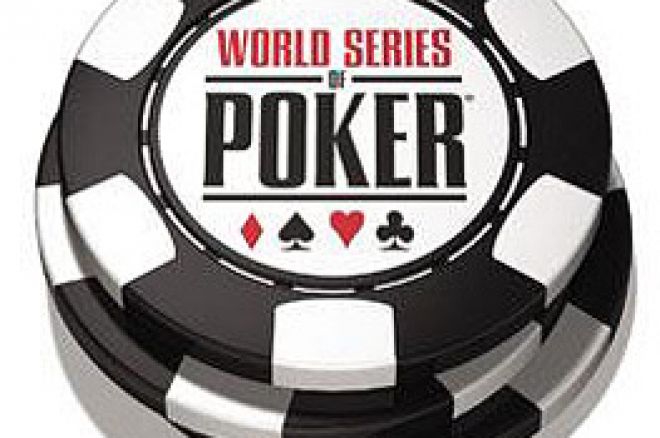 There is no day of rest at the World Series of Poker (until the Main Event), and Sunday saw two more events starting — Event #15 ($1,000 Ladies-Only No-Limit Hold'em) and Event #16 ($10,000 Pot-Limit Omaha). It also marked Day Two of Event #14 ($1,000 No-Limit Hold'em with Rebuys), and the final table for Event #13 ($2,500 No-Limit Hold'em).
The final table was a big one, and Italian player Max Pescatori earned his first bracelet on the same day that Italy won the World Cup.
The other three events are summarized below.
EVENT #14 ($1,000 NO-LIMIT HOLD'EM W/REBUYS) - DAY 2
Event #14 resumed with 66 players, all looking to make the final table. And it was a completely different atmosphere than the rebuy period, when everyone was eager to get their chips in the middle.
Today, everyone was in the money, and the final table was in sight. Play tightened up, and it took 11 hours to reach the final nine. Captain Tom Franklin eliminated Ilya Trincher in 10th place, and that last hand gave Franklin the chip lead headed to the final day.
Here are the nine final table players and their official chip counts:
Seat 1: Alex Jacob - 106,000
Seat 2: Allen Cunningham - 233,000
Seat 3: Tim Phan - 551,000
Seat 4: Everett Carlson - 86,000
Seat 5: John Hoang - 274,000
Seat 6: Captain Tom Franklin - 590,000
Seat 7: Steve Wong - 295,000
Seat 8: David 'Chino' Rheem - 170,000
Seat 9: Andy Bloch - 163,000
Elite Company: John Hoang joins Carlos Mortensen as the only two players to reach two final tables so far.
Good Things Come in Fours: Allen Cunningham is looking for his fourth WSOP bracelet. Last year, Cunningham was the first player to win over $1 million in preliminary events at a single World Series.
The final table for Event #10 is scheduled to begin today at 2:00 pm.
EVENT #15 ($1,000 LADIES NO-LIMIT HOLD'EM) - DAY 1
Event #15 attracted 1,128 entrants, which was nearly double the size of the previous year. Top female pros couldn't resist the lure of dead money as husbands, fathers, and boyfriends bought in plenty of inexperienced women looking to share in the World Series experience. But with only 1,000 in starting chips, you had to get hot early to have much of a chance.
If you can think of a top female poker player, she probably played in this event. There was Isabelle Mercier, Jennifer Harman, Cyndy Violette, Annie Duke, Kathy Liebert, and all the rest.
This event also attracts celebrities, including Shannon Elizabeth, Mimi Rogers, Ricky Lake, and new WPT host Sabina Gadecki. Of course, the event wouldn't be complete without defending champion Jennifer Tilly.
Here's a partial list of other notable players: Jennifer "Jennicide" Leigh, Linda Johnson, Jean Gluck, Evelyn Ng, Clonie Gowen, Lily "Miss Grinder" Elviro, Rhowena Colclough, Tiffany Williamson, Cecelia Mortensen, Carmel Petresco, Connie Kim, Jeanine Deeb, Melissa Hayden, Barbara Enright, Alexandria Vuong, Vanessa Rousso, Liz Lieu, Erica Schoenberg, Mimi Tran, Erin Ness, Susie Isaacs, Allyn Jaffrey Shulman, Kristy Gazes, Marsha Waggoner, Karina Jett, Joanne "J.J." Liu, Amanda Baker, and David Williams's mom Shirley (made famous during the 2004 WSOP Main Event).
The top 101 ladies all finished in the money, and the most notable casher on Day One was Mimi Rogers, who claimed $5,132 for 33rd place. Mimi Rogers is actually a respected celebrity poker player, and has played quite a few major tournaments.
This was a huge field for a two-day event, and play continued for 17 hours until 26 players remained. Here are the top five chip leaders, along with one familiar last name still alive:
1. Laurie Scott - 175,500
2. Sue Luckenbaugh - 173,000
3. Shawnee Barton - 140,000
4. Devi Ortega - 109,500
5. La Sengphet - 101,000
16. Anjela Brunson 38,500
All In the Family: Doyle and Todd Brunson both won bracelets last year (Doyle's tenth and Todd's first). Could Todd's wife Anjela Brunson make it three family bracelets in two years?
A Second Chance For Tilly: Last year, actress Jennifer Tilly won both this event and the WPT's Ladies Night, winning the two major women's championships in the same year. While she was eliminated out of the money here, she'll get her chance to defend her WPT Ladies title at the Bicycle Casino this fall.
Day Two of Event #15 is scheduled to begin today at 2:00 pm, and play will continue until the last woman is standing.
EVENT #16 ($10,000 POT-LIMIT OMAHA) - DAY ONE
Event #16 attracted 218 entrants, creating a total prizepool over $2 million. With the Ladies Event starting on the same day, don't expect to see many women in the official results. However, a few of the women who busted early did buy in to this event.
Pot-limit Omaha is especially popular in Europe, so there were a lot of Europeans in this event. You know what else they like across the pond? Soccer. (Yes, we all know they call it "football.") With the World Cup Final between France and Italy taking place, there was a lot of conflictied loyalties trying to decide between poker and soccer. But the Tournament Director put them out of their misery, officially pausing all of the action so the players could root their teams (or their bets) on to victory. Once the biggest event in soccer was decided ("Italy wins!"), play resumed for the biggest event in poker.
In a strong field, it was Hasan Habib who rose to the top, finishing Day One with over 240,000 in chips, nearly three times the average stack.
Day One finally came to a conclusion about 3:15 am with 26 players surviving. Here are the top five chip leaders, along with some notables who are above the average stack of 83,846:
1. Hasan Habib - 242,500
2. Thomas Wahlroos - 208,500
3. Mark Dickstein - 177,000
4. Jani Vilmunen - 137,000
5. Mike Guttman - 128,500
6. Jim McManus - 109,000
8. Patrik Antonius - 99,500
9. Sam Grizzle - 96,500
10. Roland De Wolfe - 95,000
11. Rafi Amit - 90,500
12. Barry Greenstein - 86,000
Back-to-Back? Rafi Amit (11th in chip standings) won this event last year heads up against Vinnie Vinh. It was one of the most controversial final tables in WSOP history, because Amit was given a ten-minute penalty during heads-up play. Vinnie Vinh collected massive blinds and antes for ten minutes, while Amit complained that the punishment should fit the crime. Amit went on to win anyway, and the controversial ruling made it to the front page of USA Today.
Day Two of Event #16 is scheduled to begin today at 3:00 pm.
Ed Note: No 10 minute penalties when you play online poker at Pacific Poker