WSOP Updates - Jason Lester Achieves A Goal With A Bracelet Win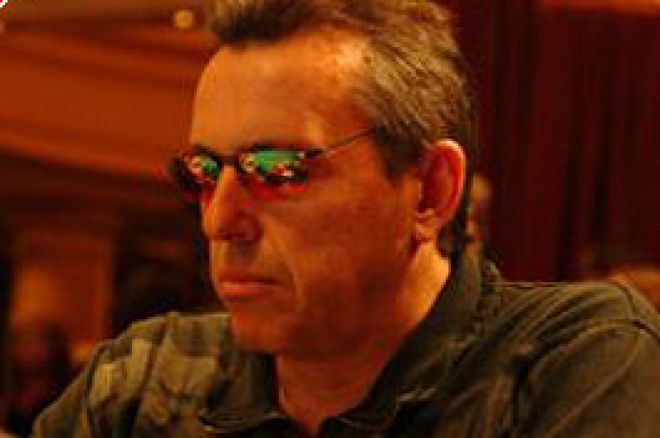 Once again, as it has been since the end of June, it was poker, poker, and more poker around the Amazon Room at the Rio on Monday. With the $10000 Championship Event set to start on Friday (and the official count of registered players in the Main Event encompassing last year's record already with over 6000 players), many were tuning up their games for the final push towards the start of that event later this week. There were two events today, the $1,000 Seven Card Stud tournament and the $1000 (w/rebuys) No-Limit event, that will be final tables for Tuesday. On Monday, however, we only had one with Event #32, the $5000 Pot Limit Hold 'Em event.
378 players came to the felt on Saturday to start this event and the final nine men were all in search of their first bracelet. When they came to the table at 2PM on Monday, this is the way they lined up:
Seat 1: Michael Tedesco, 278K
Seat 2: Poker professional Jason Lester, 222K
Seat 3: Tony "Big House" Hartmann, 163K
Seat 4: Australian Stuart Fox, 214K
Seat 5: Chip leader Alan Sass, 431K
Seat 6: Short stacked Emad Tahtouh, 97K
Seat 7: Russian poker great Kiril Gerasimov, 124K
Seat 8: Greg Turk, 122K
Seat 9: Tommy Smith, 238K
There was less than two minutes to go in the level from Sunday night, so basically the players came to the felt, played one hand, and moved up to 6K/12K blinds for the first ninety minute segment of the day. It took virtually no time at all before our first competitor was lost for the day in the form of Kiril Gerasimov. The Russian poker star, who is best known for his runner up finish in the first WPT Championship, followed a pot bet from Emad Tahtouh with a pot bet of his own that put him all in. When Tommy Smith came over the top of Gerasimov with a pot bet, Tahtouh stepped aside and Gerasimov turned up A-K. This was handled neatly by Smith's pocket Queens and, once the board was laid out with no Aces or Kings, Gerasimov received an unfriendly departure from the final table in ninth place.
This was one of the things that I noticed during this tournament that my colleague Stephen Yoh pointed out in covering a Pot Limit event recently. Pot Limit Hold 'Em is a game that is normally played after the flop, as the betting is limited to what is in the pot. The players at this table were more than likely to make their moves preflop, giving the game the feel more of a No Limit contest rather than a Pot Limit game.
The play of this tournament was also quite brisk. Players did not spend a huge amount of time deliberating the virtues of their hands before taking action. This led to a rapid movement of the dealer button around the table and truly allowed little respite for the players involved in the game.
On Hand 22, we lost another member of the final table when chip leader Alan Sass got involved in the action. Sass pot bet and was repotted to 82K by Tommy Smith. Sass called and the two saw a flop of 2-Q-6. Both players checked the flop and the turn came up with an Ace, which seemed to start the action. Sass fired 100K at the pot, only to have Smith make an all in bet which Sass called. While everyone was looking to see what Aces the twosome had, they were in for a surprise. Both players had flopped a set, with Sass' trip Queens in a dominating position over Smith's trip sixes. The case six did not come for Smith on the river (a Jack) and Tommy Smith left the Rio in eighth place for the tournament.
Just before the end of the level, Emad Tahtoud's time at the table came to an end. He had battled against the larger stacks valiantly with his short stack but he chose the wrong time to make a steal attempt against Michael Tedesco. After Emad's 42K preflop bet, Michael went over him with 90K more to put Emad all in if he called. He did and turned up a surprising K-5, which wilted in the face of Michael's A-J. An unnecessary Ace on the flop and an equally unnecessary Jack on the river sealed the deal for Tedesco and Emad Tahtouh was eliminated from the final table in seventh place.
After the blinds were kicked up to 8K/16K, the heated action continued as we lost three more players before the time on the clock expired. Oh Hand 56, Jason Lester decided it was time to get active and, after Greg Turk had made a pot bet of 48K, raised the pot to 110K preflop. Turk called off the rest of his chips and turned up an A-Q to Lester's pocket eights. The two were off to the races and, when the board came down 4-2-10-3-7, Lester had taken out Greg Turk, who went home for the night in sixth place.
Another player who decided this was the time to make a move up the leader board was Aussie Stuart Fox. On Hand 74 he doubled up against Michael Tedesco and, four hands later, the two went to battle once again. After Stuart had put in a 48K bet preflop, Michael came over the top for the rest of his chips and Fox called. Both had Aces, but the Queen that Tedesco held dominated the eight of Fox. The flop, however, came 8-7-4, delighting the friends of the Australian as he took the lead in the hand. Once the turn and river blanked off, Fox had unceremoniously dumped Michael Tedesco from the final table via the bad beat in fifth place.
Once again, on the last hand before the level change, we had an elimination but with potentially dire circumstances. Preflop betting between Alan Sass and Tony Hartmann reached the point where "Big House" Hartmann was almost all in with his 294K pot bet when Sass called and flipped up his pocket nines. Problem was that Hartmann wasn't all in and Sass had to make a decision. He could either muck his hand with no penalty or play it out exposed and receive a two round penalty for showing his cards. He chose to go with the penalty and, as the flop came 10-7-2, bet out the last number of chips that Hartmann had. Tony, who had no other choice than to finish the hand, called and showed Big Slick, which didn't come home for him on the turn or river. With Tony Hartmann eliminated in fourth place, we went to break and would see if the penalty would affect Alan Sass.
With the blinds raised to 10K/20K, the action between Jason Lester and Stuart Fox ratcheted up with the absentee Alan Sass sitting out his penalty and posting his blinds. On Hand 97, Lester was able to double up on Fox and, two hands later, Fox was returned the favor when he doubled through Lester. With the decision between the two a stalemate, Sass returned to the fight after his penalty and immediately doubled up Lester. It seemed that Sass was a little unnerved upon his return but, to his credit, he did quickly regain control of himself and was able to remain a force in the game.
The threesome continued to battle against each other for virtually the entirety of the ninety minute level. No one was able to gain much of a foothold until, on Hand 145, Jason Lester bet the pot to 70K and was answered with a reraise from Stuart Fox to 180K. Lester responded with his own reraise of the pot and Fox called off the rest of his chips. To no one's surprise, Lester turned up a solid three handed play with A-9; to many people's surprise, all Fox could respond with was a K-3. Once the board came up empty for both men, Lester had eliminated Stuart Fox from the event in third place.
Heads up, the chip count looked something like this:
Lester 1.1M
Sass 820K
The players played another nine hands at this level and, on Hand 154, Lester forced Sass into a laydown that left Jason Lester with a commanding two to one lead over Sass as they went to dinner (presumably not with each other).
After the blinds were raised to 15K/30K, it only took two hands for the bracelet to be decided. After Lester limped in on Hand 156, Sass checked and they took a flop of 9-2-3. Sass fired a 40K bet into the pot, only to have Lester take it up to 105K. Sass, at this point, moved the rest of his stack into the center (worth around 365K). Lester paused for only a moment before calling and showing a 9-7 for top pair. All that Sass could look for was a gutshot straight draw with his 6-4 and, once it didn't come home for him, Alan Sass was out in second and Jason Lester had captured the $5000 Pot Limit Hold 'Em bracelet.
FINAL STANDINGS
1. Jason Lester, $550,746
2. Alan Sass, $284,256
3. Stuart Fox, $142,128
4. Tony Hartmann, $124,362
5. Michael Tedesco, $106,596
6. Greg Turk, $88,830
7. Emad Tahtouh, $71,064
8. Tommy Smith, $53,298
9. Kiril Gerasimov, $35,532
With the victory, it achieves a mark in Jason Lester's career that has long eluded him. He had been to many a final table at the World Series of Poker (including a Championship Event final table), but had been unable to capture the jewelry. With this victory, Lester can count that on his resume and prepare for the rest of the stay in Las Vegas with a World Series bracelet, the crowning glory in a life of poker.
Ed Note: Crown your own glory at Full Tilt.