WSOP Results - John Gale Always the Gentleman in his $2,500 Pot Limit Win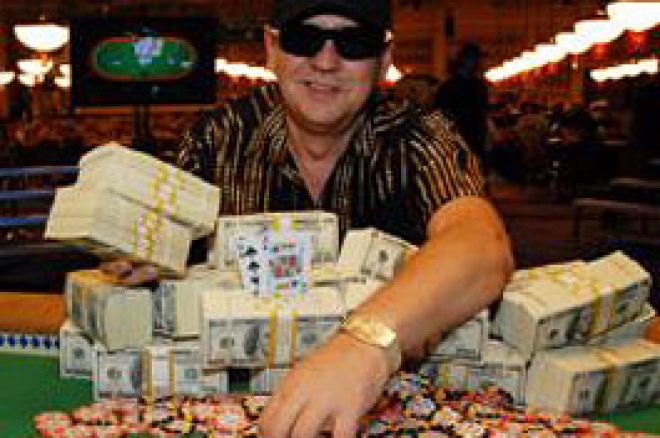 Whoever said pot-limit hold'em was a post-flop game forgot to tell that to the final table of the $2500 PLHE event on Friday at the WSOP. Action was incredibly fast-paced an aggressive, and all-in plays preflop were a dominant theme. The final table was composed of:
Seat 1 – Longtime Professional Lee Markholt, $128,000
Seat 2 – Online Professional Maros "Premiere" Lechman, $101,000
Seat 3 – 2005 WSOP Champion Joseph Hachem, $64,000
Seat 4 - Jeffrey Roberson, $24,000
Seat 5 – WPT Champion "Gentleman" John Gale, $134,000
Seat 6 - Lee Grove $66,000
Seat 7 – WPT runner-up Alex Jacob, $524,000
Seat 8 - Kevin Ho $287,000
Seat 9 - Greg Alston $80,000
Kevin Ho dominated the action early, raising almost every hand preflop. He established his position as an unpredictable and aggressive player who was not afraid to gamble starting from the first hand of play. Ho entered the pot for a raise, then called a substantial all-in re-raise preflop from Greg Alston holding just a K-7. Alston showed a K-4 and less than a minute later, he was busted out in 9th place, winning $25,852.
With such a strange hand to move in on, many wondered if Alston had planned the move before play started, regardless of his hand. However, he quelled this theory when he explained, "I hadn't decided to do it [premeditated] at all – it was a reaction to what I thought was a loose raise. I thought that I had enough to reraise that he might lay it down. I don't think he was getting correct odds to call with the hand, but if he did call, I had at least a king-high. I was surprised with his call, along with some of the other players at the table. It was a big call, especially considering I was a totally foreign player to him and had never played a single hand with him before."
Ho continued his aggressive play, entering pots for a raise four more times in the next ten hands and putting three players all-in preflop in the process. However, John Gale managed to get lucky when his A-8 hit an 8 against Ho's A-J and Lee Grove distributed a killer beat when Ho's set of 8's were beaten by Grove's A-K on a flop of A-8-7 after the turn and river came runner-runner A-K for a full house.
On his third all-in preflop, Ho's luck finally changed as he tangled with Lee Markholt holding the K-2 to Markholt's A-7. Ho entered the pot for a raise, as usual, and was re-raised by Markholt. After pausing for a while, Ho made the call and hit a pair of 2's on the flop to take down the pot. Markholt finished 8th and earned $38,778 for his play.
In explaining his all-in move, Markholt noted, "[Kevin] was being overly aggressive. I know he's raising in that spot with almost anything. I am a favorite against 90% of the hands he's raising with. I looked down at an ace, and pushed all in. I was 100% sure he was going to call because it was only 40,000 more chips, but I still knew I was very likely ahead and wanted his call."
Ho seemed to switch gears after taking out Markholt and finally gave the other players a chance to take down some pots. Joe Hachem was able to pick up a sizeable pot after he knocked out Lee Grove, who had been nursing the short-stack all day. After a Hachem raise of $30,000 preflop, Grove pushed all-in for 18,000 more and Hachem quickly called, showing the K-4 to Grove's A-7. Hachem got his king on the turn, and Grove busted in 6th for $64,630.
Grove seemed to concede defeat before the tournament even started, but was quite happy with his 6th place finish after deftly playing his short-stack to move up in the cash. He noted, "Going into the final day, all I figured I could do was survive. I knew I didn't have a good chance to win, I just wanted 2 or 3 short stacks to go out in front of me, and that's what happened."
Alex Jacob, the massive chip leader entering the day and favorite for many to win, was the next player eliminated. With an extremely aggressive player in Kevin Ho to Jacob's left, he seemed to be flustered all day and could not use his big stack to bully as one might have expected. Jacob lost some big pots, but still had a decent amount of chips left when he raised 56,000 preflop in the cutoff with 9-4. Hachem put him all-in from the blind for another 21,000 holding QQ and after Jacob called, a Q on the flop took the pot down for the WSOP champion. Jacob, in his second final table appearance at this year's WSOP and his third cash, earned $77,556 for 5th.
Hachem did not have long to enjoy his new chips, however. He was the next player knocked out when he and Gale got tangled up in an interesting hand. Hachem raised to 38,000 preflop holding the K-9 and Gale called with the A-3. The flop came down K-4-3 and Hachem bet the pot for 76,000, which Gale quickly called. The turn came a blank and Hachem moved all in for 90,000 more. Gale went into the tank, and Hachem pleaded with him to fold, repeatedly telling Gale, "I've got you beat, you're my friend, please do not call. I do not want you to suck out on me."
Gale acknowledged that he believed Hachem, telling him, "I know you're telling me the truth, but I think I still have some outs." Finally, after a few minutes in the tank, Gale made the call and Hachem proved his honesty, dominating Gale's pair of threes with his pair of kings. However, Hachem's worst fears came to fruition when Gale sucked out with an ace on the river to make two pair. Hachem, visibly frustrated, pounded the table in anger after taking another brutal beat to get knocked out of his second final table of this year's series (Hachem busted out of his previous final table in 2nd place when his all-in move preflop with A-Q lost to Dutch Boyd's A-5). He earned $90,482 for 4th.
Down to three, Kevin Ho's ultra-aggressiveness finally came back to haunt him. Ho got tangled up with chip leader Gale after he pushed all-in on an open-ended straight draw on the flop, while Gale called with his A-J for a pair of aces. The turn and river failed to bring Ho his straight and he was busted out in 3rd for $103,408.
Heads up, it looked like it was going to be a quick victory for John Gale. He started out with an almost 6:1 chip lead over Maros Lechman, who never held many chips for the entire tournament but somehow managed to sneak into the final two. Going into play, Lechman noted, "To make it to second place with the chipstack I've had, I'm extremely happy. I'm basically freerolling from this point on."
Even though Lechman, who is better known in the online community as Premiere, was incredibly short-stacked, he still served as a threatening opponent. 10th place finisher and professional poker player Aaron Bartley, who came to sweat Lechman, called him "one of the best online tournament players on PokerStars. He is very-well known online as a strong player."
Lechman lived up to his billing by battling with Gale for over 3 ½ hours and at one point, overtaking the chip lead. Although Gale seemed to lose his composure at a few points during headsup play after a few bad beats, even throwing his cards off the table at one point, he kept enough focus to retake the chip lead and eventually take Lechman out.
The final hand came when Lechman raised to 90,000 preflop, then bet the pot dark on the flop. Gale moved all-in after seeing the flop of 10-9-7 and Lechman called, showing A-6 to Gale's K-9. The turn came a 5 and the river a 2, and John Gale won his first gold bracelet and $374,849 while Lechman took $197,768 for 2nd. It was Gale's first bracelet, and sweet retribution for his 2nd-place finish in the $5000 Pot Limit Hold'em event in last year's WSOP. Gale noted, "I thought I had the bracelet on my wrist last year, but to finally win it this year, I'm ecstatic."
Ed Note: John is always the gentleman when playing online poker at the tables of Pacific Poker