WSOP Results: Richburg Eludes the Matador For Razz Title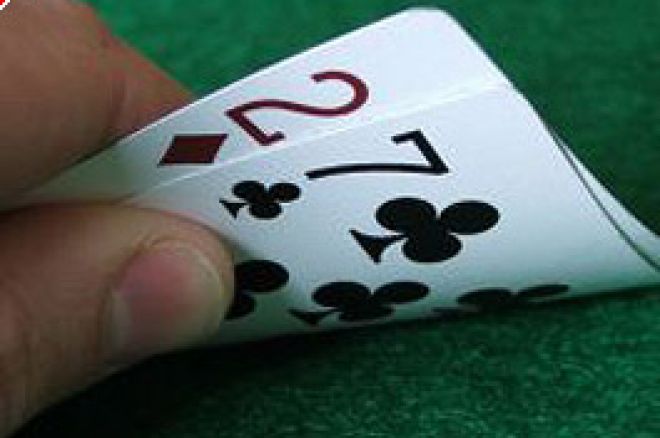 Perhaps buoyed by the showcasing of Razz in the $50,000 H.O.R.S.E event, an unexpectedly large field of 409 players, many of whom were amateurs, signed up for the $1500 Razz event on Saturday. This was good news to pros such as Scott Fischman, who noted, "[Razz] is really a black-and-white game. The reason it's not played any more is because the good players always win in the long run. It was a really good tournament because there was a really weak field."
Barry Greenstein, who also played but failed to cash, said about the field, "Razz is one of the easiest games to learn, but it's also the weakest game for most players. There are a lot of subtleties in razz that escape many of the less experienced players."
Not surprisingly then, a number of pros made notable cashes, including Peter Costa at 23rd, Jeffrey Lisandro at 19th, Perry Friedman in 14th, and Eric Froelich in 10th. Throughout the day, people could be heard muttering about the frustrations of playing Razz, with Friedman commenting, "Razz is definitely a game for masochists."
One of the more humorous comments of the day came after Peter Costa went through a continued string of catching or pairing kings on late streets. Costa sighed in frustration and the dealer, who seemed to feel terrible about repeatedly ruining Costa's hands, guiltily remarked, "I apologize for my presence, sir."
Because of the large field, the players had to play until 4:30 am the previous day to fit the event into two days. After five hours of play on the second day, the final table was set as:
Seat 1: Jamie Brooks – 19,000 chips
Seat 2: James Richburg – 214,000 chips
Seat 3: "Miami" John Cernuto – 34,000 chips
Seat 4: "Steven Diano – 59,000 chips
Seat 5: Richie Sklar – 45,000 chips
Seat 6: Ron Ritchie – 38,000 chips
Seat 7: Cliff "JohnnyBax" Josephy – 49,500 chips
Seat 8: Carlos Mortenson – 129,500 chips
Jamie Brooks was the first player to bust out. Brooks raised all-in preflop with a strong hand of A-2-4 to James Richburg's 2-4-5. However, Brooks' final hand ended up as K-10-4-2-A, losing to Richburg's Q-8-5-4-2 and earning him $13,957 for 8th.
"Miami" John Cernuto soon followed Brooks out the door. Cernuto was the chip leader throughout much of the tournament, however he ran into a bad stretch of cards and entered the final table as a short-stack. The end came when Cernuto's Q-low lost to Steven Diano's 8-low.
After busting, Cernuto remarked, "I'm happy with the way I played. I went from chip leader from 16 players to not winning a single chip. I had two hands that were A-2-3-5 and when you get those hands, there is almost no way you cannot go to the river. Those were costly cards when I didn't hit. Before you knew it, I was all in." It was Cernuto's 5th cash and third final table in this year's series, good for $19,540.
Richard Sklar was the next player eliminated after Carlos Mortenson's jack-low trumped his queen-low. The enigmatic Sklar, who would repeatedly shout "Hasan Habib!" after having good hands hold up, finally had the luck of Habib run short. He earned $25,123 for his 5th place finish, which he planned to use towards a $50,000 golf game with Mike Sexton, Jeff Friedberg and Greg Mascio that he announced he would be playing in tomorrow.
It took almost 3 hours to get from 5 down to four, with Ron Ritchie finally bowing out into the tenth hour of day 2 play. The construction company owner from Alberta, Canada earned $30,706 after his A-A-7-7-8-10-x fell to the ultra-aggressive Carlos Mortensen's A-2-3-8-10-Q-x.
Cliff Josephy followed shortly thereafter, finishing in 4th and taking $39,000 for his play. Josephy, or "JohnnyBax" as he is known in the online community, was the story of the tournament. Josephy made headlines in last year's WSOP by winning the 7-card stud bracelet after never having played a single hand of stud before entering the event. He tried to duplicate his winning formula again this year by entering the Razz event without any prior experience in the game. He explained the extent of his preparation for the event, recalling, "I didn't know anything about Razz. I asked a tournament director what the best hand was, and he told me it was 7-5-4-3-2. Right before we started, I said to Matt Matros, 'All I know about this game is that 7-5-4-3-2 is the best hand. Can you give me any advice?' He told me, 'Well, first of all, the best hand isn't 2-3-4-5-7. It's A-2-3-4-5.'"
Josephy managed to more than hold his own, however, and was also aided throughout the final table by Scott Fischman, who busted out of the neighboring $1000 NL Hold'em with rebuys tournament one spot ahead of the bubble. However, Fischman's advice failed to help after Josephy went all-in on 4th street and ended with a hand of 2-2-5-6-9-9-J, falling to James Richburg's A-3-4-7-8-Q-Q.
Steven Diano was the next player gone, leaving in 3rd place and earning $61,411 for his finish and taking home his second cash of this year's WSOP. Diano, who was battling the short-stack throughout the final table, was taken out by James Richburg to bring play to heads-up.
Down to two, it was Carlos "The Matador" Mortensen in his third final table and fourth top-10 finish against James Richburg, the Long Beach, CA native who had cashed twice so far in this year's series. Play began with Mortensen holding a 351,000 to 251,500 chip lead over Richburg.
Mortensen played aggressively the entire day, battling back from an extreme short stack towards the beginning of day 2. At one point when the black $100 ante chips were being raced off, Mortenson revealed that he had 560 of the chips in his stack, more than half of the black chips in play. He also showed his capability to bluff, showing pocket pairs in the hole multiple times after getting his opponents to fold.
Many opponents were also puzzled by his at-times maniacally aggressive play, with some whispering that Mortensen was actually trying to bust out of the event early on day 1. Mortensen slyly responded, "That was part of my strategy. The blinds [in the first level] were ridiculous, like 5 for the bring in and raised to 10 so you could play blind in this tournament and that's what I did. I just played the cards over the table and didn't look at my hole cards. The maximum I can lose is like 125, 150 and also I can win too, so that was my strategy."
It seemed to work well for Mortensen, with some players not respecting his Razz game going into the late stages of the tournament. 8th-place finisher Jamie Brooks suggested, "Carlos is being the most aggressive player at the table, but I think he's going to get hurt. He's up against some tough competition - I don't think he can win it."
As heads-up play began, Mortensen continued his aggressive ways, continually firing into Richburg. Less than half an hour into play, it looked like the bracelet would be Mortensen's for the taking. After a series of raises and re-raises preflop, Mortensen, who had Richburg covered by 260,000, showed the A-2-3, while Richburg was all-in with an A-2-5. However, Carlos ended up pairing 7's while Richburg hit his A-2-3-4-5 wheel for the nut low, doubling up and regaining the chip lead.
The two continued to battle for hours, with Mortensen fighting on the short stack but refusing to give up. Finally, after over two hours into headsup action and past the 12-hour mark for the day, James Richburg busted Mortensen, showing the 2-3-6-8-9-3-9 to Mortensen's 2-2-4-8-9-K-K-x. Mortensen earned $94,908 for 2nd, continuing his string of deep finishes while Richburg earned his first bracelet and a well-deserved $139,576 payday.
Ed Note: Earn yourself a well deserved payday at Pokerroom.com