WSOP Updates – Allen Cunningham Strikes Again For The Bracelet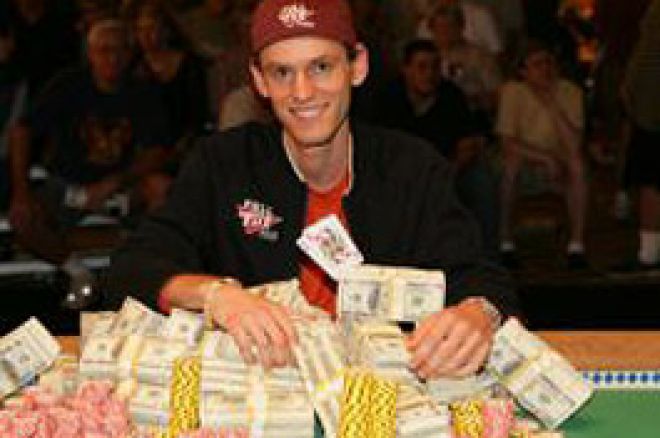 It looked like it would be a difficult day for everyone involved when the World Series of Poker got off to a start on Monday afternoon. There was the potential for three final tables to take place (but fortunately this didn't happen, as the final table of the $10,000 Pot Limit Omaha event will take place on Tuesday) and also the throngs who came to the tables to take on the $1,000 No-Limit tournament (which will probably seat almost 3000 players in the vastness of the Amazon Room). Once the $1000 NL event was started off, the final table players for Event #14, the $1000 w/rebuys No-Limit event, was ready for action with the cameras of ESPN also set to roll as this is one event that will be broadcast during their coverage.
The final table for this tournament had everything that a poker fan would like to see: big name professionals, experienced veteran players and young newcomers looking to make their name. The nine men who came to the felt for this event encompassed all of these attributes and lined up around the table like this:
Seat 1: Burgeoning young poker pro Alex Jacob, 106K
Seat 2: 2005 World Series Player of the Year Allen Cunningham, 234K
Seat 3: 24th place finisher in last year's Main Event Tim Phan, 551K
Seat 4: Vegas veteran Everett Carlton, short stacked at 86K
Seat 5: Making his second 2006 WSOP final table John Hoang, 274K
Seat 6: Veteran poker player "Captain" Tom Franklin, chip leader at 590K
Seat 7: Excellent newcomer Steve Wong, 295K
Seat 8: California casino pro David "Chino" Rheem, 145K
Seat 9: Poker professional Andy Bloch, 157K
These nine men were the survivors from a field of 752 players who surprisingly only contributed 1,670 add ons during the rebuy period of the event. This breaks down to only around two rebuys per player (and that counts the add on as well) and Allen Cunningham commented that he only made one rebuy during the tournament. Tournaments of this sort normally generate much more action and a larger prize pool, although this prize pool of over $2.3 million was quite large for the players at the table.
With the blinds at 6K/12K and a 2K ante, there was no need for the action to kick up immediately, right? One thing this year's World Series has shown is the willingness of the poker players to go against that "grind it out" style that made tournaments in 2005 seem more like marathons than poker tournaments. On the very first hand, David Rheem responded to a raise from Steve Wong by pushing his stack all in. While no other players including Wong called, it did set the tone for what would be an exciting evening of poker.
The first victim of the tournament would come only seven hands into play. Alex Jacob had crippled himself when he called an all in by Everett Carlton and lost. With less than 20K in chips left, Jacob was faced with an Andy Bloch all in and Jacob called. Bloch held a substantial edge with Big Slick over Alex's 10-9 of clubs and the flop sealed Jacob's fate when it came down 3-A-A. Jacob was drawing dead and left the tournament floor in ninth place barely fifteen minutes into the final table.
Two hands later the blinds were raised to 8K/16K and 2K antes and the action continued to be intense. Allen Cunningham went on the offensive at this time when he moved all in on three occasions. The first two times no one took him up on his offer, but the third time "Captain" Tom Franklin decided to test the triple bracelet holder. Franklin challenged with an A-Q and Cunningham was happy to turn up his pocket Kings and go to war. A Queen on the turn gave momentary hope for the good "Captain" but a blank river doubled up Cunningham and dug him from the basement of the final table to a much more comfortable setting.
"All in" seemed to be the phrase of the day at this final table as it seemed to be the predominant move (something being seen more often at this year's World Series). Everett Carlton sustained his stack with an all in move and Andy Bloch tried it twice. The first time it worked; the second time his Full Tilt teammate Cunningham called him down (forget about any soft play here) and showed an A-Q to Bloch's pocket nines. An Ace popped up in the window on the flop and, to further the defeat, Allen added a Queen on the turn to take a virtually unbeatable lead to the river. Once it came up with an innocent three, Andy Bloch was out of the tournament in eighth place.
The very next hand, Hand 38, Cunningham pushed all in from the cutoff position and found Carlton in the small blind willing to take the challenge. Cunningham held the lead with his A-10 over Everett's K-J and furthered the advantage with a ten on the flop. While the Ace on the turn gave him two pair, it also opened the door for a straight draw for Carlton. There was no Queen for Everett on the river, however, and Cunningham had eliminated his second player from the final table with Carlton leaving in seventh place.
With the back to back knockouts, Allen Cunningham sprang to the top of the leader board and had his opponents looking for a way to get back into the fight. "Chino" Rheem was sitting second in chips and found a hand to his liking, raising the pot to 45K. Cunningham hit back with an all in move which Rheem almost beat him to the pot with the call. Rheem's A-K thoroughly dominated Cunningham's K-10 and, once the board blanked off, "Chino" assumed the chip leader status of this final table.
Rheem continued to assert control of the table after the blinds were raised to 10K/20K with antes of 3K. He once again pushed a raise into the center, only to find Tim Phan ready to respond all in. After a moment's deliberation, Rheem called and flipped up the A-K again. Phan's once-mighty A-Q was way behind now and the board provided no assistance to either player, eliminating Phan in sixth place.
A mere five hands later we would lose another final table player. "Captain" Tom Franklin had come to the final table with the chip lead and had laid back for much of the action until, on Hand 56, John Hoang moved all in from the small blind. With a simple, "well, let's gamble," Franklin called the all in move with his A-Q. Hoang was on a complete steal attempt as he revealed a 7c-6c and awaited his fate. When the board came up 5-10-K-10-5 with only one club, the runner up to David Williams in the Seven Card Stud event last week left this final table with a fifth place finish.
The final four lined up like this as the battle, which was only around three hours old, continued on:
Rheem 910K
Franklin 700K
Cunningham 450K
Wong 360K
The men seemed to be happy with shuttling the blinds around the table for about twenty hands until "Chino" Rheem popped a pot to 65K. Steven Wong decided now was the time to take a stand from his big blind and reraised Rheem another 155K. Rheem considered his options and decided to just call with his position advantage. When the flop came Jc-6c-Qs, Wong attempted to push Rheem off the pot with an all in move. Bad timing for Steven, however; "Chino" immediately called and flipped up pocket sixes for a set. All Steven had was As-2s for a backdoor flush and straight draw. A ten of spades brought a shining ray of hope for Wong, but it was quashed by a simple Ace on the river which provided no help. Steven Wong was eliminated from this event in fourth place with the well-deserved payday of $162,252.
After Wong's elimination, Cunningham once again went on an "all in" spurt as he moved his stack in on three consecutive hands. The first two times no one bit but, on Hand 80, Rheem decided to look him up. Once again, we had a case of bad timing as Rheem's hand of 9-8 of diamonds was completely dominated by the pocket Aces of Allen (sending a sense of wonder through the audience as well as to what he had held the previous two hands). There was no miracle in store for "Chino" as Cunningham doubled up. The next hand the two hooked up again and, after a turn card of an Ace on a board of 10-3-J, Cunningham moved all in again and forced Rheem out of the pot, taking over the chip lead in the process.
On Hand 85, we worked our way down to two competitors. The "Captain" decided to make one of the "all in" moves he had seen work so well for his opponents. He hadn't counted on the fact that Rheem was on his left and he called. Franklin's 8h-2h paled in comparison to the Ad-5 from "Chino" and a miracle came in an eight on the flop for "Captain" Tom. The bad news was there were two diamonds as well. The King of diamonds on the turn sealed the nut flush for Rheem and ended the evening for "Captain" Tom Franklin as he sailed into the Las Vegas night in third place.
Heads up, Rheem held a commanding, almost 3-1 lead over the poker pro Cunningham:
Rheem 1.7M
Cunningham 664K
As the end of the level was looming near, Cunningham once again took the fight to the Californian. He responded to a limp from Rheem on the button with a 65K raise, which was called by Rheem. The board brought a dangerous flop of 8c-Kc-10c and Cunningham checked to Rheem. He fired out 75K, which was called by Allen and the twosome saw the turn card of a deuce. This time the two checked and went to the river where another deuce awaited them. Cunningham check-called Rheem's 100K bet and turned up a monster with pocket Queens. Rheem could only muster up a 10-9 for a lesser two pair and Allen took a huge pot into his stack.
Just before the end of the level, the momentum changed for good. Cunningham raised a pot to 55K and "Chino" hit back with 200K more. Cunningham declared all in and Rheem called nearly simultaneously. The ladies had come back to Allen as he once again showed the pocket Queens to "Chino's" A-Q. The board danced around Rheem as it came down J-K-8-9-8 but offered no help, sending Cunningham into a nearly five to one chip lead as the clock hit zero.
With only two competitors, the players decided to play through instead of heading to dinner. After they shuttled blinds back and forth for a half an hour, though, they decided to take a break and come back well nourished. As they came back from dinner, the stacks shaped up like this:
Cunningham 1.9M
Rheem 506K
It only took another nine hands for the gentlemen to determine the winner as, on Hand 123, Rheem limped in and Cunningham popped him to 65K. Rheem called all in and Cunningham called him. This had happened on three of the previous nine hands and each time, after Rheem called all in, Cunningham flipped his cards to the muck. It was obvious that he was setting Rheem up for such a situation as the final hand, where Allen held an A-Q and Rheem could only respond with a J-9. The board was blank, save for an unnecessary Ace on the river for Allen, and Cunningham could revel in the factor of his fourth World Series of Poker bracelet and his second in two years.
FINAL STANDINGS
1. Allen Cunningham, $625,830
2. David "Chino" Rheem, $327,981
3. "Captain" Tom Franklin, $185,431
4. Steve Wong, $162,252
5. John Hoang, $139,073
6. Tim Phan, $115,894
7. Everett Carlton, $92,715
8. Andy Bloch, $69,537
9. Alex Jacob, $46,358
"It does seem like it's getting easier, doesn't it?" Cunningham joked afterwards as he was interviewed about having won bracelets in back to back years. He said that this would also help him get back to one of his goals in this year's World Series in defending his Player of the Year title. As Cunningham basked in the accolades of his fourth World Series title, the ladies were ready to take over the stage with the Ladies' No-Limit championship, which my colleague Stephen Yoh was on hand to catch the action of. With that tournament and Cunningham's victory, it was another great wrap to an evening at the World Series of Poker.
Ed Note: Poker Stars are giving away 150 seats to the WSOP this weekend. Sign Up Today.