WSOP Updates: Sam Farha Bests Phil Ivey to Win $5k Omaha/8 Event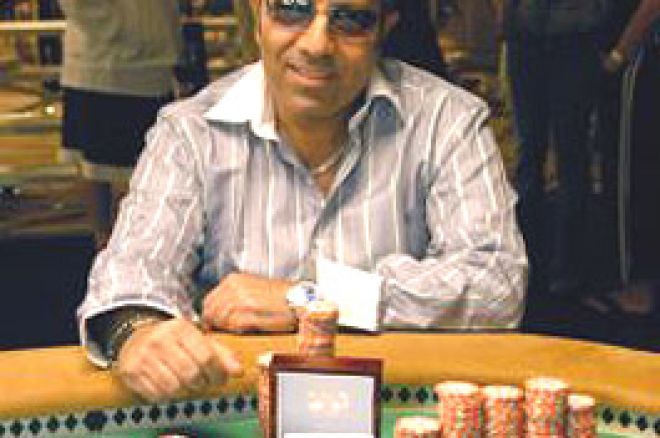 The second of the Omaha Hi/Low 8 or better WSOP events shaped out to be a battle for the ages. Determined short-stack play, surprising early exits, and a final table featuring two huge fan favorites made the table one of the most interesting and exciting exhibitions of poker to date in this World Series.
The final table shaped up as:
Seat 1: Jim Ferrel – 143,000
Seat 2: Jeff King – 40,000
Seat 3: Mike Wattel – 312,000
Seat 4: Phil Ivey – 174,000
Seat 5: Sam Farha, 225,000
Seat 6: Kirill Gerasimov – 186,000
Seat 7: Brian Nadell – 47,000
Seat 8: Ryan Hughes – 106,000
Seat 9: Mike Henrich – 62,000
Although many casual fans have never heard of him, Mike Wattel was the experts' choice to take down the bracelet at the beginning of the day. Known as a fearsome player at the 400-800 mixed games in both Las Vegas and Los Angeles, Wattel began play with a substantial chip lead. Wattel, who was sweated by long-time girlfriend Cindy Violette, also had a number of prop bets wagered on the event, including a bet with Billy Baxter paying 10:1 on winning a bracelet for and a per WSOP final table bet with Mike Matusow and David Williams for big money. Said Violette on her boyfriend's chances of winning the bracelet, "Mike is an excellent Omaha hi/low player. It is his best game, and I honestly don't think there's anyone better than him."
Andy Bloch, who finished 23rd in the event, added, "Mike Wattel is probably the best Omaha player at the final table. He plays the game a lot, and he plays it really well. With the chip lead, it is going to be difficult to beat him."
Just 10 minutes into play, Ryan Hughes was the first to go when he ran into Mike Henrich's wheel for the high and low. Jim Ferrel soon followed after his queen-high flush fell to Wattel's ace-high flush.
Jeff King managed a nice $49,820 payday by skillfully maneuvering his short stack all throughout final table play and finally being busted in seventh place after his A-2-5-9 failed to qualify for a low on a board of Q-J-5-6-J
Likewise, Brian Nadell managed to move up in the money by busting out in sixth. Nadell never really got the chips to make a move, but was able to stay alive and play the short stack admirably with the help of Ted Forrest and Shawn Sheikhan, with whom he chatted with between almost every hand as he got closer and closer to the felt. Nadell netted a nice cash of $62,275 for his play.
At this point in play, Wattel seemed to be dominating the table and the bracelet appeared his for the taking. With Ivey on his left, Wattel began repeatedly taking down pots by check-raising flops and consequently tempered Phil's normally aggressive style. However, Wattel lost a huge pot to Kirill Gerasimov and became crippled through a devastating beat on the next hand when Mike Henrich caught runner-runner twos for trip twos to double through. A visibly upset Wattel was eliminated shortly thereafter by Sam Farha when Wattel's A-3-4-5-7 low was counterfeited by a 3 on the river.
Mike Henrich bowed out quickly thereafter, earning $87,185 for fourth place when Kirill Gerasimov made a straight on the river to beat Henrich's two pair.
With three world-class players left, Gerasimov took over the chip lead with 530,000. Ivey was not far behind at 340,000 and Farha remained in the running with 300,000. Gerasimov immediately took control of the final table, building a huge chip lead by picking off Ivey in a number of pots. Ivey soon fell below $100,000 in chips and began an amazing string of over 10 all-ins preflop in the span of the next two hours in which he either chopped or won pots to stay alive.
The battle between the three went constantly back and forth, with aggressive play being a staple. Ivey managed to grind his way back to an average stack by winning a series of small pots, while Gerasimov, who several times had more than half the chips in play and looked poised to take the bracelet, slowly bled chips until he went from chip leader to short stack. It took over seven grueling hours where Gerasimov, Ivey and Farha constantly traded the chip lead before play finally got down to two-handed when Gerasimov fell to Farha's club flush and A-2-3-5-8 low.
Gerasimov, who was awarded $112,095 for third and is known as one of the best players on the European circuit, noted, "I wanted to play aggressive at the right times and defensive at others, but in 10 minutes, I lost all my chips. Unfortunately, I wasn't hitting the right flops. I have played with Phil and Sammy a couple of times [Most notably when Gerasimov finished 2nd to Ivey's 3rd at the 2003 WPT Championship Event and 3rd to Farha's 6th in the 2004 Pot Limit Omaha Five Diamond World Poker Classic], but playing with Sammy was easier because Phil put a lot of pressure on me. They both played really good. I just didn't get any good flops."
With play down to two, the heads up match was set up that many had been dreaming of ever since Ivey was four-outed on the river in 10th place and Farha took down 2nd in the 2003 main event. Ivey began with an 800,000 chip lead to Farha's 520,000; however the lead was short-lived as Farha managed to go on a monster rush, winning a series of large pots from Ivey to take a dominating chip lead. Just over an hour into headsup play with both players exhausted, Ivey was once again forced into a series of all-ins. Down to just a few chips, Farha finally ended Ivey's chances at a sixth bracelet when he made two pair, jacks and sevens, a little before 4am to win the last hand. Farha, with trademark unlit cigarette dangling from his mouth, smiled for the cameras and took down $398,560 for his second bracelet while a disappointed Ivey collected $219,208 for second.
Ed note: Good Omaha/8 action at Ultimate Bet