WSOP Updates – Jennifer Tilly Is Down And Out, Craziness Is Up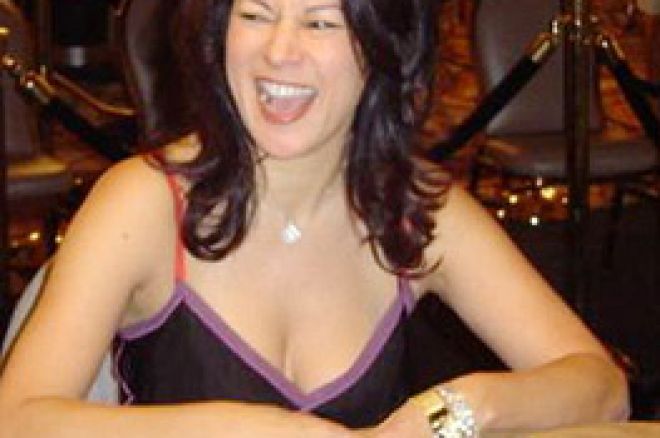 As the third of the Day Ones was in full swing at the Rio, it continues to draw the players in. Matching the first two Day Ones, it looks as though there will be another approximately 2200 players who will come to felt on Sunday, with some professionals fighting for their lives and some already out of the event.
Jennifer Tilly is one of the notable names that will not be returning for Day Two activities. The 2005 Women's Champion never seemed to be able to get her game moving today as her chip stack slowly went down to the felt. She was able to double up during the second round when she took a 3-2 of spades to war when three spades were on the board, saying "Phil (Laak, her paramour) taught me how to do that!" This got her stack back up to over 6000, but it wasn't enough to continue on.
It was another woman, in fact, who finally administered the coup de grace to the Academy Award nominated actress about an hour later when, with a board of A-2-6-9, Tilly was looking at calling off the rest of her chips after having the player move all in. "Someone might need to call the clock here," she asked her tablemates and it was put on her. After letting most of the minute and ten seconds run down, she pushed her chips in the center and turned up A-J. Great hand, but her opponent had flopped two pair with A-6. Once the river blanked off with a Queen, Jennifer shook hands with her opponents and had to be called back to the table twice to retrieve her card protector and her sunglasses.
Some of the other professionals were doing fairly well. Daniel Negreanu, who was being watched by my colleague Stephen Noh, continued to bully his table and was building up a sizeable stack. Mark Seif and Jennifer Tilly's boyfriend, Phil "The Unabomber" Laak (looking very un-Unabomber like in a simple tee shirt and jeans), both were battling through the early going with less than what they started with. "Earl," Seif called out as I came by, "come over here and give me some luck," as he laughed and we shook hands. It will be interesting to watch what goes on with 2005's only double bracelet winner as the day continues.
One of the things that have increased on this third Day One is the craziness. Besides Joe Sebok's bear costume from Saturday, it seems that there are more creative people out there today. One player has shown up in full magician attire (cape, top hat and such), and it isn't Antonio Esfandiari! There also have been a couple of chefs and even a player who had the cartoon character Nemo on his head. Not on a baseball cap, mind you, but a full fledged stuffed Nemo as a hat. Through it all though, it seems that the poker is what is the most fascinating thing going on. Imagine if you will sitting between the double buzz saws of Barbara Enright on your right side and T. J. Cloutier on your left? It's actually happening to one player and it will be quite interesting to see how he handles it.
Ed note: Aruba satellites are in full swing at Ultimate Bet. Doesn't the beach sound nice….