WSOP Updates - Jon Friedman Narrowly Shaves the Razor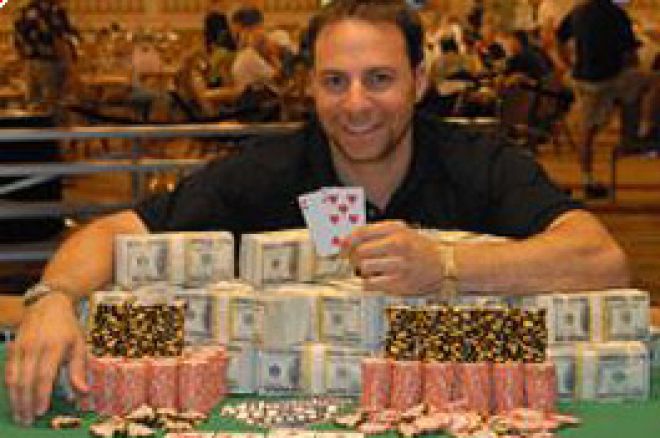 While most of the spectators at the Rio today were focused on the star-studded first day of the $50,000 buyin H.O.R.S.E event, a fantastically-played final table was being hosted just across the room for the $1,000 No Limit event with no rebuys. As would be expected for an event with such a low buyin and huge 2,891 player field, much of the table was composed of relative unknowns and internet players, with a few exceptions.
Professional John "The Razor" Phan started play 2nd in chips at 747,000 and Humberto Brenes was close behind in 4th with 564,000 chips. Carlos Mortensen continued his deep finishes with a 10th place finish in this event, adding to his two ninth place cashes in previous events this year and busting on the televised final table bubble.
As final table play kicked off, Thang Luu, Mike Halford, and Humberto Brenes all were eliminated in 9th, 8th, and 7th place, respectively, within the first 15 hands. Brenes' elimination may have been the most interesting hand of the night. After the player to his right, Mike Pomeroy, made an opening raise of 60,000, Brenes, always a colorful player, peeked down at his cards, paused, and put his glasses on to re-examine his holdings. Brenes began thinking for a few seconds, then stood up, waved his hands in a grand sweeping motion indicating an all-in raise for almost 500,000 more, and ran to the stands to kiss his wife. Action was folded around back to Pomeroy, who went into the tank. Seeing his opponent flustered, Brenes began to goad Pomeroy, talking to him at length and eventually inducing a call. Brenes flipped over A-K while Pomeroy dejectedly showed A-Q. The flop, however, saved Pomeroy as it came A-Q-J, giving him two pair. The turn and river failed to help Brenes, and he exited the stage, waggling his finger and noting upon his exit, "I come back, I promise!" Luu earned $49,722 for 9th, while Halford took down $61,561 for 8th and Brenes was awarded $74,715 for 7th.
When later questioned about what he said to Pomeroy to persuade him to call, Brenes confided, "I say, 'Oh, you no make a good call - good for me!' I was sure he thought that I [was] bluffing, but when I saw the flop, it was no good for me."
Corey Chaston was the next player eliminated when he pushed all-in and was called in two spots by Pomeroy and Kevin O'Donnell. Pomeroy and O'Donnell checked the hand down and O'Donnell's A-Q high took down the pot, giving Chaston a 6th-place payday of $88,132.
Kevin O'Donnell, one of the only other players at the table besides Brenes and Phan with final table experience in a major tournament (he took 6th in the WPT's 2005 Legends of Poker tournament), was eliminated in 5th three hands later on one of the worst beats of the night. After raising preflop, O'Donnell bet into a J-8-3 rainbow board. His opponent, Jon Friedberg, moved all-in and had him narrowly covered in chips. O'Donnell made the call with A-J, good for top pair, while Friedberg showed an 8-4 for a pair of 8's. Another 8 came on the river, however, and O'Donnell was gone with $105,232 to show for his efforts.
"I was pretty sure I was ahead preflop and so I raised only a little bit trying to trap," explained O'Donnell afterwards. "On the flop, I put my money in with the best hand, and that's all you can ask for," said the very gracious O'Donnell, who added that he owns K.O'Donnell's bar in Arizona and is always willing to offer poker advice to those who stop by.
Friedberg narrowly dodged elimination and served up another bad beat 11 hands later in hand 36 when he mixed it up with the chip leader, Mike Pomeroy. After a flop of J-9-7 rainbow, Pomeroy bet out about half the pot and was re-raised all in by Friedberg. Pomeroy made the call with A-9 while Friedberg showed 8-8 and needed a 10 or an 8 to avoid being eliminated. A 10 on the turn gave him new life and doubled him up, giving him a commanding chip lead.
Just two hands later, however, Friedberg gave a large chunk of his chips back when he made a huge bluff, limp-reraising all-in from the small blind with 10c-4c against John Phan. Phan thought for a minute before declaring, "I call" with his pair of tens. The tens held up, and a pattern that would re-emerge later in the night was established, with Phan doubling through a Friedberg bluff.
With Phan in hold of some chips, his style became much more aggressive, and he began betting into almost every pot. Unfortunately for Phan, his opponents refused to be bullied and consistently came back over the top of his bets, whittling him back down to where he was before doubling up. However, Phan was soon able to double up again through Jon Friedberg. For the second time, Friedberg attempted raise all-in on Phan when it was folded to the blinds, and Phan made another big call, showing 8-8 to Friedberg's 7-8. Phan's 8's held up and he was right back in contention for his first bracelet.
11 hands later, Tom Hawkingberry was eliminated in 4th place after he moved all-in while in the small blind holding A-4. Mike Pomeroy made the call with A-Q and a Q on the flop sealed Hawkingberry's fate. Hawkingberry earned $122,596 for his play.
Down to three, fan-favorite Mike Pomeroy was the next to go. The auto worker from Detroit and father of two was trapped beautifully by Jon Friedberg when Friedberg checked his option with 5-5 in the big blind. The flop came A-9-5 rainbow and after slowplaying his set on the flop, Friedberg was able to get all of Pomeroy's chips by betting big on the turn and river. Pomeroy took down $157,322 for 3rd place.
With Pomeroy out, play was down to heads-up between internet pro Jon Friedberg, who supported himself through online poker for the last 2 ½ years, and John Phan, the runner up in 2005's Player of the Year race. Friedberg started out heads up play with a considerable chip lead of 3,435,000 to Phan's 895,000 and never relinquished the lead.
Upon beginning heads-up play, Friedberg explained his strategy: "I'm happy to see John Phan short stacked because honestly he is one of the more intimidating players at the table. I do think that John is in push or fold mode, and I'm going to keep that in mind when I play." Although Phan played very aggressively, Friedberg countered nicely by pushing all-in several times preflop to steal blinds and occasionally going over the top of Phan's bets postflop, forcing him to fold. Chipped down to less than 500,000, Phan was finally forced to move all-in with Qs-4s. Friedberg immediately called with Ah-7h, and when the board came 10-9-3-2-7, Jon Friedberg was the winner of his first ever bracelet. Friedberg, who collapsed on the stage after winning the final hand, earned $526,185 for first while Phan, who looked on the verge of tears after coming so close, earned $289,389 for his 2nd place finish.
Ed note: You'll be in the verge of tears when you win your first Party Poker tournament.