WSOP Updates - Ladies Mid Term Report Card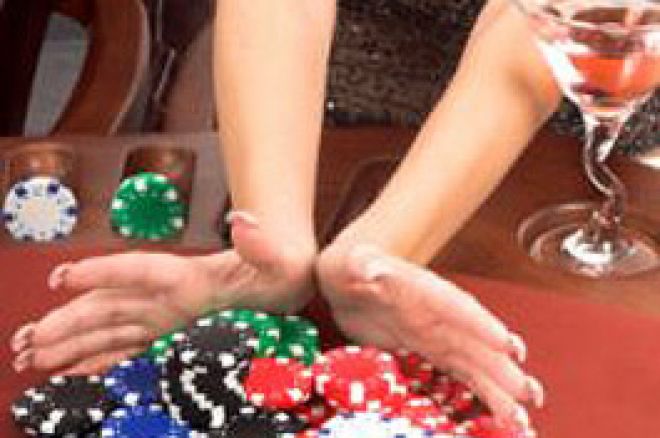 About half of the WSOP events have played to a bracelet, so I thought it was time to check in on the women at the WSOP. To date, no woman has won a bracelet in a 2006 open event, but there are definite silver linings for the gals.
Mary Jones of Henderson Nevada won the Ladies event bracelet against a record field of 1128 players in what turned out to be one of the most aggressive final table battles of the WSOP so far. The final table of the Seniors event found not one, but two, women vying for the bracelet with Clare Miller taking the jewelry and Judy Carlson scoring a fourth place finish.
Isabelle Mercier, Michele "The Black Widow" Lewis, and Vanessa Selbst have all made final tables in open events this year. And Marsha Waggoner had a final table appearance in the Casino Employees event. Jennifer Harman Traniello, Sarah Bliney aka "Aussie Sarah," and Melissa Hayden just missed out on final tables, finishing 11th, 12th and 14th respectively in open events.
A few notables have made multiple WSOP money finishes this year. Kathy Liebert, JJ Lu, Mimi Tran, Cyndy Violette, Jennifer Harman, Sarah Bliney and Vanessa Rousso have all collected more than one 2006 WSOP paycheck.
Missing the cash out line so far is Annie Duke. Duke won a WSOP bracelet in the 2004 $2000 Omaha hi/lo event and made four money finishes in 2005, including a final table appearance in the $5000 Limit Hold'em event. In what has to be both assuring and frustrating, Duke has made it deep into almost every event she has played this year. One just has to believe it is a matter of time.
I've also noticed a few women have been getting in some time just down the street at the Orleans Open. Multiple bracelet holder and 1996 WSOP Championship final table participant Barbara Enright has had three final table appearances at the Orleans in the last couple of weeks. And the Orleans Open Ladies event was won by Razz bracelet holder and World Poker Tour announcer Linda Johnson.
There is still a lot of poker left in the 2006 WSOP and we'll be tracking the women down the home stretch.
Ed Note: Women love Mac computers. If you have a Mac, you can play online anytime you want at Pokerroom.com