WSOP Updates – Spotlight Series – Up, Down, and Out For Tony G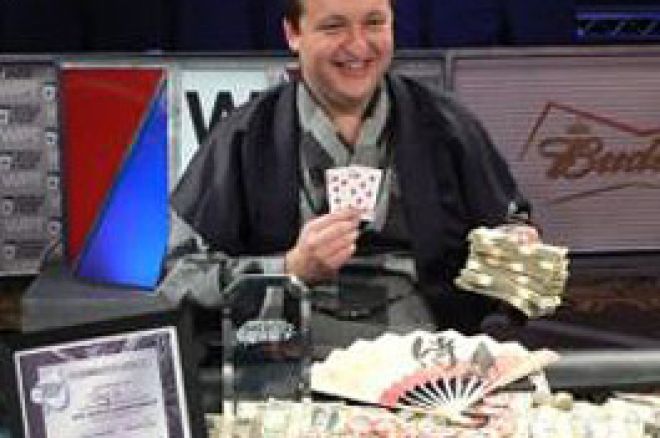 Tony G. decided to play Day One of the Main Event. He came out firing on all cylinders. Playing 50%+ of the pots in the first round Tony was involved in two 10K pots. He won the first and when he turned trip Jacks in the second hand, he got a lot of those chips involved in a pot, in which his opponent had flopped a Broadway Straight. A few hands later while discussing the hand with his end of the table, he basically outlined how the player could have gotten all the chips in the pot. Tony was right, the player could have extracted a lot more chips but he feared the board would pair Tony's kicker. A timid play when so many chips were available and Tony thought so too.
The conversation was lively at the table, with Tony leading the way. He had one very talkative opponent and when "calling for all your chips" came up in conversation; Tony was reminded of his bust-out hand in the 2-7 Draw Lowball event.
"I had 20 outs and a 8-7-4-3 (J) to draw to, but still I was calling for all my chips and not raising for them. Bad play."
Tony glanced up and me, smiled and said:
"You've heard this one before?"
Tony G. had a stack at big as 18K and then as low as 8K during the first level. He slowly got short-stacked over the next several rounds and never got the big hit he was trolling for.
This first day had a full 206 tables in play and 7 tables of alternates that ought to be right around 2130 players for Day One. The pre-game schedule called for six two-hour levels today and/or playing down to 800 survivors. The announcement was made early in the first level that the first day would play six levels or down to 900 players, if that number was not reached by the end of level six there would be a level seven very early tomorrow morning. All subsequent days would be played the same. And all remaining days would have registration remain open for alternates to sign-up each day through the first full level of play.
For Tony G. the Main Event ended today about six hours after it had begun. Upon filming his Mansion Poker Dome episode tomorrow, he will fly home, after over 5 weeks in the desert. I had a great time following Tony G. for the 2006 WSOP and I learned a lot about my own game. Thanks, Tony.