WSOP Updates - Spotlight Series - The Honeymoon WSOP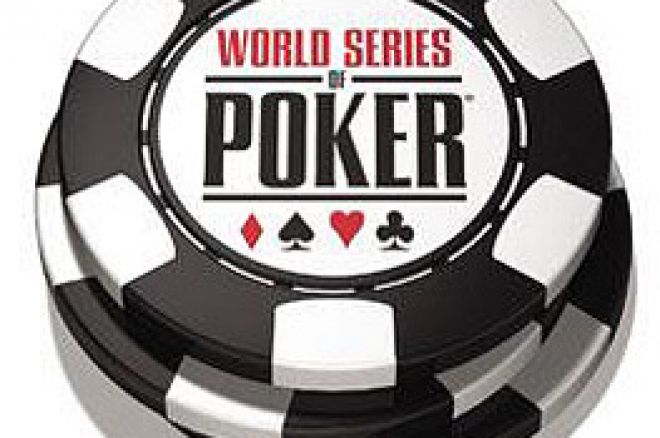 The Seven Card Stud even drew 478 participants but only one of our "Spotlight" players. Tony G. played late into Day One but will not be coming back for Day Two. Liz Lieu took the day off and may skip today's Limit Hold'em event too. Gavin Smith was also a no-show for the Stud event. I will catch up with all of our "Spotlight" players over the next couple of days to get their impressions of the World Series so far.
*******************************
Let's turn today to another player, who I have promised information on since the very beginning of this series. Remember on the day before the Series began, Gavin Smith, Erick Lindgren and a plane full of friends flew to Portland for a wedding. The next day they all flew back along with the bride and groom for Day One of the Series. Today we take a look at the lucky bridegroom and tournament poker player - Bill Edler.
When tournament reporters or poker "journalists" walk around a big tournament room, we generally can name 10% to 20% of the player on sight. The smaller the field and the higher the buy-in, the more players we know. Bill Edler is one of those players recognizable to everyone 'in the business'. I first met Bill at a WSOP Circuit event at Caesar's Indiana. I was walking the room with Tournament Director Johnny Grooms, who was giving me a player recognition tutorial. This was the main event at Caesar's and besides noting 'who's who' I was also keeping track of chip counts and Bill Edler had himself a stack.
As the three day Main Event progressed and the field narrowed Bill remained among the chip leaders and I began to recognize a style of play. You know when you are on that long but inevitable slide out of an event; when every move you make runs into a bigger hand or a bigger stack or a bigger bet. I watch as player after player found themselves in that situation until finally one announced:
"How come every time I make a move, I end up staring at you?"
The player was talking to Bill Edler. Friendly but often quiet at the table, Bill has a tendency to build a stack without a lot of fanfare but if you are at this table, you might pick up on a pattern, you are often laying down hands to Bill and your table read says: "Beware of the guy in seat six, he bets strong with good hands…. Or at least I think he does?" I have learned a lot from Bill, watching him on tournament tables. He plays the game I aspire to play: a large, quiet guy; friendly to play against but always a threat to move strongly against any sign of weakness. A good player not to tangle with too often.
I caught up with Bill the day after his arrival in Las Vegas. If you remember the first Hold'em event was sold out the night before so Bill did not get an opportunity to register, he would have been otherwise occupied that night in Portland. So he missed the first event of the Series but not for lack of an early morning plane flight.
"So Bill as far as preparation for the World Series, I am going to guess that yours might be unique among the players…."
"Really, why…oh you mean, yesterday." Bill shows me the new shining wedding band.
The road of his new life with his new wife Carolina was not what you might call an easy journey. Carolina is a native Columbian and getting her out of her home country in the days of Homeland Security and Drug Enforcement Agency red tape, blue tape, orange alert and general government bureaucracy was a long and daunting task. Even when it was finally a done deal and Carolina was here in the states. Bill had to fly back to Columbia to retrieve his new daughter-7 year old Valerian. You see if Carolina had gone back for her daughter, who was not allowed to leave with her mother a few days earlier, well then Carolina would have been back in Columbia and no one was sure if they would let her out again or whether US Immigration would let her back in. Then there was the matter of why Bill was trying to get a 7 year old girl out of Columbia………….but its over, everyone is here, they are in a new home in Las Vegas and Bill is back at the tables.
As for Series preparation, you might say that having your life settled is preparation enough after over half a year of turmoil. Because a real honeymoon was going to wait for the end of the World Series; Bill, Carolina, Valerian and several friends spent the days leading up to the wedding on a cruise around the San Juan Islands off the Oregon coast.
Then it was: a wedding, a plane flight, a new home and the World Series.
Bill like many players is fully backed in his tournament play. There are literally hundreds of players with backers. There are corporate sponsors, particularly online sites. There are big money backers, who like pro sports owners, get into the game by backing a strong player. Also many players are backed by other players; this is the case with Bill. I cannot at this time disclose who Bill's money backer is; but I will say that he is a professional know for backing only strong winning players. I will keep you up to date with Bill's progress in this, his Honeymoon World Series.
Ed note: Speaking of weddings, one lucky couple got married after playing together on Party Poker. Online Poker – bringing families together since 1999.