WSOP Updates - Spotlight Series - How's it Going?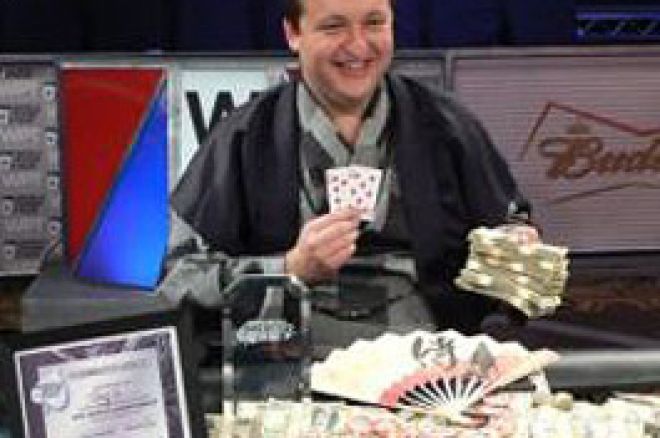 We have three weeks of the 2006 World Series of Poker under our belts. Or is that felts? Time to take a look at how our three Spotlight Players have fared so far.
Liz Lieu continues to struggle against the monster sized fields in these early events and her own personal demons. There is absolutely no doubt that poker has become an industry with many opportunities away from the tables. Liz appears to be caught up in the side eddies of the poker flood and although her cash game is red-hot and very profitable; the World Series is what is on everyone's minds these days. The dozens of things on Liz's mind everyday have got to be distracting her from her Series play. It's not like Liz is unaware of the swirl she is caught up in but like anyone in a raging torrent, if no one throws you a strong lifeline, you just have to ride out the flood. Liz continues to bring her game to the Rio and look for that first break-through event.
Tony G. is a completely different story. He too has a portfolio of poker related spin-offs to content with on a daily basis. Like Liz, Tony G. as a poker blog; he participated as the player-coach in the Mansion Pro-Am event the first week of the Series and he has several other poker related businesses and promotions that demand his attention when he is not at the tables. For Tony the daily "preparation" seems to vary. How ready he is to play, has little to do with his famous ready for action attitude. Some days, like yesterday, Tony finds the tables to be "just a struggle." No hands, no breaks and even the side bets were unexciting and unprofitable. The day before Tony was ready to play but got cold decked and out flopped but managed a short day and some needed time off.
Tony admits that the series has become "grueling" at this mid-point but the main event looms ever closer and he is preparing each and every day for the task at hand. I have to admit that at the tables Tony never appears to show his internal state, he begins every event with a massage from one of the many therapists who work the WSOP and then it's generally a lot of table chat with players at his table and around the room. Yesterday, Tony was just a table away from Mike Matusow, who was in top "Mouth" form. Tony, of course, was more than willing to join Mike in some table conversation.
Tony has three in-the-money finishes so far in the Series and two other very deep tournaments.
Gavin Smith continues his verbal and playing assault on the World Series. Yesterday, he played both the 12 noon start of the $3,000 Limit Hold'em event (#23) and when that fell apart just after the first break, he hopped into the $3,000 Omaha 8 event (#24) appearing soon after the 2 PM start in that one. Gavin is playing nearly every event and then some.
His table presence remains "All Gavin All the Time" and he continues to intimidate and befuddle the amateur players. Yesterday, while he ran up an early stack in the Limit event, he was taking a run at 80% of the pots. One player at the far end of the table said:
"Well it's the most entertaining table in the room but I'm not sure the show is worth the $3,000 cover."
Later, in the Omaha 8 event, Gavin was seated at a table with: Annie Duke, Tony Bloom, Erik Seidel and Todd Brunson. He announced that he like Omaha better because:
"I can play a lot more hands in this game."
Annie Duke looked over and commented: "How much difference can a new game make? You already play most of the hands, I mean once you get to 95% or more, why are you folding at all?"
Today the schedule has a $2,000 No Limit Hold'em Shootout at noon. Expect all of our "Spotlight" players to be there for another run at the bracelet.
Ed Note: Do you want to chat in your own language at the poker table? Everest Poker's software allows you to see chat in many different languages.