WSOP Updates - Spotlight Series - Having The Nuts, and Fighting Traffic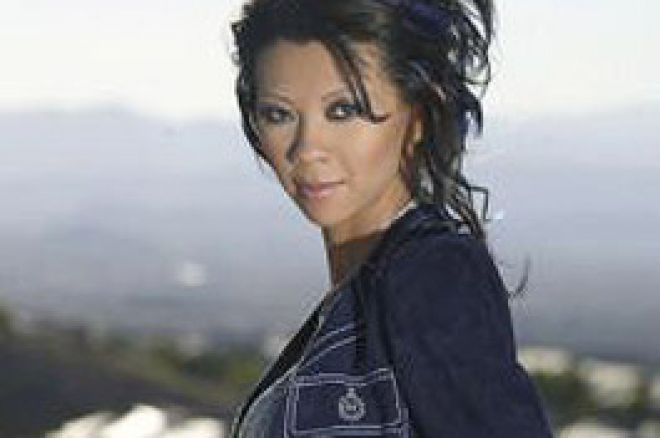 Catching up with all three of our "Spotlight" Players today was interesting with a $5,000 Seven Card Stud event (#28) at noon that drew Tony G. to the tables and a $2,500 Pot Limit Hold'em event (#29) at 2 PM that fielded both Gavin Smith and Liz Lieu.
I first found Tony G. outside the Amazon room on an "early break" (even the players think early rounds of Stud are boring). Tony was catching up with some friends and gave me his table number for a later visit. When I caught up with Tony at the table during round three the conversation was about his 12th place finish in the previous days Omaha event (#26½ ).
After a big double up with AA, Tony was dealt KKJ9 on a KT6 flop, it was checked to Tony and when he bet pot and was raised, obviously, he got it all-in with a top set of Kings. His single opponent showed AAQJ with some draws but Tony's J9 had him cut-off on several outs. A river Queen gave the other player a Broadway straight and Tony finished in 13th.
"I would have had a quarter of the chips in play if I win that pot."
Tony thought for a moment and continued:
"There was nothing I could do in that hand. If I raise, he still calls, nothing I can do. When you are in a tournament so deep, and you get busted like that, it's so hard."
And then, like so many professionals, Tony moves on to today.
"Gavin is playing Pot Limit, yeah? No bet today."
If you've been following my "Spotlight" series you know that Tony G. and Gavin Smith have had a last longer bet on every tournament they have both entered. Today they may not get a chance.
"How late can you enter the Pot Limit event? I am a bit short in this event."
The answer was only the first hour and Tony played much longer in the Stud event but alas he will not notch his sixth cash of this WSOP.
Imagine how you would feel if at this point of the 2006 WSOP, you could say you had five in the money finishes. Would you be a happy camper, like I would? Well there is just another of the differences between you and me and the big boys of poker. Tony is still seeking the big Series breakthrough this year despite cashing five times already.
*********************************************************
Liz Lieu had a slightly different day. After only half a night playing $600/$1200 at the Bellagio, Liz called me around 10:30 AM to confirm that the Pot Limit Hold'em event allowed late buy-ins. Being the gallant and debonair gentleman that I am, I told Liz it couldn't possibly believe it took her several hours to achieve that glorious glow she exhibits in the poker room. This, of course, led to the discovery that Liz was trying to get to the Rio for a noon start, when in fact, the PLHE event began at 2 PM. A much relieved Liz went off to prepare. The second call came from "traffic" at 1:45 PM and Liz asked for confirmation that late buy-ins were still being taken. It was a late buy-in day for many players. Liz was in well before 3 PM and played a nice but average stack until level 5 when once again her WSOP fate was to take the short end of a coin toss. Today is NLHE short-handed, a game Liz likes but I do not have a late night Bellagio report yet today. The Diva may be short on sleep today.
***********************************************************
Gavin's PLHE table was an interesting mix with Kathy Liebert, Gavin, and Wendell Barnes. It got a lot more interesting when Layne Flack decided he might need yet another two event day and joined while still in the Stud event. Layne jogged between the two tables for nearly three hours and was severely extended when a table break moved him from a short jog to an obstacle course sprint away from his tables. Soon after the vanishing Flack arrived at the table, the new king of late arrivals, Daniel Negreanu, took his seat to Gavin's left and the yak-fest was on. These talkative tables are a reporter's delight, unfortunately the early table break was seen coming and the philosophical discourse had just begun when the table was 'high-carded' for the move.
I have reported often on Gavin's allegedly loose aggressive play but less you read Mr. Smith's game too soon; I will share a notable hand from Gavin yesterday. With blinds at 50/100 the UTG player makes it 350 to go. All fold to Gavin's big blind, the 250 call is nearly a standard call from Gavin, if you have only been casually observing his game. Gavin takes a moment and shows one Ace and says:
"I've been watching you sir, you have a hand."
With Gavin's singleton Ace sitting there in front of the UTG player, the player laughs and then exposes first one then the other of his pocket aces.
Ed Note: A big bonus, and a free chip set await you when you sign up at Bet Hold Em Poker.