WSOP Updates - Spotlight Series - Tony G Makes the Final Table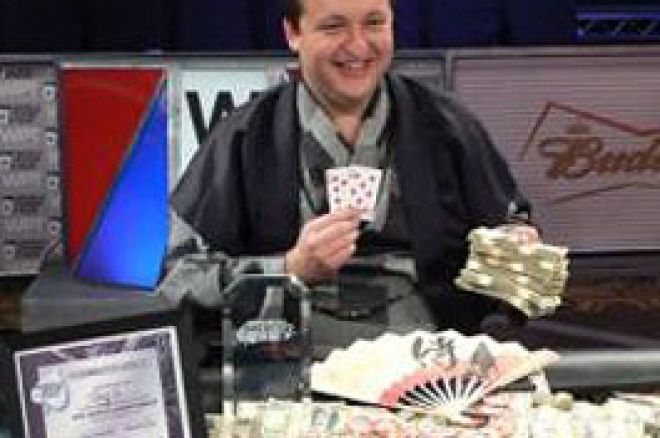 Imagine if you will, way back in June, picking three professional players to follow for the entire World Series of Poker. Now imagine how hard it is to write about them with your fingers crossed. Sure the "Spotlight" series is all about just how tough it is to play poker for seven weeks at this level of skill and intensity. The 'downs' are just as interesting as the 'ups' but deep down you know each day it's a hit to see Tony, Gavin, or Liz walk away from the table.
Not that the WSOP 2006 has been a bust for our "Spotlight" players. Tony G. has three cashes and several more deep finishes. Gavin Smith has four money finishes including a $200K+ payday in the HORSE event and he picked up a cool half a million in the Mansion Pro-Am event during week two of the Series. Liz Lieu has been our study in "other" so far this World Series. But when I looked down my "wish list" of pros to follow from early last month, I am reminded that one of my "first choices" may have actually left Las Vegas and several others have gone into media shock.
But Tony G! is at the final table today! Read the whole story of the Final Table from start to finish in Earl Burton's article.
Getting to this Final Table required several days of dogged work for Tony. Seven Hundred and Fifty-Four players entered this $1,000 NLHE rebuy event and they collectively managed seventeen hundred and fourteen rebuys and add-ons during the first two hours of the event. Day One was the standard 12+ hour marathon with Tony's stack hovering most of Day One right around average. Day Two was an easy nine hour jog, Tony appeared to move ever up the leader board, he was in fifth place early in the evening but slipped to the short stack (77,000) entering the final table action.
The final hand last night saw eventual 10th place finisher Phillipe Rouas move all-in UTG for his last $20,000. He got three callers including Tony G. When the action was checked down and Terris Preston shows TT, all other players mucked their hands. Not only did this end the play for the evening, one has to wonder if that might not have been "the" hand for Tony. Instead of entering the Final Table as the short stack, a win on that last hand would have moved his stack above 200K and given Tony some fuel for today's climb to the bracelet.
I spoke with Tony at the Final Table just moments before the introductions.
"I made one. After all that plugging away, every tournament, every event."
"You just have to hang in there. I was down to 450 chips in this event after four levels. Never had a big stack and the only time I got above average, I pushed my pocket 6's and ran into Kings but that's the way I play, if you lay down pairs at that stage of the tournament, you never get to the final table."
With blinds at 4K/8K with a 1K ante, we anticipated an early move by Tony G. with his 77K and we were not disappointed. On hand #8, Tony moves all in from the button and takes down the blinds and antes. Then on hand #12, Tony moves in again and with no callers, he shows AK. Finally, on hand 18, Tony moves for the third time but gets called by an Ax and Tony's Q2 does not improve.
Tony G. finishes in 9th place and takes home $46,805.
A short two and a half hours after Tony G's bust-out from this Final Table of the NLHE rebuy event (#34) he is the chipleader in the NL 2-7 Lowball rebuy event (#38). How's that for recovery time!
Ed Note: Oddly enough, Tony G plays online poker at Tony G Poker it's a lot of fun. Check it out.