WSOP - Week in Review - Events #1 - #13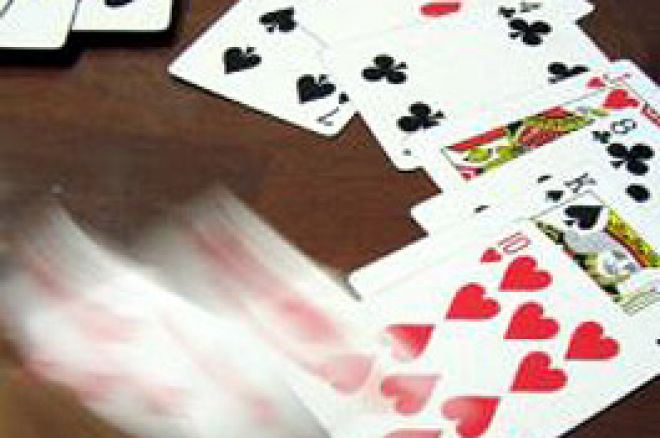 Here we are, two weeks into the World Series of Poker, and it's time to take a look back. With one-third of the tournament behind us, we can get a view of the hot players and the larger trends.
Here is a brief recap of highlights from the first 13 events, plus the WSOP Tournament of Champions:
2006 WSOP Tournament of Champions
Field: 27 players
Prizepool: $2,000,000
While this technically isn't part of the World Series (there's no bracelet awarded), it certainly started the tournament with a bang. The final three players were Mike Matusow, Daniel Negreanu, and Mike Sexton. It was a fantastic match, and the heads-up battle between Negreanu and Sexton went on for hours before either player even said the words, "All in." It was Sexton who ended up the king of this mountain, claiming the title and the $1 million first prize. Sexton organized the first Tournament of Champions back in the late '90s, and he has already made plans to donate half of his prize money to charity.
Event #1 ($500 No-Limit Hold'em; Casino Employees Only)
Field: 1,232 players
Prizepool: $554,850
The field was nearly twice as large as it was the previous year, and it was Chris Gros who took home the bracelet and $127,616. The final table featured notable poker pro/casino employee Marsha Waggoner, who finished in 8th place.
Event #2 ($1,500 No-Limit Hold'em)
Field: 2,776 players
Prizepool: $4,164,000
Remember how big the Main Event was two years ago, when Greg Raymer won? This event had more players. Former WSOP World Champion Carlos Mortensen was the big name at the final table, but it was Brandon Cantu who earned $757,839 and the bracelet.
Event #3 ($1,500 Pot-Limit Hold'em)
Field: 1,101 players
Prizepool: $1,504,230
The final table featured John Juanda and C.K. Hua, but it was Tiltboy Rafe Furst who earned his first bracelet and $345,984.
Event #4 ($1,500 Limit Hold'em)
Field: 1,068 players
Prizepool: $1,457,820
Kianoush Abolfathi won $335,289 and the bracelet in this event. Michele Lewis's 4th-place finish was the highest by a woman through the first 13 events, and 21-year-old online pro Josh Schlein finished 3rd.
Event #5 ($2,500 Short-Handed No-Limit Hold'em)
Field: 824 players
Prizepool: $1,895,200
Dutch Boyd has had an up-and-down career in poker, and he must have felt some redemption after winning this event, picking up a bracelet and $475,712. Reigning WSOP World Champion Joe Hachem finished in second, making the statement that he would be ready to defend his title when the time comes.
Event #6 ($2,000 No-Limit Hold'em)
Field: 1,919 players
Prizepool: $3,492,580
Carlos Mortensen made his second final table of the tournament in this event. Recent WPT winner Nam Le finished second to Australian pro Mark Vos, who won the bracelet and $803,274.
Event #7 ($3,000 Limit Hold'em)
Field: 415 players
Prizepool: $1,145,400
William Chen won this event, earning $343,618 and his first bracelet. Yueqi "Rich" Zhu finished second.
Event #8 ($2,000 Omaha Hi-Low Split)
Field: 670 players
Prizepool: $1,219,400
Daniel Negreanu made his first final table of the WSOP, since the Tournament of Champions doesn't count as part of the WSOP. But it was Jack Zwerner who claimed this bracelet, and the $341,426 first prize.
Event #9 ($5,000 No-Limit Hold'em)
Field: 622 players
Prizepool: $2,293,400
The "Little Big One" (no-limit hold'em with half the buy in of the Main Event) featured the most exciting final table so far. The lineup was impressive, with the top four chip counts belonging to Vinnie Vinh, Phil Hellmuth, Marcel Luske, and Isabelle Mercier. You could feel the excitement throughout the room as Hellmuth went for his record-tying 10th WSOP bracelet. He made it to the top two, battling against Jeff Cabanillas heads up for four hours. But it was Cabanillas who claimed the bracelet and $818,546, and Hellmuth was left bracelet-less in second place.
Event #10 ($1,500 Seven-Card Stud)
Field: 472 players
Prizepool: $652,470
David Williams, who is perhaps best known for finishing second in a few big events (2004 WSOP Main Event, 2004 Borgata Poker Open), finally broke through to win a bracelet. The final table also featured Johnny Chan (7th place) and "Miami" John Cernuto (5th place). Chan was hoping for his 11th bracelet, but he started as the short stack and never picked up momentum, so there wasn't the same buzz that accompanied Hellmuth's final table.
Event #11 ($1,500 Limit Hold'em)
Field: 701 players
Prizepool: $956,865
There were no big names at this final table, as most of the pros chose to play in Event #12, which started the same day. Bob Chalmers defeated Tam Ho heads up to win the bracelet and $258,344.
Event #12 ($5,000 Omaha Hi-Low Split)
Field: 265 players
Prizepool: $1,245,000
This was a tough final table, with Phil Ivey, Sam Farha, Kirill Gerasimov, and Mike Wattel — and they all finished in the top five. Farha overcame Ivey in a tough heads-up match to win the second bracelet of his career and $398,560.
Event #13 ($2,500 No-Limit Hold'em)
Field: 1,290 players
Prizepool: $2,967,000
Max Pescatori, the "Italian Pirate," won his first WSOP bracelet (and $682,389) on the same day that his beloved Italy won the World Cup. Anthony Reategui came to the final table with a huge chip lead and finished second. The final table also featured Mike Matusow, who finished 7th.
2006 WSOP LEADERBOARDS
Top 10 Money Leaders:
1. Jeff Cabanillas - $818,546
2. Mark Vos - $803,274
3. Brandon Cantu - $757,839
4. Max Pescatori - $710,330
5. Dutch Boyd - $475,712
6. Phil Hellmuth - $441,780
7. Phong Ly - $416,816
8. Nam Le - $413,236
9. Sam Farha - $398,560
10. Anthony Reategui - $356,040
Most Final Tables:
Carlos Mortensen (2)
Most Cashes:
Jim Bechtel (3)
Sarah Bilney (3)
Humberto Brenes (3)
Bill Chen (3)
John Esposito (3)
Jeff Freedman (3)
Danny Fuhs (3)
Phil Hellmuth (3)
Erick Lindgren (3)
John Roveto (3)
Female Final Tablists:
Michele Lewis (4th in Event #4)
Isabelle Mercier (5th in Event #9)
Vanessa Selbst (7th in Event #6)
Marsha Waggoner (8th in Event #8)
MISCELLANEOUS
Career Milestones: Phil Hellmuth was the first player to reach 50 cashes in the World Series of Poker when he cashed in Event #2. Men "The Master" Nguyen reached the same milestone by cashing in Event #11. Hellmuth has already added two more money finishes to increase the career record to 52.
The 8-Million-Dollar Man: With his second place finish at the WSOP Tournament of Champions, Daniel Negreanu has become the first player in poker history to cross the $8 million mark in career live tournament winnings. (As tracked by the player database at TheHendonMob.com.) With his second-place finish in Event #5, Joe Hachem is just shy of the mark with a little over $7.9 million. Enjoy it while it lasts, guys, because whoever wins this year's Main Event will automatically take over the career earnings title.
The Iron Man Award: This is the seventh straight year that Phil Ivey has reached a WSOP final table. When the streak began, he was just 24 years old.
ESPN'S Scheduling Mistake: The most exciting final table yet was Event #9, when Phil Hellmuth was making a strong run to tie Johnny Chan and Doyle Brunson with 10 career WSOP bracelets. But ESPN had removed that event from the television schedule, and last-minute scrambling only had a skeleton crew on hand to record the action. It's unclear how much of that final table will be shown — will it will be a full episode, or just highlights?
One Player Missing Chips + One Mysterious Chip Stack = Add More Chips Into Play? A senior floorperson made an unbelievable ruling when a player's chip bag went missing on the second day of Event #5. Rather than investigate further, the floorperson went to the cage and brought 101,000 in tournament chips back to the table — without informing any of the other players. The missing chips were eventually discovered — get this — at the player's own table. A simple mistake (putting the chip bag in the wrong seat) was mishandled into one of the biggest blunders in recent WSOP history. (For the full story, read Tim Lavalli's article by clicking here.)
Bells: Scott and Lisa Dinsmore were in town for two things — to get married and play in the World Series of Poker. A friend suggested they combine the two, and they got permission to perform the ceremony inside the Amazon Room. There was a brief ceremony at Table #201 on the evening of Saturday, July 8th. Lisa celebrated her honeymoon by playing in the Ladies Event the next day.
Changes From Last Year: There are more hospitality suites from the online poker sites this year, including Full Tilt, Bodog, Absolute Poker, Doyle's Room, and PokerStars. As promised by Harrah's, eating options at the WSOP include better food at lower prices, and the bathroom situation is greatly improved over 2005.
Key Events Coming Up This Week: The Ladies-Only Event and $10,000 Pot-Limit Omaha started Sunday, while the Seniors Event and $50,000 H.O.R.S.E. start on Wednesday.