Away from the Spotlights, the WSOP Marches On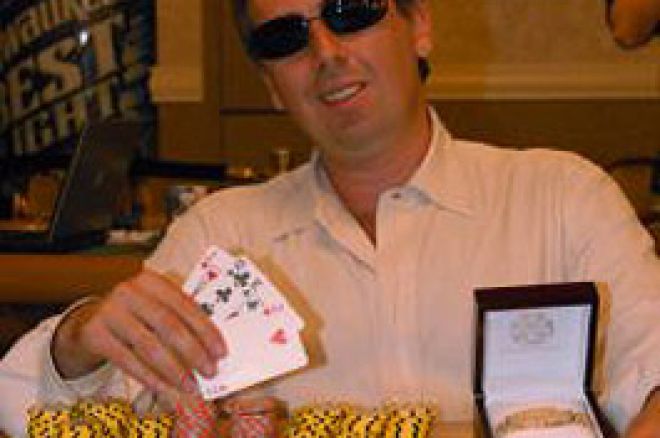 With most of the World Series of Poker in the books and the Main Event inside its final 90 players, it's easy to forget that other events continue as well. For players seeking titles, bracelets, and that last taste of tournament competition, it's the best bet in town. Saturday's $1,500 brings in a few hundred starters, from big names such as Phil Hellmuth --- now on the hunt for WSOP title #11 and the outright career-wins lead --- and Steve Dannemann, the runner-up in the 2005 Main Event.
When the first day's play ends, the field is reduced to 49, and the chips are bagged, even as the Main winds down in its Day Four marathon session across the way. Each day's play starts at an ungodly hour, too, by Vegas standards, as at 11:00 the cards are dealt.
Day Two finds Hellmuth and Dannemann still in the hunt, though for Hellmuth it's a short sit --- he busts out after a couple of hours and soon jumps into the zoo across the way. Whether it's Hellmuth's own yen for the cameras or an endorsement bonus for every time the logos he sports make the screen, the end result is the same --- cameras are magnets for the Poker Brat, and he hovers near them like the moth drawn to the flame.
Dannemann struggles, too, with about $18,000 in chips after four hours of the second day's pay. Worse, he's to the right of the chip leader, the Russian-born Rafael "Ralph" Perry, who's built to $140,000 or so and is command of the table. Perry is a Las Vegas cash-game regular who's decided to make a renewed push in tournament play, this after his deep run at the '02 WSOP, when he took third in the Main Event. Fresh off his appearance on Team Russia at the Intercontinental Poker Championship, Perry's 2006 WSOP efforts have brought impressive and immediate results. Not only did he take home his own first bracelet, in the $1,500 PLO event --- which he gave to his wife, Mary --- he also made the same final table, finishing eighth, where Hellmuth scored his record-tying #10.
Perry's still alive, here, though, with a chance to join Jeff Madsen and Bill Chen as this year's multiple-bracelet winners.
Across the way, two cheers go up, a few minutes apart. The first is that less than 100 players now remain in the Main Event; the number dwindles quickly to 96. The second announcement is that the day's first chip lead has occurred: Lee Kort has jumped to the top with about $3,300,000 in chips.
It might be another world, even if it's only a good frisbee toss away. The quiet Perry waits for his next hand --- he's got work to do.