Daniel Negreanu and Greg Raymer Have 'Online Feud' Over WPT Lawsuit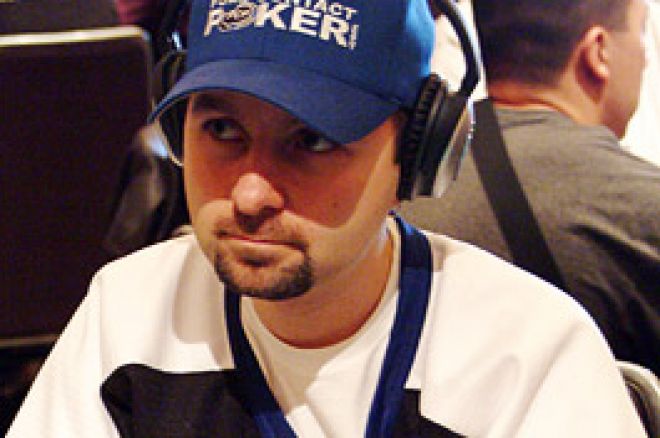 Daniel Negreanu and Greg Raymer are feuding, and they are doing so in a public arena. The rift between the two began when Negreanu criticized the seven players for filing the lawsuit via his video blog. Negreanu voiced his displeasure at both the timing and the nature of the lawsuit, stating, "I think it's a bit ridiculous, frankly. I think they're making a really big mistake, not only for them, but for all poker players. The people at the WPT are going to destroy them – they're going to smear their names, discredit them, show that they're affiliated with online poker sites, and that's exactly what the WPT is going to do." Negreanu also added that because of the bill against online gaming in Congress, it was bad timing for the seven to add more negative attention towards poker.
Raymer, who is one of the seven players who are suing the WPT over their release, aired his feelings in the chat box of an online game he was playing at over at PokerStars. In the chat, Greg indicated he was 'glad' Daniel was out of the Main Event, and indicated Daniel had been a real 'tool' lately. Raymer closed his comments by offering that Daniel was either 'stupid', or 'a sock puppet for the WPT'.
After the chat dialogue was posted in Negreanu's poker forum, Negreanu got word of what Raymer said about him and ranted angrily in another edition of his video blog on the suit and Raymer in specific. He emphasized, "I've always been friends with the guy, never had a problem."
Negreanu seemed hurt by Raymer's comments, however, stating via his video blog, "Now I see where we stand, bro. Obviously he takes offense to the fact that I think the lawsuit they're filing is horrible for poker. I think they're making a grave error not only for themselves, but more importantly, for poker's well-being."
Daniel continued "I never called you any names, never said any bad things about you, I wanted to, because I felt like your comments were out of line. You said I'm either stupid, or a sock puppet for the WPT. I did study the case with the help of lawyers. I don't understand it, but they explained it to me in layman's terms for us dumb folk. From what I can see, you don't have a shot, you're not going to win, and I'm not going to support the players, the 7 of you who think you are representing the players – you're not. I could name 30 players I've talked to that don't think this is a good idea – that this is a bad idea and that it's bad for poker. "
"I'm confident that you can't win, and even if you do win, it won't matter. The damage will be done to the WPT, and to you in general. I don't see anything good coming out of this.
Negreanu especially seemed to take issue to the seven players' treatment of the WPT and founder Lyle Berman. He chastised the players, asking, "How quickly do you all forget what you were before the WPT was around? The DVD's you sell, the sites you're associated with, the residual income, before the WPT you didn't have any of that. They're the hand that fed you."
Raymer fired back in the twoplustwo forums, arguing that Negreanu's claim of endangering the future of online poker and not representing the best interests of all players was illegitimate. He noted via the forum, "The players are paying all the legal bills, and there is not a single online site that is involved in any way whatsoever. We have publicly stated, and we sincerely mean, that we will not accept any settlement that only serves our personal best interests. We will not settle unless the WPT agrees to change their deleterious and illegal practices with respect to ALL players who enter into WPT events. So, while we are doing this for ourselves, we are also doing it for all of you who do already or might in the future play in WPT events."
Raymer also disagreed with Negreanu's sentiment that they have no chance to win. He wrote, "It is my personal opinion, as a lawyer who studied antitrust law in Law School, that the WPT is violating the law. Much more importantly, it is the opinion of our attorneys, who are the preeminent sports antitrust lawyers in the world, that the WPT is violating the law."
After Negreanu came out and criticized the seven players, Raymer added fire to the feud and attempted to justify his earlier comments by writing, "Daniel did not go to law school, nor even to college. He knows nothing about the law, and has never studied it. However, he is openly and continually expressing his opinions about the lawsuit to the public. He knows or should know that his doing so will tend to turn at least some of the public opinion against the plaintiffs. And he knows or should know that his legal opinion is worthless, since he has zero training or experience in the area of antitrust law. Therefore, he is either stupid for repeatedly expressing an [sic] worthless opinion, or he is acting at the request of the WPT or one of their agents. Hence, I said he is stupid or a sockpuppet. I really don't see how there is a legitimate 3rd option."
"So, while there are very good reasons why I should have kept my mouth shut about Daniel and just continued to ignore him, I failed to do so. However, I have no problem with what I said. For some reason Daniel has decided to attack the 7 of us who are trying to help every player in the poker world, and I find that very distasteful. As far as I know, he never came up to any of us and asked us why we were doing this. As far as I know, he immediately decided (on his own or with the prompting of the WPT) that we were wrong, and went after us. I thought Daniel was smart enough to understand that maybe he should educate himself on an issue before jumping to (and publicizing) a conclusion. Maybe I was wrong."
While Negreanu seems to still hold bitterness towards Raymer, Raymer later apologized for his actions, stating, "I was wrong to insult Daniel. Whatever my feelings, I should have kept the negative comments to myself. They don't help me or the cause we are fighting in this lawsuit, and they might have been hurtful to Daniel. For that I am sorry, and I do apologize." Daniel came back, and apologized for his comments via both his messageboard, and video blog. The controversy around this online feud seems to be dying down, but the lawsuit issue is clearly just in its infancy.
Time will tell if the WPT lawsuit is a good, or bad thing for poker players, but one thing is for sure – emotions run very high on both sides of the issue. In the modern world of the internet, such debates are held in public places like messageboards, and video blogs, which are both instant, and very public means of communication. We'll see if the debate between Raymer, and Daniel dies down, or if either adds more fuel to the fire with a few strokes on the keyboard, and a couple clicks of the mouse.