The Day Off: Feel Good Stories Another Side of the WSOP Experience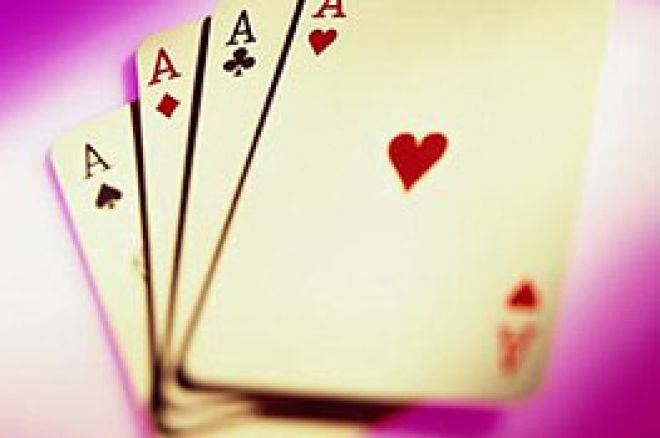 For each Phil Ivey or John Juanda at this year's WSOP, there are a hundred anonymous players whose experience can border on the surreal. The majority of them, several thousand in all, bounce out quietly, with nothing but memories, photos and bags full of giveaways to mark their trip into and out of poker's greatest tourney.
A few hundred of these anonymous types survive the first couple of days, and at that point what began as a fantasy or whim suddenly looms with greater weight: there's now a measurable chance that a miracle can still occur,
One example is Dawna Wilson, one of a group of three players from a small poker club in Jackson Hole, WY. Wilson, a long-time Jackson Hole resident, who pulls her straight blonde hair into a ponytail and blends anonymously into her faded denim jacket, is a pretty but not young woman whose plain looks are easy for the camera to pass by as they search out the Tillys and Ngs, Roussos and Violettes. But most of those players are gone, now.
Wilson plays on, among the last few dozen survivors of the 270-plus women in the field when Day One began.
When first encountered, she was at the rail on one of her own off days, rooting on one of her friends on the last of the four Day Ones. "Our little club just ran these tournaments and we kept bulding it up. We're so proud that we were able to send three people here this year." But her friend is short-stacked, with about 5,000 chips remaining, and he doesn't survive the night.
Wilson's key moment on the second day comes when she sniffs out a bluff from the most aggressive player at her table, who wears a brown t-shirt with gold lettering reading "In It To Win It," and Wilson makes a call with a pair of aces and a weak kicker. It works, and she's up around $60,000, a level she would hold through the remainder of the day's play. When midnight arrives and the chips are bagged, her $64,000 is good enough for a 582nd-place tie; of the 1,160 who remain, she's almost exactly at the middle of the pack. She's well inside the projected bubble of 873 players who will cash, but for Dawna Wilson, there's lots of work yet to do.
And then there's Tyler Pendleton, from Lubbock, who's 27 but doesn't look it. The late hours of Day Two play find him splayed awkwardly, almost casually, across his chair, but it's what's on the table before him that commands attention, something north of $120,000 in chips. "I won my seat in a two-dollar entry online," he says, calmly, but with a bit of disbelief in his tone. But he doesn't talk about that much --- instead his attention is directed over to two people at the rail beyond his table's far side, a shortish blonde woman in pink and an average-built man in a Texas Tech cap. "They came all the way from Texas to watch me," Pendleton says, and it's a happy tone he uses, not one full of bravura. His goals were modest, too. "The first day, I wanted to make it to the second level. Now I want to make it to the money."
Pendleton's father, Ricki, seems a bit tongue-tied by the whole of the scene before him. But to his right, Pendleton's aunt, Judy Whitloux, positively beams. "He's going to be the World Champion," she vows. That there's more than 1,300 players left at this point isn't part of her equation, even if her nephew is more aware of the enormity of the task. A couple of hours later, play ends for the day, and the players and media begin to stream out the doors, Whitloux grabs at me from her spot in the hordes of friends, family and fans waiting outside. "Did you see? Did you see it?" She's on edge, and it's soon clear why. "He (Pendleton) got in a huge pot right at the end, and just then they [the floor staff] made us leave." It's part of Harrah's tournament policy to get the aisles as clear as possible before the player rush begins, and that part makes sense enough; it just caught Pendleton's two-person fan base at the worst possible moment. Nor can I offer any info, as I've been in another part of the hall.
Tyler Pendleton had good news to report a short while later. He ended Day Two in a two-way tie for 31st place with $210,000 in chips, likely taking down that huge pot at the very end of the night.
And suddenly, his aunt's prediction doesn't seem so crazy after all.