Inside The Tour – 56 – Reflections on the 2006 WSOP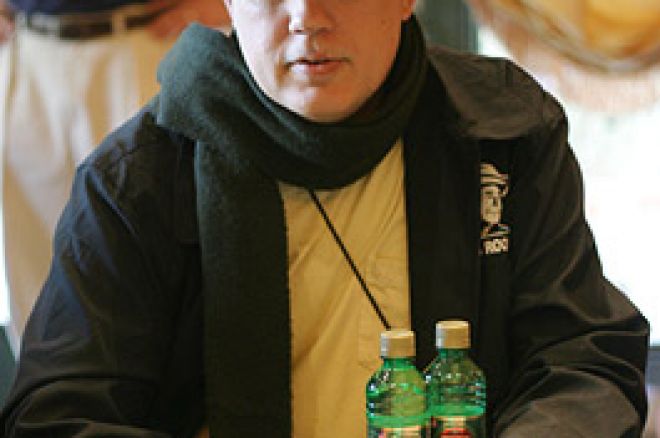 Let me make it absolutely clear that while I write about mistaken actions on the part of Harrah's management in the next few columns (I have literally over 60 pages of complaints to sift through from the 2005 and the 2006 WSOP and they all come from professional players that have been involved in every type of event and every type of situation that can and will arise) that I hope that corrective action is the result of these reports.
It's my belief, and that of other pros, that Harrah's has a genuine interest in fixing these problems, many of which may be caused by growing pains and staffing decisions. Clearly the World Series of Poker has become a huge event with a myriad of problems and it is not easy to fix all of them. So far some little steps have been put into place and Phil Hellmuth, Marcel Luske, Harry Demetriou, Daniel Negreanu, and others have all informed me of meetings, intended or past, with Jeffrey Pollack who has been appointed commissioner or the WSOP by Harrah's. Jeffrey Pollack certainly has the background and track record to make it all work. We will have to give him another year to see if he can put it all together as great teams do not happen overnight. Mr. Pollack will further be meeting with committees and others that represent the players and I hope for the best. Jesse Jones, founder of the WPA, has been singled out as the person that many players hope will get his ear.
Harry Demetriou wrote in one of his letters to the Rio management in July of 2005 the following;
"What I would dearly love to hear from yourself [s] is that you intend to have a consultation group whereby players, staff, television companies, organizers, online sites and any other interested parties could meet and agree a joint way forward in the hope that poker and your tournaments can move forward and where we could all agree common goals. By doing so everyone can at least take a step in the right direction and help you develop better rules and conditions for all concerned."
"Once again I would like to reiterate that the players […] are not your enemy and that continuing to deny us input can only be detrimental to both Harrah's and the WSOP itself in the long term."
I hope that the steps outlined above are the positive response that we had hoped for in response to Harry D's complaint. Daniel Negreanu was making a proposed schedule to present to Mr. Pollack during this year's event and whether this is used or not the important point is that Harrah's will hopefully consider what we as players have to say.
So, keeping in mind that I see this glass as half full let us forge ahead!
The very worst chip story I have heard from the WSOP 2006 I did not witness in person. During day one of a 2006 WSOP event when the quarter chips were removed one [famous] player at the table had two racks of them and was given a five thousand dollar chip. The second day came and he was removed from the table for cheating because no 5000 dollar chips had been put in play as yet, he also received a penalty for protesting! Why wouldn't this be verified first and if the player is cheating he can then be thrown out [permanently]? At some point the flloorperson who gave him this chip the previous day was called and it was verified that he was telling the truth!
Mistakes will happen in any large event but how does one make this right? The player loses hands and has his reputation endangered because of a process that occurs to deal with other situations happens. If that is not bad enough try to play poker when you are upset about something that is in no way your own fault!
Richard Brodie in his Quiet Lion writings will not let the issue of extra chips on the final table of the main event of the 2006 WSOP quietly go away. Below this comment is one of his sharply pointed reports, within my quotations. Omissions from his text are indicated by [...], Editors Note:[bracketed comments of this type are comments or additions by Dennis]
"[...] I shouldn't be surprised by the degree to which many in the poker community consider the 2.2 million extra chips found at the WSOP main event "business as usual." Cheating has been around since before poker [...]. There's the possibility the chips were added through incompetence rather than dishonesty, and there's still a tiny chance the reports of the final chip total are simply wrong. I wasn't there."
[The following] questions [...] ought to be asked by the Nevada Gaming Control Board:
• Harrah's [used the] same chips in the main event as they used in previous tournaments [...]. Were the chips counted at the conclusion of each event? If not, why not? If so, how many chips were missing after each event?
• If they did discover missing chips, was there any effort to use the video surveillance to catch the [presumed] cheaters?
• Were there official chip counts done at any point in the main event? If not, why not? If so, what was the result? What was the discrepancy between each official count [if any]?
• Were the same precautions taken to guard and log the movements of the house bank of tournament chip as are taken with casino chips of similar value? If not, why not?
• How many dead stacks were blinded off through errors during day one? What is the list of names of people who were allowed to play on a different day but had stacks being blinded off on another day? Why were so many errors possible?
• Were there stacks being blinded off for players who had been given refunds? If so, why?
The current explanation by a Harrah's spokesman, that the extra chips were a result of rounding up during chip races, has been proved impossible both by me and by Jerrod Ankenman, co-author (with two-bracelet winner Bill Chen) of the forthcoming book The Mathematics of Poker."
[I, Dennis Waterman] want to make it clear that I am not paranoid, nor condemning in regards to this matter of extra chips at the final table. It is just that where I do agree with Richard is that it should be of great interest to all parties at Harrah's and that they should take steps to protect the integrity of their showcase event. It is not a matter to be swept under the rug and hopefully their reasonable explanation will be forthcoming.
The next column will focus on problems that Europeans experienced the past two years in trying to compete in the World Series of Poker. The following is excerpted from a letter dated 12 th of July, 2005 sent to Robert Daily and Howard Greenbaum from Harry Demetriou.
"Firstly due to the rumours surrounding this years events and possible over subscription, I attempted to register early via your website. Unfortunately it was not possible for me to do this as your site refused to accept advance registration for anyone having an overseas or non US address. As a consequence of this I had to go along to your main cage at The Rio and pre pay for my earlier entries and the main event itself sometime in April and early May. As I was in Las Vegas at this time I also paid in advance for a few friends entries so that they too could ensure that their places were reserved for selected events. Your poker offices then forwarded confirmation of these entries to the various players including myself via e-mail informing us that the registration process itself could be completed in person prior to the actual events themselves starting. This is the WORLD series of poker and not the US series of poker and as such you should give consideration to the rest of the world who send a significant proportion of players to your events and they deserve to at least be able to enter online in the same way US players can.
Your website was also poorly maintained and contained numerous inaccurate pieces of information…"
Perhaps the playing field was leveled intentionally? In all cases it was much harder for Americans to enter the WSOP via the internet this year (2006)!
Until next time...play good and be lucky!